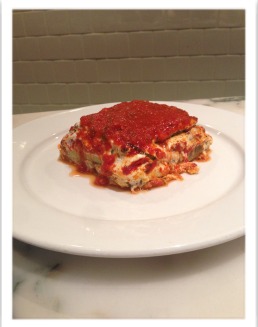 Today, July 29th is National Lasagna Day. To celebrate, Chef Tommy Mosera (of Tommy Lasagna's) is sharing his recipe for No Pasta Lasagna. The fact that it uses fresh vegetables (no lasagna noodles) makes it a healthier alternative to traditional lasagna with noodles.
NYC's Tommy Lasagna restaurant will also be featuring 50% off of their signature dish (Bolognese, béchamel and mozzarella) and 50% off of select bottles of wine today to celebrate the holiday. Enjoy!
Tommy's No Pasta Lasagna

Cooking time: 45 minutes
Serves 6
Ingredients:
• 1 eggplant
• 2 Carrots
• 1 yellow Squash
• 1 Green Zucchini
• 1 Jar Roasted Red peppers
• 2 Bunches Basil leaves
• 1 Pound Fresh Mozzarella diced
• 1 Pound Ricotta cheese
• 1 Qt Tomato Sauce
Cooking Instructions
1. Using a Japanese mandoline slice eggplant,carrots,squash, and zucchini in 1/4 in slices.
2. Lay vegetables out on a sheet pan and season with salt, pepper, and olive oil.
3. Roast vegetables in a 350F oven for 12 minutes.
4. Assemble lasagna in a greased casserole pan with each layer being one vegetable, two tablespoons of ricotta cheese spread in a thin layer, sprinkled with mozzarella cheese, and two tablespoons of tomato sauce. After the third layer of vegetables layer the basil leaves so that they become the middle layer.
5. Finish with remaining tomato sauce and cheese.
6. Cover pan with aluminum foil and bake in 350F oven for 30 minutes.
Image and recipe courtesy of:
Tommy Lasagna
119 East 18th Street

New York, NY 10003
(212) 228-3494