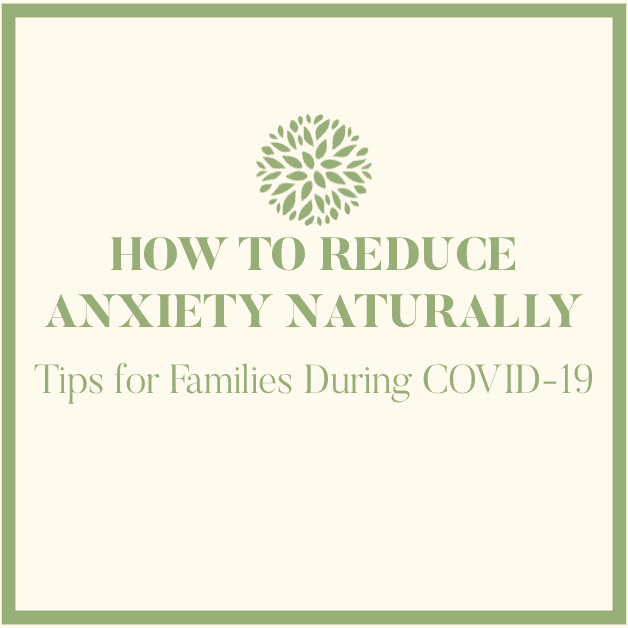 I don't know anyone who hasn't experienced anxiety at some point this year. That is why I spoke with Board Certified Clinical Psychologist Dr. Jenny Yip regarding how to reduce anxiety naturally for both parents and students during the current pandemic and these uncertain schooling times.
Anxiety vs. Depression
First, I wanted to define anxiety and learn how it is different from depression. Anxiety is when a person experiences fear due to a perceived threat. It makes the body want to react. The heart beats faster, breathing is intensified and the body often suffers some type of discomfort when a person is experiencing anxiety.

Depression tends to be the opposite physically. A depressed person often feels low-energy, disinterested, tired and fatigued. While anxiety and depression present themselves differently physically, they can overlap. (Some people with anxiety also develop depression and vice versa.)
How To Reduce Anxiety Naturally
Parents
Parents are dealing with anxiety and uncertainty ourselves. Many parents are having a challenging time balancing work and their kids' virtual learning. Dr. Yip noted that it's important for parents to understand that anxiety thrives on uncertainty. When there is no direction provided for people to know how to respond, it leaves people feeling unsettled.

What can help is to plan around the uncertainties. Have a Plan B, C or D – even when you don't know what "Plan A" is. Dr. Yip gave an example of how she decided to have an educator and a piano teacher come in to train her young child in order to take control during these remote schooling times. 
I appreciated that direction. For me, it brought me peace and decreased my anxiety when my husband and I decided that our kids would do fully remote schooling this semester. It was just mentally overwhelming for me to have to think about which days of the week they would be going to school with the 2 days on 4 days off hybrid schedule.
Also, I didn't want to have to change up our routine if a school closed down – causing the kids to be fully remote anyway. I'm a creature of habit so that was the best choice for me. (Granted, I work from home so I had that option. I'm grateful/ don't take that choice for granted!)

I'm glad that I was able to make that choice though because (as of last week) both of my kids' schools have been closed down fully for at least the next two weeks. (Both of their schools are in zip codes where COVID-19 rates have risen above 3%.)
Kids
It's one thing to help parents reduce their anxiety regarding the pandemic and remote schooling. It's another thing to help our kids handle the anxieties that come with this new reality. There is uncertainty involved whether families chose hybrid or fully remote learning. In-person students have health concerns including wearing masks all day, being socially distanced and scheduling uncertainty. Fully remote learning kids have their own set of challenges including a new learning environment and independent learning.
Doctor Yip encourages parents to make their kids aware that the situation is not going to be perfect. We still need to accept and be okay with what it is though. "It's getting and will be better" is a great attitude to foster.
One thing that Doctor Yip pointed out is that many kids lack resiliency. The parents have been doing too much. When parents try to fix everything and make everything perfect, they aren't preparing their kids for the real world.
Instead, parents need to give their kids an opportunity to figure out things for themselves. Instead of telling kids the answer to everything, ask them questions and allow them to figure out solutions.
A practical remote schooling tip is to set kids up in different spaces to do their school work in order to make it as a school-like as possible. During the school week, the kids should take their classes in their workspace. Dr. Yip advises against setting kids up in their bedrooms to do their school work (if it all possible) because kids associate bedrooms with sleeping. During breaks, the kids can move around wherever they like.
Getting kids on a schedule, having clear expectations and setting up a structure will help ease the anxiety of remote schooling.  Dr. Yip also encourages parents to talk with their kids at dinner regarding expectations for the next day of schooling.
The doctor also advises against constantly monitoring students. Our kids have to learn that their education is their responsibility and understand that there are consequences. For tweens, consequences can include losing gaming privileges or gaining privileges if their assignments are done in a timely manner. Setting limits and boundaries are essential. 
For younger kids, this is a great time to help them learn to do their work before they play. Give them rewards to keep them motivated. For instance, you can say, "If you do a, b and c before a certain time then you can do x (desired activity)". This gives them some motivation until they're able to pick up the desire to excel on their own.
On a side note, we have a saying in our home: "Do what you need to do (well!) and then you can do what you want to do." This philosophy has worked great for my sons academically so far. They get to watch television, play video games, etc. throughout the week as long as they do what they need to do first.
Anyway, this current time can be a great reality check for students. It helps them to build skills and to be adaptable. There are really only two options: adapt or be anxious. These types of training and techniques help families learn how to reduce anxiety naturally.
There might be times when you should get professional help (either for yourself or your child) though. According to Dr. Yip, the time to seek professional help is when anxiety is so extreme that a person can't function, concentrate or get through the day without the anxiety interfering.
I ended my conversation with Dr. Yip by asking her for some additional recommended resources regarding how to reduce anxiety naturally. There's so much misinformation out there about anxiety that it's important to go to the proper resources. The Anxiety and Depression Association of America (ADAA) educates and trains both the public and professionals. Doctor Yip's Little Thinkers site is another great resource – especially for kids with developmental challenges. Lastly, Dr. Yips Renewed Freedom Center site is helpful for both parents and children with anxiety. 
About Dr. Jenny Yip
Dr. Jenny Yip is a Board Certified Clinical Psychologist, author, speaker, and a nationally recognized OCD, anxiety, and parenting expert. She developed the Family Systems Based Strategic CBT, and has treated severe OCD & anxiety disorders for almost two decades. She's been featured in various media outlets, and co-hosts the Stress Less Life Podcast. Dr. Yip is Board Certified in Behavioral & Cognitive Psychology, is Clinical Assistant Professor of Psychiatry at USC Keck School of Medicine, and is on various professional boards and committees geared to improve mental wellness.

She is the author of Productive, Successful You: End Procrastination by Making Anxiety Work for You Rather Than Against You. In 2008, she founded the Renewed Freedom Center – Los Angeles to provide the most advanced treatment for those suffering from OCD and anxiety disorders. In 2016, she established the Little Thinkers Center – Los Angeles to help children with academic challenges develop the necessary critical and creative thinking skills that build self-confidence and resiliency.
You Might Also Like