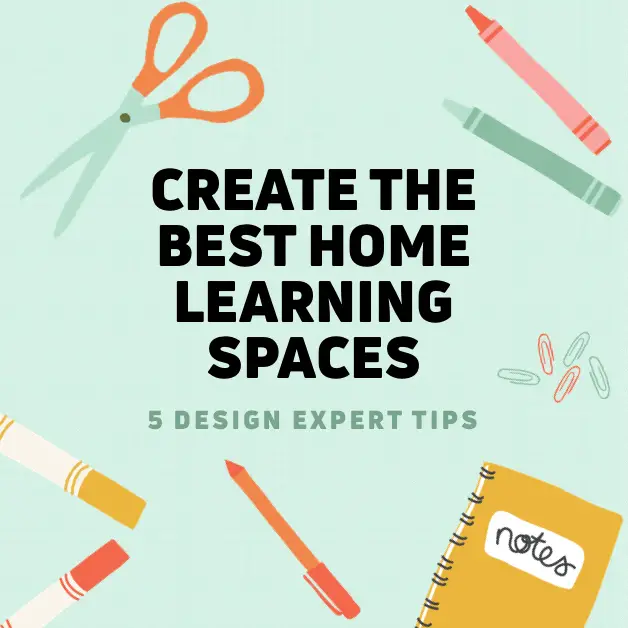 Since many of our kids will be remote schooling this fall, I asked Design and Organization Expert Marty Basher for some home learning spaces advice. Mr. Basher, who works with Modular Closets, has over 20 years of experience helping families organize their homes.
I specifically asked for tips regarding how to get homes (including small city ones) organized for remote learning. We can all use some distance learning room ideas this year and I found his tips to be helpful and practical. I think that you will agree!
Design tips for home learning spaces
1. Set up a study spot.
You don't need an entire room dedicated to distance schooling. If you have space and desire, go for it! However, many families living in small homes or urban apartments lack this luxury. A desk or kitchen table with a comfortable chair is all your child needs in terms of a designated spot. (Some homeschoolers actually work better with a lapdesk on the couch).

You can add a room divider screen and a stand-up bookshelf to separate the space even further. Natural daylight is always a plus so if it's possible to create the schooling/study area near a window, even better.

Promote creativity and a stress-free environment by adding visual aids and decor, such as a printed periodic table or a map on the wall. An area for some of your child's artwork, a colorful rug and a house plant next to the computer are also great options.
Keep a calendar and copy of your child's daily schedule in this space for easy access. If possible, avoid using your child's bedroom since they will need a space (that's not associated with school) to unwind and relax. The bedroom should be seen as a place of rest and relaxation.
2. Have adequate storage.
Consider milk crates for textbook storage.
One key to successful remote schooling is organization. Avoid arguments and wasting time scavenging for school materials throughout the house with a plastic or wooden milk crate for textbooks, binders and journals. Small enough to sit on top or underneath a desk/table, this crate acts like a locker and is a quick and inexpensive alternative for parents who do not have the space or time to clean out a cabinet, closet, or display shelf.

Each child should be given their own crate to avoid confusion and disagreements on whose stuff is whose, and it might be a fun art project to let your children paint and decorate their crate.
Use a school supply caddy.
Another organization hack for remote schooling is school supply caddies. Essentially, it's a plastic bathroom caddy that you can buy at Lowe's or Home Depot for less than $5. You can fill the compartments with anything from pens and pencils to glue sticks and scissors.

Add canning jars or Dollar Store plastic cups to help steady longer items like rulers. Your children can share the supplies inside.

If you want something a little fancier that is more aesthetically pleasing, consider a shallow wicker basket or galvanized steel tray with canning jars or decorative tin planting pots for the holders.
3. Get noise-canceling headphones.
These are ideal if you have more than one child who is distance learning – in case one needs quiet time reading or studying and the other is actively engaging in a lesson.
4. Add a reading nook.
A great deal of reading comes with online learning – especially with middle grade and high school students. Sitting in an upright position for hours each day proves physically and mentally taxing. That is one of the cons of traditional schooling.

Embrace the comforts of home by creating a cozy reading nook/spot. Purchase a bean bag for underneath the window or add plush pillows and a soft blanket to an armchair. Invest in a lamp for better lighting in order to prevent eye strain and headaches. Be sure to keep this spot away from electronics and other distractions.
5. Keep a comfortable temperature.
Making sure that the study space is comfortable, temperature-wise is important. It can be really hard for kids to focus if it's too hot or cold. Depending on where you create your home learning spaces, you might want to add a little space heater or fan.
Marty Basher is the design and home organization expert with Modular Closets, https://www.modularclosets.com. Marty regularly contributes on topics of home design, organization, improvement and more, helping homeowners get the most out of the spaces in their home.

Modular Closets are high-quality and easy-to-design closet systems made in the USA that you can order, assemble and install yourself, in no time at all. Using closet modules (closet pieces you can mix & match to design your own modular closet), homeowners everywhere are empowered to achieve a true custom closet look- for nearly 40% less than standard custom closets.
I hope that these tips about home learning spaces were as helpful for you as they were for me! I especially agree with #3 (get noise-canceling headphones). At first glance, it can seem not to fit with the topic of home learning spaces. It does though because noise-canceling headphones provide boundaries and mental space!

I have actually bought 5 pairs of noise-canceling headphones during these stay-at-home times. Initially, I had purchased a pair for my brother as a birthday gift. He enjoyed them so much that I bought two more pairs – for my husband and oldest son. When I noticed that my husband couldn't hear anything when he was using them, I bought two more pairs – for my youngest son and myself. Let's just say that they have been such a helpful addition to our home. (Everyone needs a break sometimes!)

As for new purchases, I think that I'll get a couple more milk crates and possibly a bean bag (for both of my sons) and a lap desk (for my youngest son who resists working at desks and tables at home).