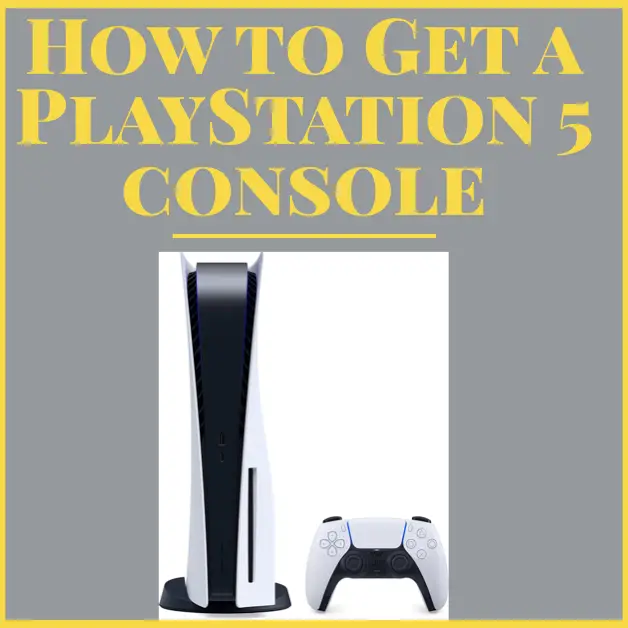 Based on Facebook, I know that many people are still trying to buy a PlayStation 5. That is why I'm sharing how to get a PS5 quickly. Within the last couple of weeks, I was able to buy (2) PlayStation 5s at list price – one new console (for my son's birthday) and then one digital edition bundle (for a parent who was having a hard time finding one for her son).
I don't know if you should mention that you were able to buy two PlayStation 5 systems within two weeks when some people still haven't been able to snag one.

Reggie (My Husband)
My husband's concerns are valid but I think that intention is important. I'm not sharing to brag. Rather, I'm grateful and I want to share tips to help others get a PlayStation 5 too! While "luck" and timing play a role, I think that these three tips will also better your chances.
How to Get a PS5
1. Ask
When my son Sean mentioned that he wanted a PlayStation 5 for his birthday (a couple of weeks before his birthday!), I decided to see if I could get one. I prayed about it and then asked my friends and family on Facebook.
You never know who might be able to help. I had family and friends calling and texting to let me know that they would try to find one for me. Most importantly, they shared information that led me to purchase new PS5 consoles at their normal price.
Track PS5 Console on Twitter
The two accounts that I followed for the latest news to buy the console at were SiteSupply (@TheSiteSupply) and PLAYSTATION 5 RESTOCK and Rumors (@PS5_Restockk). I'm so thankful that Adam (Dada Rocks) and *J (the son of a high school friend) directed me to those accounts. Based on the account tips, I ended up buying the console at Amazon and the digital edition bundle at Best Buy online retailers.

There are several other Twitter accounts that notify you of new stock. I initially followed additional accounts but they sent out too many irrelevant notifications. I'm easily distracted so I don't normally have any social media notifications turned on anyway. (I was so happy to turn off notifications after I bought the PS5s!)

Tip: Follow SiteSupply (@TheSiteSupply) and PLAYSTATION 5 RESTOCK and Rumors (@PS5_Restockk) on Twitter and turn on notifications for their accounts.
2. Get Ready
"Luck" and preparation often connect. Once I followed the Twitter accounts that would let me know how to get a PS5 when there was new stock, I set up my phone and computer to be ready. The experts suggest using as many devices as possible. Initially, I went a little crazy with it. I had my phone and computer PLUS Reggie's phone, computer and iPad. That ended quickly though.

I settled on my phone and computer. Normally, the Twitter accounts (that I mentioned above) would share where upcoming new PS5 availability is expected within the next few weeks. I would…
-open a tab for each store
-make sure that I was logged in to my account for each store
and
– place the PS5 (both types) in my "wish list" for each store
Tip: Go put both PlayStation 5 versions in your carts at these major retailers – Amazon, Best Buy, and Walmart.
3. Keep Trying
By following the step above, I was ready when new products were released. The last thing that is important to know is to keep refreshing your tab if it doesn't look like you were initially able to put a system in your cart. Don't stop until the Twitter account that you're following says that they are all sold out.

Both times that I was able to buy the PS5, the retailer's site said "Not available" or "Out of stock". Sometimes stores sell in "waves" though so I followed the advice of the Twitter accounts and kept refreshing my screen until my order went through.

(The PlayStation Direct site releases are another animal. They put you in a queue. It was annoying to me.)
I hope that you have found these tips helpful. My son was so happy and surprised to get the PS5. That is why I wanted to share how to get a PS5 with you too. Good luck!
If you know of anyone who is still trying to buy a PlayStation 5, please share this post with them. Thanks!