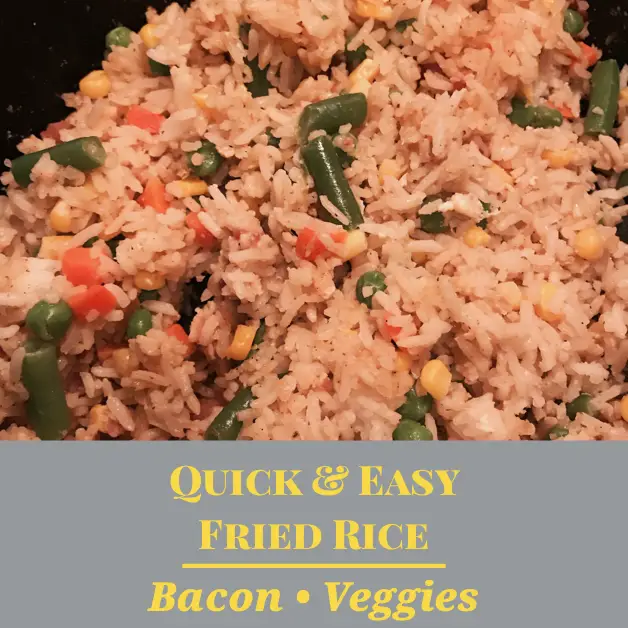 My family goes through weekly meal rotations. We'll have a set schedule of meals for the week until someone gets tired of a certain meal. Then we'll switch meals out. An easy fried rice recipe served with grilled chicken thighs has recently entered the mix.
I love that the fried rice is quick to make. It's finished in less than 15 minutes when I use leftover rice. I also like that it's a versatile dish. I use leftover basmati rice to prepare it and sometimes add additional leftover vegetables. I think that your family will enjoy it too.
Easy Fried Rice Recipe
Bacon and Veggie Fried Rice
Yield: 4 – 6 servings
Ingredients:
2 cups of cooked basmati rice
2 slices of bacon
1 cup frozen mixed vegetables (corn, carrots, green beans and peas)
2 tbsp soy sauce
(Optional) 1 large egg
Directions:
Cook the bacon in a large skillet (preferably a cast-iron one) over medium-low heat until it is done.
Remove the bacon from the skillet and drain the excess fat from the two pieces on a paper-towel-lined plate. Chop up the bacon with a knife and place it to the side. (Leave the rest of the bacon grease in the skillet though.)  
Add the mixed veggies to the bacon grease in the skillet and cook them over medium heat. Stir-fry (cook while stirring occasionally) everything until the vegetables are tender – approximately 5 minutes.
Add the rice and chopped bacon to the skillet with the vegetables. Then, add the soy sauce. Stir-fry everything together until it is thoroughly mixed and heated – approximately 3 minutes.
(Optional) I like to crack an egg and stir it into the vegetable fried rice mixture until it is cooked. It simply makes me "feel" like we're eating a better version of takeout. 🤷🏾‍♀️
Recipe Notes:
-If you have a wok, you can use that instead of the skillet to make this easy fried rice recipe. (I'm a kitchen minimalist, so I just don't have one.)
-You can add additional ingredients (i.e. veggies and shrimp).
-You can also adjust the soy sauce level (by adding more or less) depending on your family's preference.
You Might Also Like