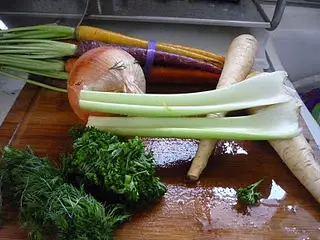 There is nothing better than a cup of warm chicken soup in the winter. It soothes the soul after braving the elements in the bitter cold and heals the body when you're sick. I also love how simple it is to make chicken soup, which I didn't realize until I tried a recipe passed down in my family. Essentially using a whole chicken, some herbs (dill and parsley), fresh vegetables (parsnips, carrots and onions) and allowing it to simmer for several hours, this chicken stock and soup is a foolproof recipe that anyone can master and once you do you will NEVER go back to a box or can of soup again. The flavors are also so rich and complex that you may even go back for a second bowl. Here's how to make one of my favorite soups.
Chicken Stock and Soup Recipe
Ingredients:
1 whole chicken (I used a small organic chicken.)
1 large pot almost completely (75%) filled  with water
4 carrots, cut up
2 stalks of celery, cut up
2 small parsnips or 1 large parsnip, cut up
1 small yellow onion, diced into small cubes
1 small bunch of dill tied together with white thread
1 small bunch of parsley tied together with white thread
Approximately 2 TBSP salt (Taste the soup throughout the simmering process, adding more if needed.)
1 package of noodles
Directions:
Fill up a pot with water and bring it to a boil. Add the chicken and cover the pot.
While that is cooking tie the thread around the dill and the parsley. Clean and cut up the other vegetables.
When the chicken in the water starts to boil, add all of the vegetables and the salt to the pot. Lower the flame to very low and allow the soup to slowly simmer for two hours.
Periodically check the pot and taste the soup, adding additional salt if needed.
When the soup is almost done (altogether it will take approximately 3 hours), add the noodles. Once the noodles have cooked according to the directions on its package, turn off the flame and let the soup cool. Enjoy!