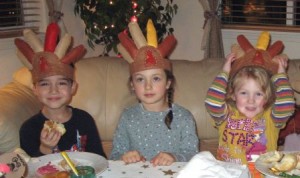 Put the meaning in the greening this Thanksgiving
This year is flying by and Thanksgiving is less than three weeks away. For the next couple of weeks, we will be featuring some Thanksgiving related posts.
We will start it off on a (light) green note. I like all of the suggestions from our guest post writers Lynn Colwell and Corey Colwell-Lipson. Personally, I intend on (at least) applying #1, #4 and #9. Enjoy!
Guest Post
Making every celebration more about people and less about things is a key to celebrating green. When we focus on relationships, we tend to spend less, eat less, have less left over and end up putting less into landfills.
So this Thanksgiving, take a look at your rituals and seek out ways to enhance their meaning. Here are some suggestions.
1. In the weeks before Thanksgiving, gather the family and talk about your traditions. Ask for input about what kinds of things you might do together to increase the joy everyone will take from the celebration. Brainstorm ideas, then choose a few to implement this year. (See below for suggestions, but start by asking your family as they are likely to come up with ideas that fit your group perfectly.)
2. Also prior to the holiday, invite your family on an outdoor decor hunt. Go for a walk whether you live on the plains, near a river, or by the ocean. Gather (legally) items, return home and set them up on a table. They might make a gorgeous centerpiece on their own. Or fill a bowl or clear vase with them. Place a couple of beeswax candles in their midst and you've got natural table decor that cost next to nothing.
3. Encourage your kids to come up with games that the whole family can enjoy following the feast. Search online or check out library books on non-competitive games that are fun for everyone.
4. Involve the family in crafting decor, place cards, and small takeaway gifts that are either made from recycled materials or edible. As you are working with them, explain why it's important to avoid using virgin trees (i.e. paper), and other unsustainable materials, especially for a holiday that is so tied to the Earth.
5. To add more meaning to your meal, shop locally. If possible, visit a local farm. Talk to the farmer about what is in season and how to best prepare the food for your guests. Be sure to acknowledge the farmer and the work he/she did to ensure you had a flavorful meal when you are giving thanks at the table.
6. Ask each guest to bring a small item representative of something for which they are grateful. Place each item either at the place of each guest or in a bowl that can decorate the table. During the meal go around and ask each person to explain the meaning of the item.
7. If you host a large gathering for which it's difficult to supply enough china, here's a twist on the idea above. Ask each guest to bring their own place setting along with a story about the plates. At the table, ask guests to explain what is special about the setting. Did the china belong to a great grandmother who brought it when she immigrated? Was this place setting a gift from a beloved friend? Are you especially proud that you bought it for pennies? The stories don't matter. Sharing them does.
8. And speaking of sharing, how about asking each guest to bring a contribution to your local food bank?
9. Aim to make a tradition of a no-waste Thanksgiving. This involves a little more planning than usual, for example, offering fewer choices (do we really need mashed potatoes, sweet potatoes and rice?), and ensuring that leftovers go to people who will use them. Decorating glass jars that everyone can fill and take home is a great way to share the leftover bounty. If you compost yourself or do it through your community, be sure that leftover food is deposited in a properly marked container.
10. If a member of your family or a close friend has passed away during the year, remember them sometime on Thanksgiving day. You might light a beeswax candle in their memory, relive some memories or offer a prayer.
The authors (Lynn Colwell and Corey Colwell-Lipson) are mother and daughter and co-authors of Celebrate Green! Creating Eco-Savvy Holidays, Celebrations and Traditions for the Whole Family.