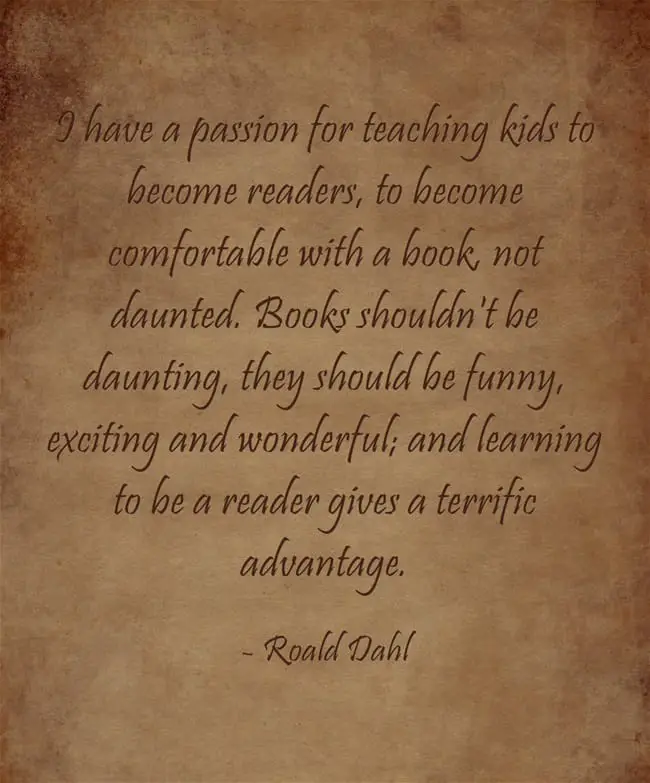 I was watching television with my son Sean this past weekend when a commercial for the upcoming BFG movie came on the screen. Sean mentioned that the movie was based on a book by one of his favorite authors, Roald Dahl. I love that my sons are avid readers so I asked Sean to tell me more about the Dahl books so that I could recommend them for your young readers. Below are the 7 greatest Roald Dahl books according to my 9 year-old son Sean.
7 Greatest Roald Dahl Books
In order from favorite to least favorite…
1. The Witches
"It's a unique story about a boy who meets witches who turn him into a rat. It still has a happy ending though!"
2. Matilda
"I like that the girl has powers and that she ends up with a better mom by the end of the story."
3. James and the Giant Peach
"I just like that it it's a funny adventure about a giant peach. Like most Dahl books, it has a happy ending."
Kim's note: I loved this book as a kid too!
4. Charlie and the Chocolate Factory
"I like the concept of a chocolate factory that has crazy machines to make the chocolate. I also like Mr. Willy Wonka because he's so crazy.  I also liked how you could see how the kids' different characters caused different things to happen to them. Like all Dahl books, it has a happy ending."
Kim's note: This was one of my favorite childhood books!
5. Charlie and the Great Glass Elevator
"I like many of the same things that I did about Charlie and the Chocolate Factory. I don't like it as much because the book doesn't have the different kids (besides Charlie) in it. I do like that this book has Charlie's other three grandparents and parents in it more. They're a good addition because the other grandparents never got out of the bed in the first book."
6. The Fantastic Mr. Fox
"It's a really short story like a lot of the Dahl books. In this one, the fox steals the farmers' food so the farmers try to kill him. Since the fox and other underground animals can't go outside, they build underground tunnels to each farm, take the farmers' food and have a big feast."
Kim's note: I never read this book, but I saw the Fantastic Mr. Fox movie. The book sounds better.
7. The BFG
"I haven't read the BFG completely. I'm still at the beginning but I like what I have read so far."
Kim's note: I want to see the upcoming movie now that I know "BFG" stands for "Big Friendly Giant". Also, I'm sentimental because the book is dedicated to Dahl's daughter, Olivia, who died of measles encephalitis when she was seven.
In any event, I like that one of Sean's favorite things about Roald Dahl's books are that "they all have good endings". I appreciate happy endings. 🙂
Are your kids Roald Dahl fans? If so, are there any other Dahl books that you recommend reading this summer? (Dahl fans will have to wait until September to order the Oxford Roald Dahl Dictionary.)