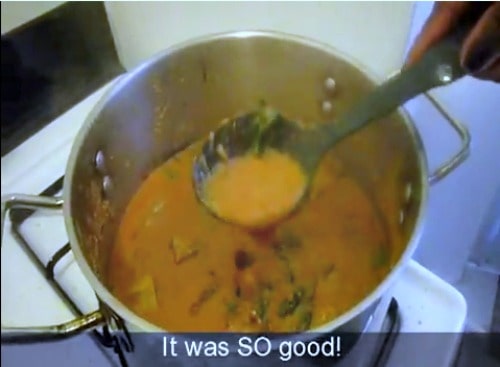 I have saved the best for last in this African recipes series. Spinach is one of my favorite vegetables, so I especially enjoyed this recipe that my friend Yemisi prepared for me. She claims that it is "easy". It is but it takes time to make. While I appreciate the time and effort that Africans traditionally put into preparing their meals, I can't honestly say that I will do it myself. I'll just eat at one of the best African restaurants in NYC … or pay/barter with Yemesi to prepare my favorite African dishes :-).
Egunsi with Spinach (Melon Seed Stew)
Total Time: 2 hours, 40 min                                   
Prep: 30 Min
Cook: 2 hours, 10 min
Yield: 6 to 8 Servings                                               
Ingredients
2 lbs. Mackerel Fish
1 cup of Egunsi (Melon seed)
5 medium size red peppers
1 or 2 medium size scotch bonnet peppers (very, very spicy)
1 ½ Medium Onion (Spanish/yellow)
1 bag of Fresh spinach or 1 box chopped frozen spinach
½ cup Vegetable oil or palm oil
2 table Salt
3 cups chicken broth
2 ½ cups water
4 cubes of bouillon cubes – Chicken flavored
Directions
1.         In a sauce pan, combine bell pepper (seeds taken out), 1 medium size onion, the scotch bonnet pepper and ½ cup of water over a medium heat.  Let the mixture boil for 45 min. (Add water as needed if the water begins to dry out.) Pour the boiled red pepper mixture into a blender and blend until smooth. ***To reduce the heat, the scotch bonnet pepper seeds can be taken out before boiling.
2.        Pour a ½ cup of vegetable or palm oil in a dry saucepan and let heat for about 5 minutes over a medium heat. Dice ½ of the onion and pour it into the heated oil. (To make sure that the oil is hot enough, drop one of the diced onions into the oil. If it sizzles, then it's hot enough.) Stir until the onion is soft/translucent. Pour the blended red pepper mixture into the saucepan and add 2 tablespoons of salt and 4 bouillon cubes to the mixture. (Be careful as this will splatter as it heats up. Pour 1 ½ cups of chicken broth in the mixture to stop the sauce from splattering.) Cover and let the sauce cook for 20 minutes.
3.         Mix the blended egunsi together in a bowl along with a ½ cup of water. Mix until all of the lumps are smooth. Then, pour the mixture into the red pepper sauce. Also pour the balance of the 1 ½ cups of chicken broth into the mixture at this time and let everything cook together for 20 minutes. After 20 minutes, add the fresh fish and 1 cup of water. Let the sauce cook for 20 minutes.
4.         Add the freshly chopped spinach to the sauce. (If you are using frozen spinach, make sure to squeeze out the excess water in the spinach). Let the stew cook for another 20 minutes before serving it.  (If you are using chicken, beef or goat meat instead of the fish, this is the point when you would add it to the sauce).

You can serve the egunsi with Obe ata and fufu/pounded yam, challah bread or boiled white rice or brown rice.