Restaurant reviews are so subjective. When it comes to ethnic food, I tend to find that I tend to consistently agree with the recommendations of nationals. That's why I asked some of my friends who are originally from Africa and/or are lovers of African food where to find the best African restaurants in NYC.  Below, are their top Ethiopian, Ghanaian, Nigerian and Senegalese picks…
Ethiopian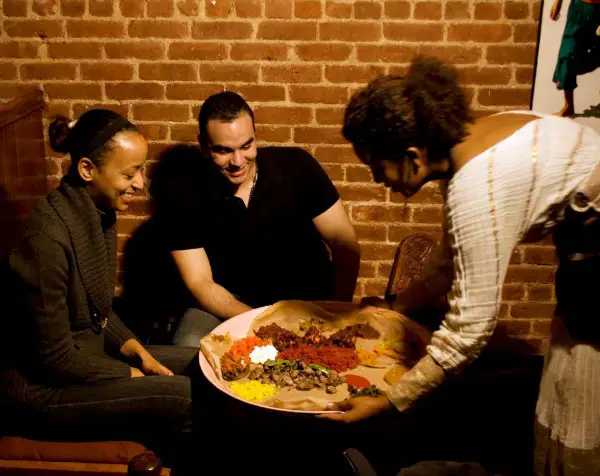 Queen of Sheba
650 10th Ave
New York, NY 10036
(212) 397-0610
I recently shared about Queen of Sheba on the Best NYC Ethiopian restaurants post.

Ghanaian
Ebe Ye Yie
2364 Jerome Ave
Bronx, NY 10468
(718) 220-1300

Ebe Ye Yie means "it will be alright" and if you are looking for authentic Ghanaian food, then this is just the right spot for you. It will take a little trek to reach (it's far out in the Bronx), but it is worth the effort to get there for the "authentic Ghanaian  food" according to friends. The ambiance isn't especially great (plexiglass divider/no menus/lime juice and cascade on the tables), but the service and food both receive high marks. You simply place your order by pointing at what you want on the steam table. If you don't know anything about Ghanaian food, the server will help you pick something suitable to your tastes. (I hear that the cow foot is particularly tasty.) As a side note, the Cascade at the table really is Cascade – not a seasoning. It is customary for Africans to eat with their hands, so it's for you to wash your hands…NOT to sprinkle on your food!
Nigerian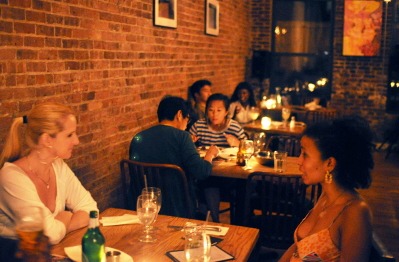 BUKA
945 Fulton St
Brooklyn, NY 11238
(347) 763-0619
"The food at BUKA is amazing," raves a friend. Many others agree. If you like spicy foods, then you will love the offerings on the menu of this Nigerian restaurant.  With its warm, inviting atmosphere – that includes a collection of African books and magazines – this is a great place to eat and lounge for a while. Even better  (for those with diet restrictions), BUKA has "no pork. no dairy. no gluten. Halal" offerings. Also, be certain to check BUKA's Facebook page for upcoming live music and special events updates.
Senegalese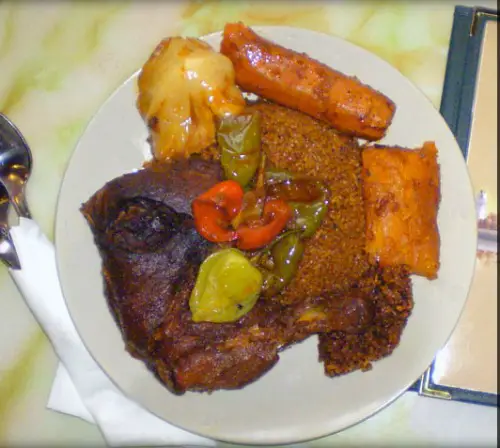 Africa Kine Restaurant
256 W 116th Street
New York, NY 10026
(212) 666-9400
"The food is "so, so good" at Africa Kine," an African friend declared. (Actually, more than one friend has praised this Senegalese restaurant to me!) To hear others tell it, "everything" is good and flavorful on the menu at this Harlem spot. The stews – especially the tomato sauce based ones – are worth special note. If you want to experience the flavorful tastes of Western Africa, Africa Kine is definitely a great place to begin your journey.
(Thanks to Shaun, Linda, Pam and Amy for your help with this post. I appreciate it!)
If you enjoyed this post, don't miss future ones! Please be sure to sign up for my email updates. (Also, if you're on Pinterest, let's follow each other.)