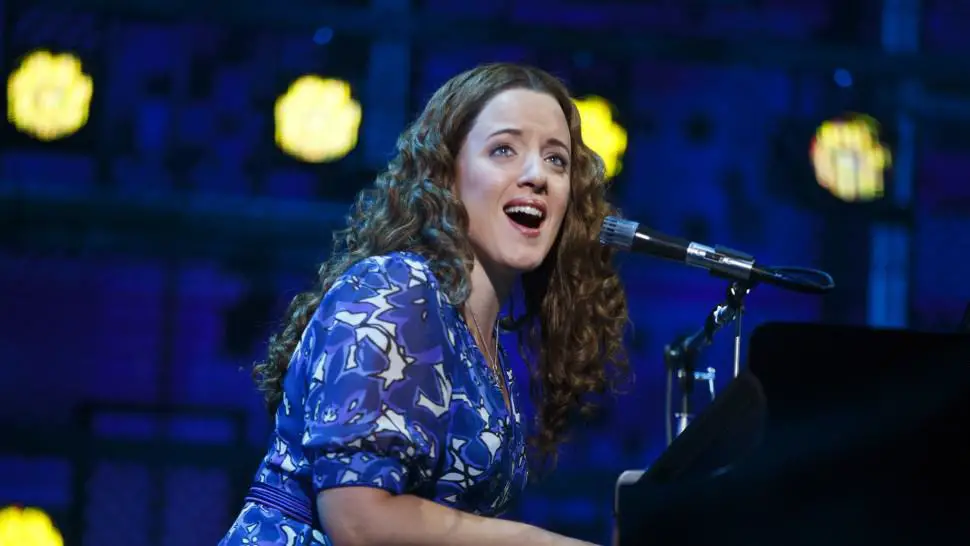 A friend and I went to see Beautiful – The Carole King Musical on Broadway last week as part of a media visit. I had seen the play a couple of years ago (see below) but I wanted to see how it would be performed with different actors and actresses. Thankfully, it was really great the second time also!
Chilina Kennedy did such an amazing job of portraying Carole King in the past. That's why I was interested to see the performance of Abby Mueller (the current Carol King actress). She did a great job and the audience – including my friend, Samantha, and I – loved her. I actually preferred her version of "Natural Woman". That may be because I'm feeling a bit nostalgic due to Aretha Franklin's recent passing. On that note, it seems like everyone has an Aretha story. Here's mine:
Anyway, Samantha enjoyed the show so much that I ordered the
Beautiful: The Carole King Musical Cast Recording
as a gift for her birthday. (I'm so obvious. She was getting ready to buy it and I (unsmoothly) said, "You should wait until after your birthday to get it…just in case someone gives it to you for a gift.") Well…I never said that subtlety was my gift. With that in mind, I'll be obvious: I still highly recommend that theater and music-lovers go to see 
Beautiful – The Carole King Musical
 on Broadway.
Original Post: 4/18/16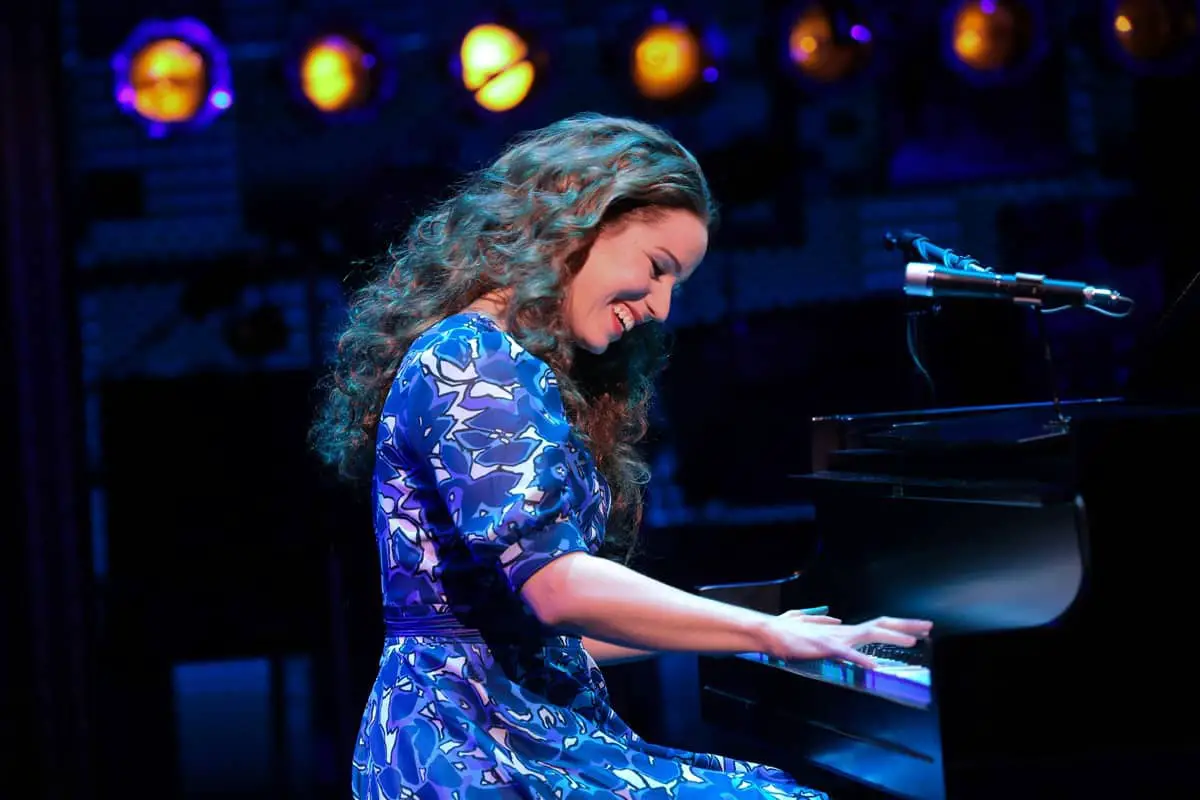 One of the great things about being a blogger is that sometimes you get to bring your friends and family to wonderful outings with you. That's exactly what happened earlier this month when I was invited to bring a guest with me to a "blogger night" at Beautiful – The Carole King Musical on Broadway. My friend Irene and I had an awesome time.
I had heard several of Carole King's songs before. Recently, I was also able to see a bit of her personality when Aretha Franklin, the Queen of Soul, sang King's "A Natural Woman" when the songwriter was honored at the Kennedy Center Honors.
King's enthusiasm was as obvious as her talent. She was so excited about Franklin's performance that I hoped she wouldn't fall off the balcony! I wondered if the actress playing Carole King in the musical would be able to capture her joy and likability. I'm happy to report back that Chilina Kennedy who plays the Carole King role in Beautiful did an amazing job of embodying her spirit.
At the start of Beautiful, Carole King's mother is urging her to reconsider her dream of songwriting. Carole Klein (King is her composer name) initially wanted to be a teacher but her dreams changed. I'm not certain how closely the play mirrored King's life but it seemed as if she really didn't become a great songwriter until she started collaborating with her future husband Gerry Goffin. Over time, the couple penned several hits for a variety of artists…including many Black artists. Once her talent was unleashed though, King went on to write many of her best songs later in life without Goffin.
The play covers King's early life. Her transition from songwriter to singer-songwriter as well as her work friendships and the ups and downs of her marriage are cleverly interwoven throughout the musical. This show will have you run the gamut of emotions. One moment, I was happy for her success. The next, I was sad for the lost love in her marriage. Through it all, King's positivity remained intact. When her character sang "You've Got a Friend" near the end of the show, I thought that Carole King probably really was a great friend. (Personally, I treasure my friends who are in touch with their feelings but remain positive overall throughout the various ups and downs of life. They are gems!)
In any event, I highly recommend this play. Whether you already know the lyrics to Carol King's songs or not, you will enjoy the blend of musical genres. The singing and choreography are both excellent. Most importantly, Chilina Kennedy does an amazing job of portraying Carole King. She is fantastic on the piano, has a wonderful singing voice and her personality is endearing. From the first scene to the last, Beautiful truly was "some kind of wonderful"!
Beautiful – The Carole King Musical
Stephen Sondheim Theatre
124 West 43rd Street
New York, NY 10036
{Image Credits: Joan Marcus; Beautiful – The Carole King Musical}