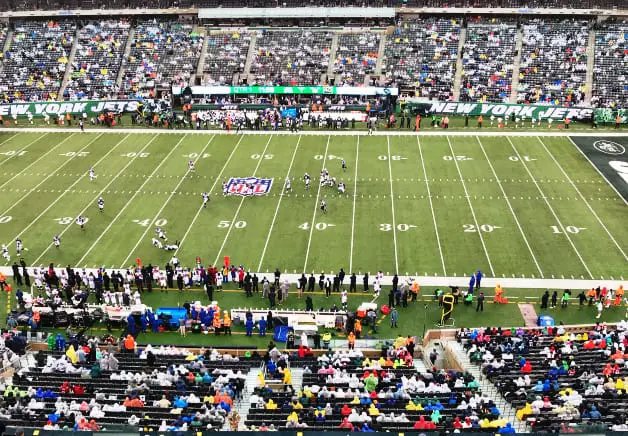 The New York Jets invited my husband Reggie and me to attend the game and enjoy some unique experiences at MetLife Stadium this past Sunday. Even the rain couldn't dampen our enthusiasm. Reggie is a loyal sports fan and he has been a Jets fan since 1982. (I don't even remember what I was a fan of back in 1982!) It was a great experience and we learned a lot.
Jets Tailgate 2017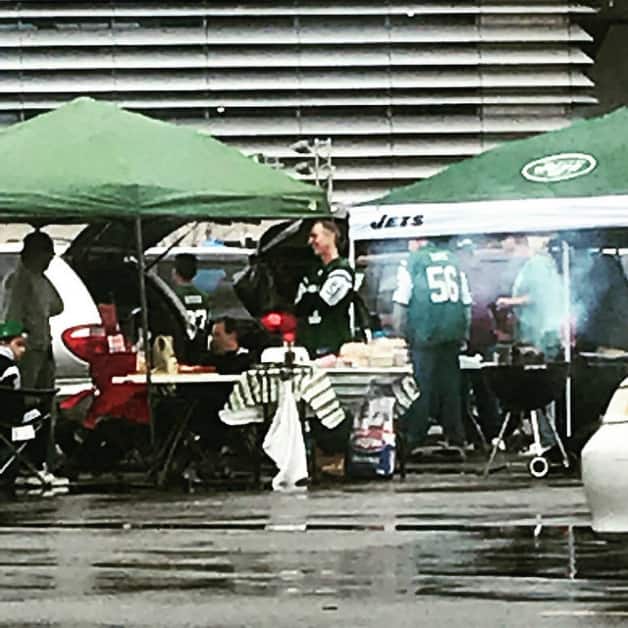 I had heard about tailgating before but I had never seen such gatherings up close. People were setting up coverings, barbecuing and eating out of the back of their parked cars. They were doing all of this in the parking lot in the rain. I'll admit that I was a little nervous to leave our car because kids were throwing footballs near the parked cars. I definitely didn't want to come back to a busted window or dented car. Fortunately, we did not!
The Sharp Showcase Lounge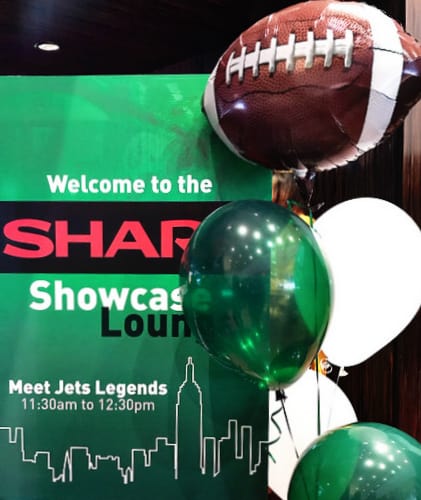 One of the first things that we did was go to the Sharp Showcase Lounge. It's part of a space that can be accessed by club and suite ticket holders. (There is also a larger version of that lounge that is open to the public in a fan activation area just outside the stadium.) The outdoor virtual reality area was closed due to the weather but we enjoyed ourselves in the indoor part. With the virtual reality glasses, we enjoyed a full 360-degree immersion into the Jets field and play. In another part of the lounge, Mark Gastineau was speaking, doing a Q & A, and taking photos with fans. It turns out that these "Jets Legends" talks with alumni players are regular occurrences at the Lounge.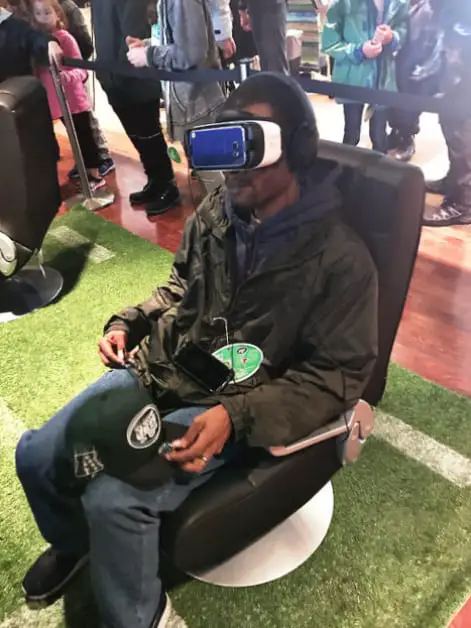 Pregame Warmups
After visiting the lounge, we were able to go down on the field to watch the players warm up. I was impressed because they were getting ready like it was a sunny day even though it was steadily raining. They really are committed to their sport! I was trying to get a closeup picture of Josh Martin, a fellow Columbia alumni, but he was practicing on the other side of the field. Meanwhile, Jamal Adams brought a smile to my face as he was dancing in the rain…
There were several people down on the field during the warm-up period so I asked if everyone was part of the media. They weren't. In fact, Jets Rewards Program members can redeem earned points to win a variety of great experiences – including onfield experiences like the one that we enjoyed.
The Tunnel
A short time later, we were able to be in the tunnel as the Jets players came out to go on the field. It was an interesting mix of players. Some were super focused while others were high-fiving us and the kids. None of them were rude though…
Jets Suite Life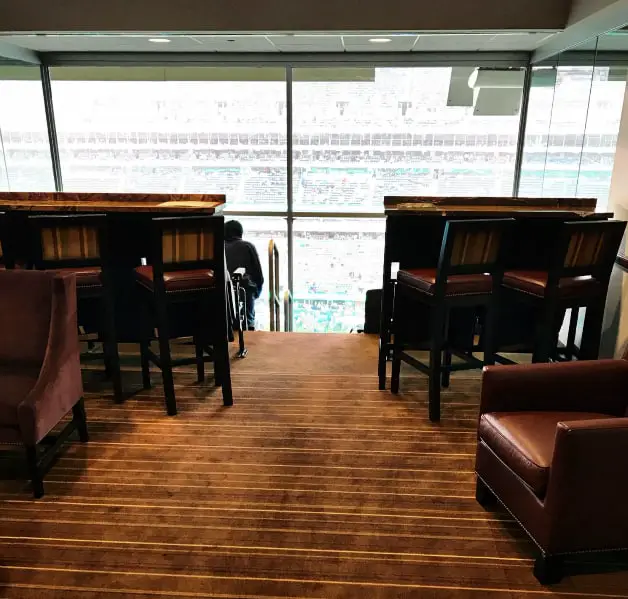 This was the point in the experience when I thought, "I'm going to have a hard time getting Reggie to leave!" The suite was spacious. Also, since it was encased in glass, we didn't even have to think about the rain downpour as we enjoyed the uninterrupted views of the football field.
Our media group was split up so that each suite had 15 people or less. Reggie had a great time cheering (as well as moaning and groaning!) with a few of the other writers including JR, Brandon Robinson, and Andrew. When I realized that one of the writers had brought his uncle as his "+1" as a birthday gift, I jokingly tried to change our outing from a date to Reggie's early birthday gift. It didn't work but let's be honest..his actual gift will pale in comparison to this experience with his favorite football team. Que sera, sera.
The Food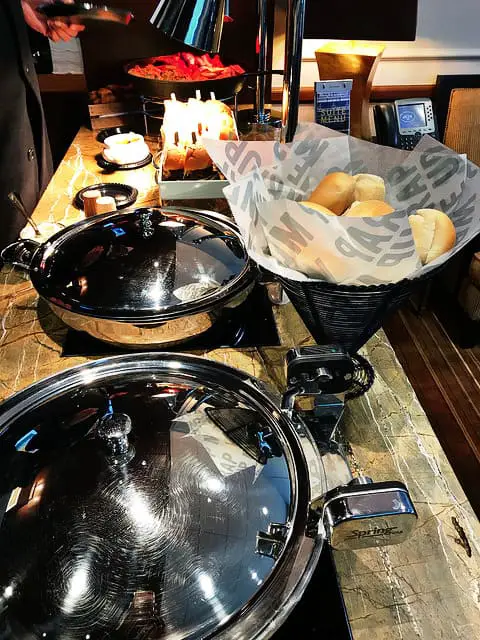 I'm a major foodie, so I was impressed by the choice of foods that were available at the stadium. A variety of the key dishes were brought up to the suite for us to taste. We sampled a bit of each item. Everything was so delicious and filling that Reggie and I skipped dinner later that night.
New things to eat:
–Barbecue Shack's P3 Pulled Pork Platter: This new offering has 3 different kinds of pork – slab bacon, smoked hot links and pulled pork. It is served with a South Carolina mustard-based sauce. (Each kind was so good that it reminded me why my newly vegan friends only have a .01% chance of "converting" me over to their side!)
-The Fat Rooster Hot Chicken Sandwich: It's a small wonder that this is one of the most popular dishes recently introduced. Everyone in the suite who commented kept saying, "This is good!" It's a pounded thin chicken breast brined in buttermilk and hot sauce for 24 hours. Then, it's dredged with seasonings and deep fried to a golden brown. It's served on a King's Hawaiian roll with honey aioli on both sides as well as thick, sliced sweet pickles and apple cider slaw. I like spicy foods and this sandwich was hot for me. Fortunately, the sweetish flavor of the pickles and slaw balanced out the heat.
-Nonna Fusco's Meatballs: The beef, pork and veal combinations are all rolled by hand in-house and served with Italian Sunday gravy. (Italians call it "gravy" but you might know it as marinara sauce.)
–Grater Mac Shop: This spot is a mac and cheese mix-ins concept. Mac and cheese is mixed in with different flavor profiles – from vegetarian with a Mexican flavor to a meat lovers option to an All-American cheeseburger flavor mac and cheese pick. (My kids would LOVE the latter two options.)
-Global Pies' sweet treats: Global Pies had already offered a variety of empanadas, meat pies, and vegetarian pies. The traditional fillings were so successful last year that they now also make dessert pies. We sampled the apple strudel and s'mores dessert pies and they were the perfect sweet ending to our meal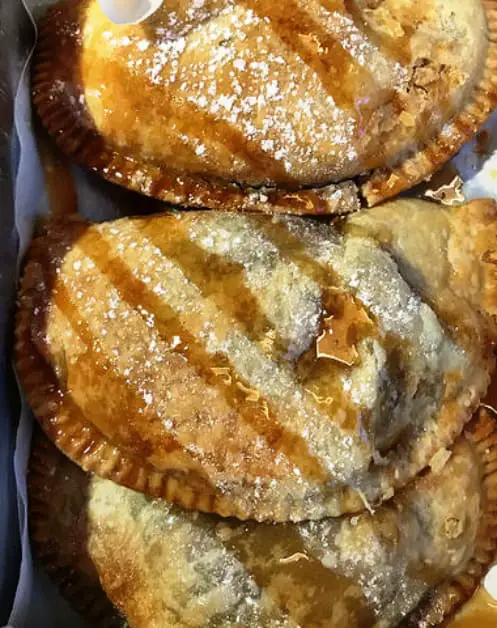 Victory!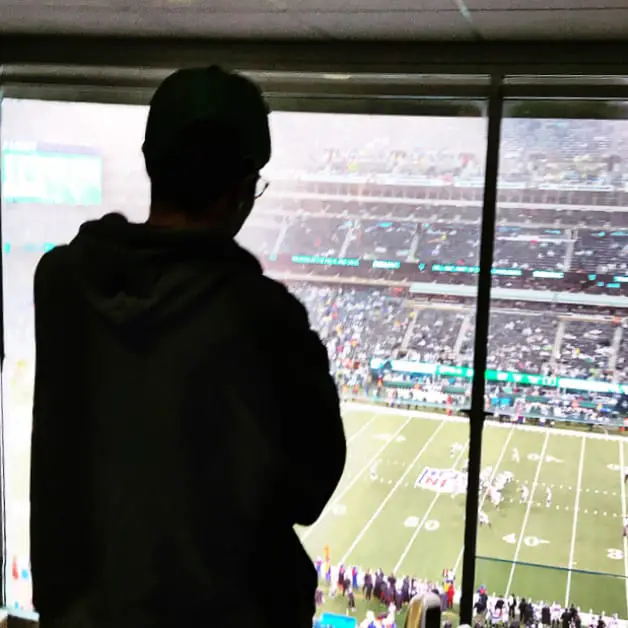 If you watched Sunday's game, then you know the Jets did not win. It was a victorious experience though. We had a wonderful experience, met some cool new people and enjoyed the game. Besides, it was a close game and I received brownie points in my husband's eyes. (We had been to a Jets game together before but this experience was special.)
I definitely recommend taking your spouse or family to a New York Jets game at MetLife Stadium for a special treat. Just make sure that you're familiar with the stadium's various policies (i.e. clear or small bags, no umbrellas, etc.) which can be found in the A-Z Guide.
Thanks to Joe (another fellow Columbia alumni), Jessica, and the New York Jets for hosting us during this amazing experience. As always, all expressed opinions are our own.