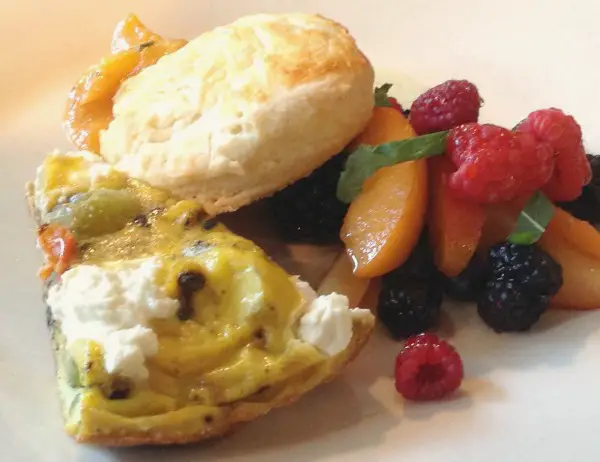 Yesterday, I attended a fun media food and tech event at SAVEUR's test kitchen that was hosted by Techlicious on behalf of Sony  Electronics. First, we saw Chef Ginger Pierce (of Peels NYC, a southern cooking restaurant in NYC's Bowery area) prepare buttermilk biscuits. Then, we enjoyed brunch with Sony's President and COO Phil Molyneux as we all discussed Sony's new initiatives with women. I will share more about the discussion in my next post, but first the biscuits…
I love biscuits. I made the perfect biscuits on my first try (beginner's luck?) as a young girl…and promptly forgot the recipe. I have even shared a couple of great biscuit recipes on this site – my friend Jennie's fluffy drop biscuits recipe and the cheddar and chive biscuits recipe from BLT Fish. The buttermilk biscuits that Chef Ginger prepared are equally as good. (Who wants to make a trip with me to Peels NY? Their handmade biscuits play a central role on their southern menu…). Anyway, I videotaped her preparing the biscuits:
The event organizers will be sending over the full recipe for me to share with you soon, but if you are in a rush, you can find the Peels buttermilk biscuit recipe on
Martha Stewart Recipes
.
Last of all, I wanted to share some of Chef Ginger Pierce's tips for making the best buttermilk biscuits ever (my words, not hers):
1. You can take the leftover scraps and re-roll them once.
2. You can roll the leftover biscuit dough thin to make crackers or sprinkle them with cinnamon and sugar for a sweet treat.
3. Brush the tops of biscuits with buttermilk instead of butter for the following reasons:
a.) It gives the biscuits a little "tang".
b.) It helps the biscuit tops to brown evenly/not too soon.
4. Don't over mix the dough if you want light, fluffy biscuits .
5. To truly determine if the biscuits are done, lift the side of the biscuit. Flakes separate a bit, so you should look in and make sure that there are no chunks of dough or butter left.