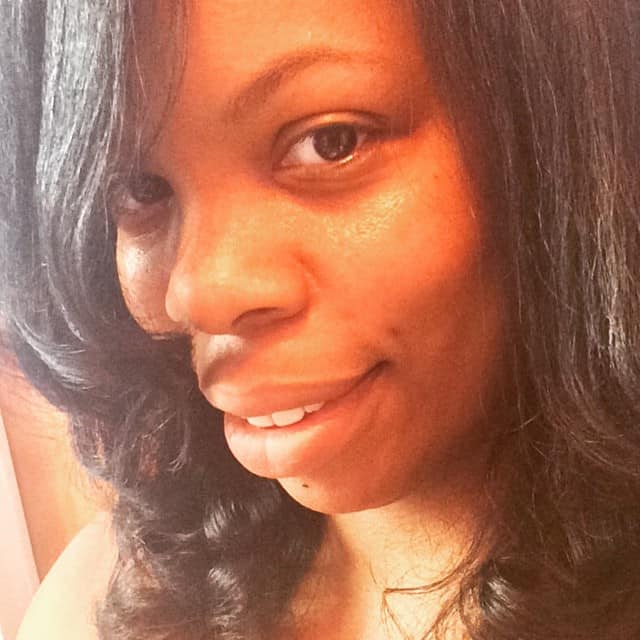 Over the last couple of months, Motions Hair Care has sent me a lot of their new and revamped hair products to try out. I don't need to buy any more hair products for a while. See some of the products that I have been using lately: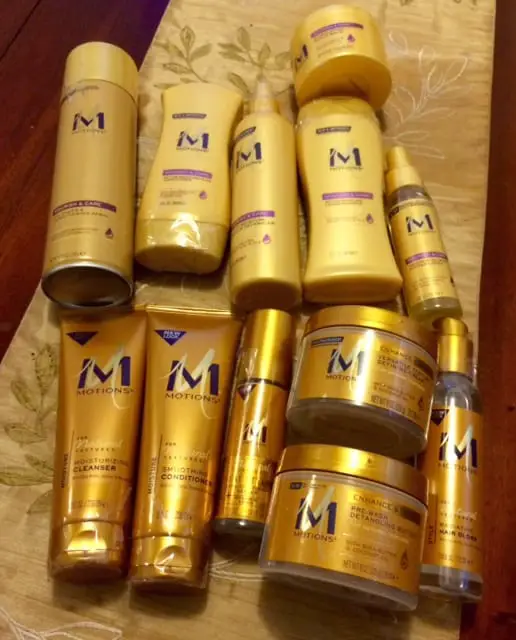 Recently, a Mom in the City reader, Georgina A., emailed me to ask some advice about transitioning her hair (from a relaxed to natural state). I will answer that question more in-depth tomorrow with some help from my super stylist Mia-Shanelle but I want to show you how I take care of my hair and some of my favorite Black natural hair products…including some of my new favorite products from my Motions Hair Care sampling.
Let me start off by saying that I'm not a "hair person". If I hit the lottery (that I don't play), I would have Shanelle do my hair every week. Until then though, I keep my hair maintenance as minimalist as possible. In fact, my summer theme is "Big Hair Don't Care" – meaning that most of the time I will be wearing my naturalish hair pretty free with a colorful scarf. I call my hair "naturalish" because even though I don't use a chemical relaxer anymore, I still have Shanelle color (or "paint" as Sean says!) my gray hair. Also, there are too many "rules" for what does/does not qualify as "natural" that I just don't have the time, energy or inclination to get caught up in it…so (much like with healthy cooking) I put an "ish" on the end so that expectations aren't too high.
So, this is what I do when I wash my hair…
1.) Pre-moisturize. As I was transitioning, I used a combination of olive oil and any leftover conditioner that I had on hand to moisturize my hair the night before I washed it. I section it in four parts, put the oil/conditioner mix on it, comb through each section and twist it. Now, I'm in love with Motions Enhance & Define Pre-Wash Detangling Butter. The shea butter and coconut oil makes it smell so good. I kept telling my husband Reggie to smell it. "It smells so good!" Finally, he asked, "Do you want to get a spoon and eat it?" Well, no…but it does smell that good! In addition, it was nice and light. Confession: You're supposed to leave it on for 20 minutes but I left it on overnight – like I always do before washing my hair. Shhh…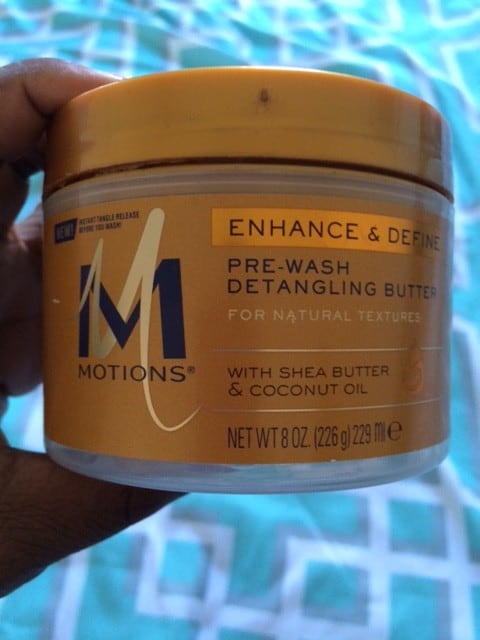 2.) Wash and condition hair section by section in the shower. It's easier for me to do my hair in the shower. I wash each section twice – focusing on the scalp area. Then, I condition that section – focusing on the ends. I comb through each section (from ends to roots) after conditioning it. I like low-suds, sulfate-free conditioners and moisturizing conditioners. I really liked the Motions Natural Textures Moisturizing Cleanser. It was very gentle and my hair felt soft after using it. Meanwhile, the conditioner from the Color Care line (Motions Color Care Dual Treatment Conditioner) was my favorite.
3.) Blow-dry hair section by section. I partially dry each section with an old t-shirt before using the dryer on it – so that it is damp, not dripping wet. I usually use a leave-in conditioner or heat protector of some type while I dry it. Sometimes a section will dry before I get to it because I have a big head and a lot of hair. When that happens, I re-dampen it.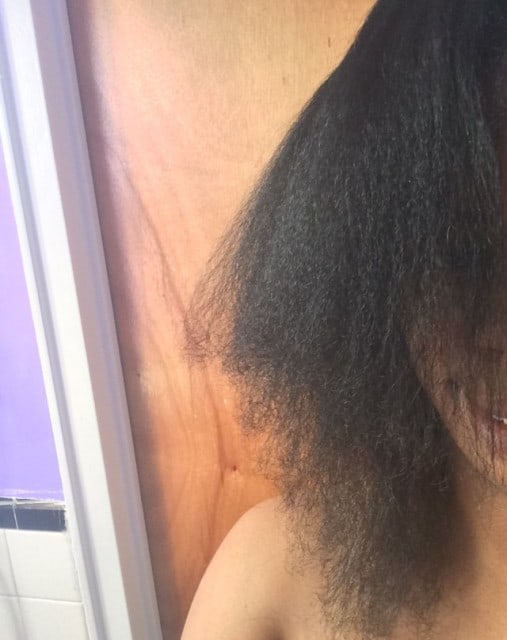 4.) Flat-iron my hair. Once again, it's important to use some type of heat protector. The fourth (and final) standout from the Motions Hair Care line was the Motions Light Hold Working Spritz. It works great for both a final mist for my bangs and when I want an especially curly look. When I want the latter, I spray my hair sections with it before I flat-iron curl it. (I don't even own a regular curling iron, because I burn myself with them!)  The flat-iron does enough. See…I had to put a hat on to tame the curls a bit when I did the curly look: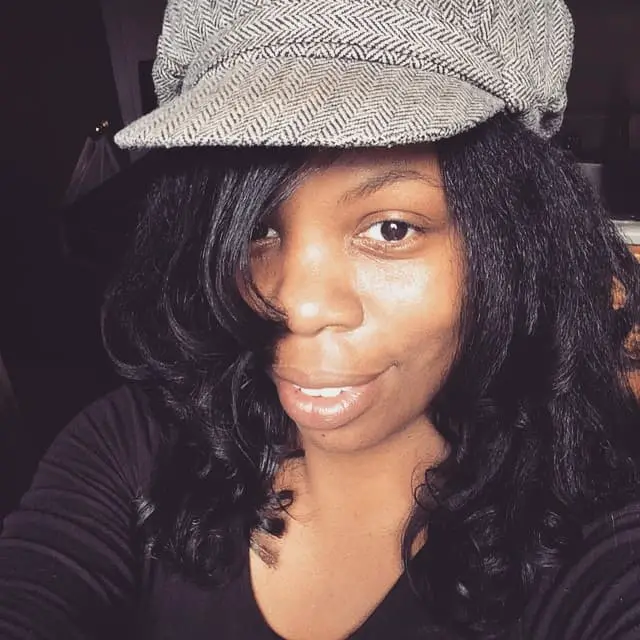 That's about it. I part my hair into four sections, twist, lightly spritz and pin my hair at night before covering it with a scarf to go to bed. I untwist it in the mornings and it leaves a nice beachy wave look like this: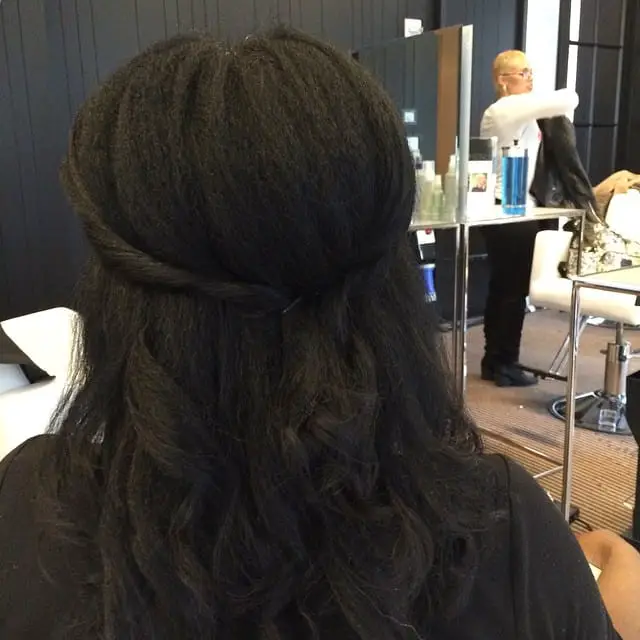 I only add any type of moisture/gloss when my hair looks or feels especially dry (i.e. I went home and added a little moisture to my hair after the photo above). Much like with my skin, my hair works best when I leave it alone as much as possible. That is perfectly fine with me!
In any event, Motions Hair Care has a formula for all types of Black hair (from color treated to those who like to play with various styles and textures – from relaxed to natural). If you haven't checked out their new look and formulas, try them out. After "playing" with all of these new products, I have started to have a little more fun with my hair. Normally, I pull my hair up or back/don't really like to bother with wearing it down unless it's for an event. Now, I'm a bit freer with it thanks to Motions. (I still would rather have Shanelle do it all of the time. Oh, well…)