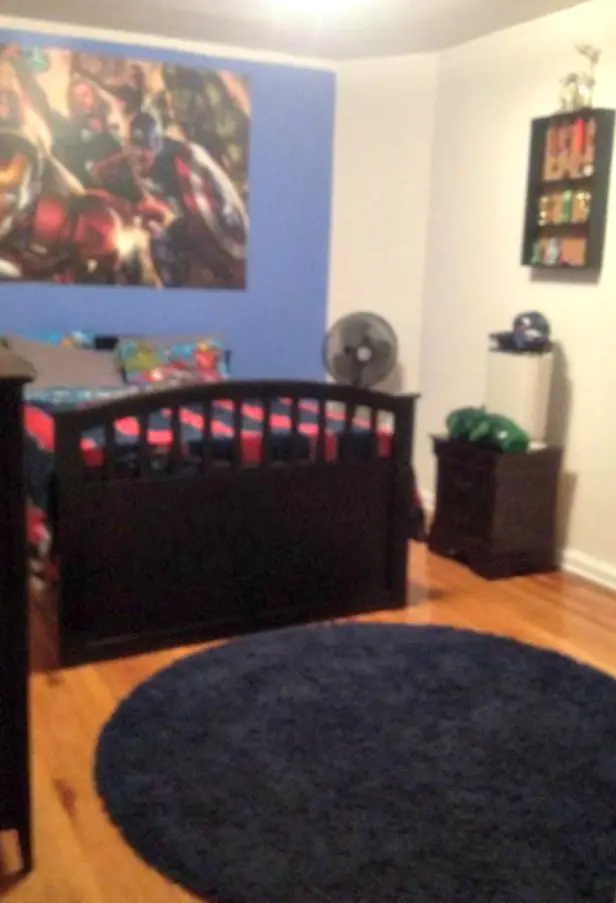 My sons can thank few factors for their new Avengers room décor:
1.) A family friend who remarked that parents don't tend to decorate their sons' rooms as much as their daughters (Boo!)
2.) Our recent move which resulted in them having a larger room
3.) The fact that they could finally agree on one theme that they both liked
I'm sure that #3 has a lot to do with the fact that we LOVE Agents of Shield and the recent Captain America movie. In any event, Spring Break was the perfect time to bring our Avengers room ideas to completion. Just in case you have some Avenger-loving boys, I'm sharing the pieces that made the room come together below…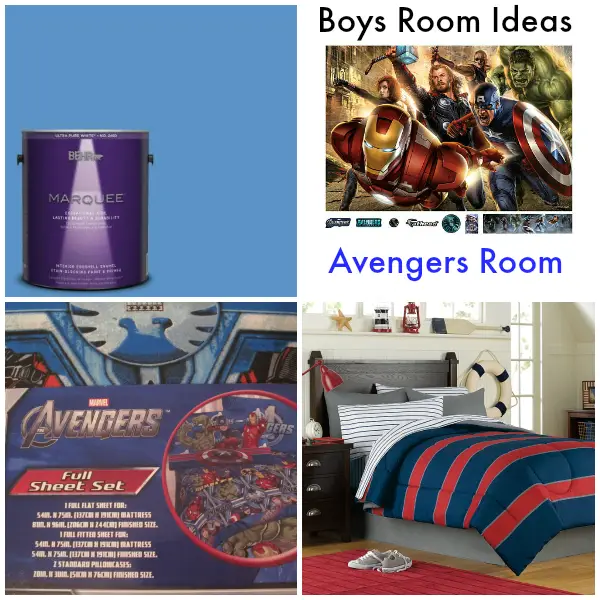 -The boys already had the trundle bed, dresser, and blue rug. I also gave them one of the nightstands from Reggie and my bedroom set, since I didn't need it anymore. (Our new bedroom is longer but not quite as wide.)
-Paint: Behr Marquee Odyssey paint in Come Sail Away (MQ4-26)
–Marvel Comics Avengers Mural Fathead Vinyl Wall Graphic Decal Sticker
: Although it was a little harder to put up than I initially thought, the wall decal really brought the room together. After we finished putting it up, I thought that we should bring it down closer to the height of the bed, but Reggie and I looked at each other and said, "Forget it – it's fine." ☺

–Marvel The Avengers Sheet Set: We purchased an Avengers sheet set from Amazon. They look nice and are not "too themey" when coupled with the Rugby comforter.

–Rugby Comforter Set: The clean lines of this Rugby Comforter and Sheet Set that we bought at Bed, Bath and Beyond works well in the room.

-"Red" curtains from Bed Bath and Beyond: I don't even remember the brand. I was so intent on getting a red (not burgundy) pair of curtains that I bought the only red pair that was in my local store. They turned out to be burgundy anyway! I was going to take them back, but Sean encouraged me to keep them. "They match Iron Man's helmet and Captain America's shield," he reassured me. (Love him!)
-Miscellaneous: The great thing about decorating in a theme that your sons already like, is that you don't need to buy a lot of additional accessories. With the Captain America shields, Hulk Smash hands, Iron Man helmet and such, we didn't really need to add anything else!
Although it's not Avengers themed, I also bought Michael a Trophy Case
to display some of his karate medals. (Somehow, some Minecraft paper crafts ended up in the display too…)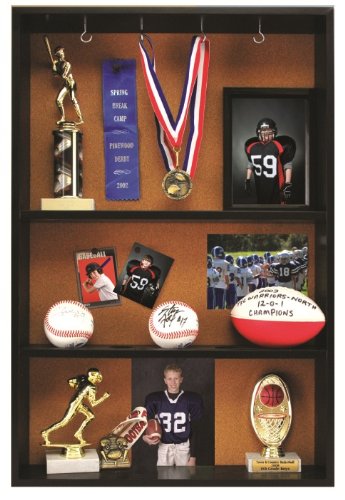 In any event, the kids are thrilled with their new room. It definitely makes them feel "at home" in our new apartment. For that, I am super grateful!
(P.S. If you have any other boys room ideas, please let me know. I'm stockpiling ideas for the next room redo!)

{Images courtesy of their respective sites}