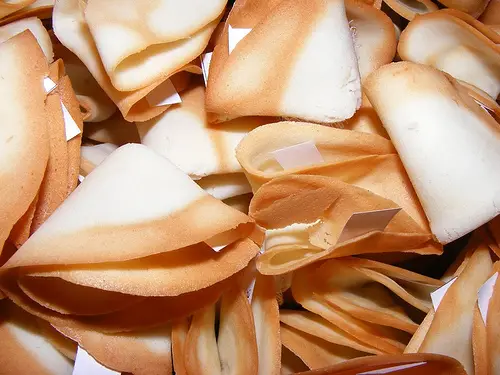 Credit: Plato Spelunks
I have mentioned
Handstand Kids Cookbook Company
in the past. (I celebrated National Spaghetti Day with their
"Mama's Spaghetti & Meatballs"
.) Their cookbook kits really are a great way for kids to experience preparing and eating recipes from around the world. To celebrate Chinese New Year, try their recipe for "Tell My Future Fortune Cookies" and enjoy writing your own fortunes!
Tell My Future Fortune Cookies (Fortune Cookie Recipe)

Credit: Handstand Kids Cookbook Company

Ingredients

• 2 egg whites
• 1/2 cup sifted flour
• 1/2 cup sugar
• 1 teaspoon vanilla extract
• 2 tablespoons water
• Non-stick cooking spray
• Pinch of salt
• Fortune strips
Tools
-Cookie/baking sheet
-Mixing bowl
-Parchment paper
-Spatula
-Whisk
-Wooden spoon
-Measuring spoons
-Measuring cups
Instructions

1. Pre-heat oven to 400 degrees Farenheit.
2. Line cookie sheet with parchment paper and coat with non-stick cooking spray.
3. Whisk egg whites in the bowl.
4. Mix flour, sugar, water and vanilla into foamy egg white mixture.
5. Beat the mixture with the whisk until smooth.
6. Put 1 tablespoon of the mix onto the parchment paper.
7. Use the back of the wooden spoon to flatten into a circle about 4 inches wide.
8. Repeat this step on the other half of the sheet. Make only 2 cookies per sheet.
9. Put cookie sheet in the oven and bake until golden brown at the edges, about 8 minutes.
10. Wearing oven mitts, carefully remove the cookie sheet from the oven. Using the spatula, quickly remove each cookie from the sheet onto a plate and place a fortune in the center before the cookie hardens.
11. Fold the cookie in half, then point the ends toward each other until they almost touch.
12. Let the cookies cool, then enjoy!

If your kid-chefs are looking for more Chinese recipes, consider purchasing Handstand Kids Chinese Cookbook kit from their online shop. (Isn't the takeout box packaging adorable?)