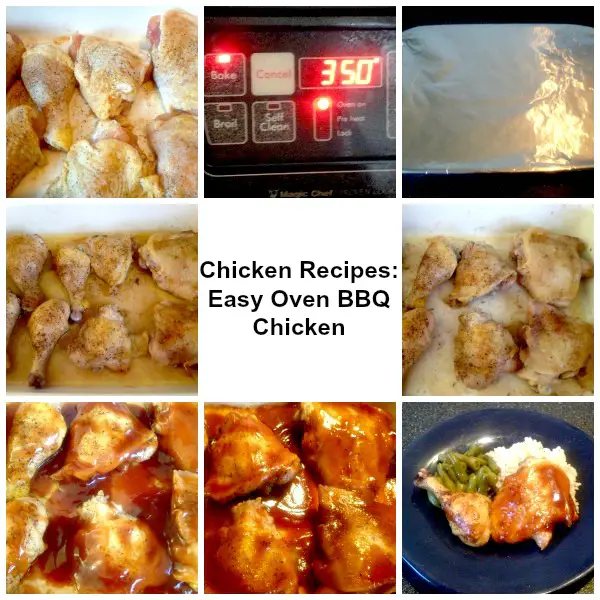 It is the second week of school here in NYC and my family is getting back into our school groove. I tend to stick to my "tried and true" easy dinner recipes on weeknights. Chicken recipes definitely fall into that category. Chicken, turkey and seafood are my favorite meats so I cook numerous variations of each. Barbecue chicken is one of my family favorites. While it takes a little bit longer to prepare than many of my weeknight staples (total time), it still doesn't take a lot of hands on time. See for yourself…
Easy Oven BBQ Chicken
Yield: 4 servings

Ingredients:
1 lb chicken, cut into pieces (My family prefers legs, thighs and wings.)
Seasonings of your choice (I use black pepper, seasoned salt and Adobo)
2 cups of barbecue sauce
Directions:
Preheat the oven to 350 degrees Fahrenheit.
Liberally (generously) season both sides of the chicken with your preferred seasonings and place the chicken into the bottom of a baking dish.
Cover the baking dish with aluminum foil and place it into the heated oven.
Let the chicken bake covered for an hour. Be certain to take it out and turn it over in the pan at the half hour mark.
After the hour, take the baking dish out of the oven. Drain any excess liquid and pour the barbecue sauce over the chicken. (I like to save the chicken broth for soups and such.)
Place the chicken with the barbecue sauce back into the oven and let it cook uncovered for an additional 15 minutes.
That's it. I usually cook my vegetable and brown rice (that will go with the bbq) while the chicken is baking. It's definitely worth the extra baking time…even on a school weeknight. 🙂