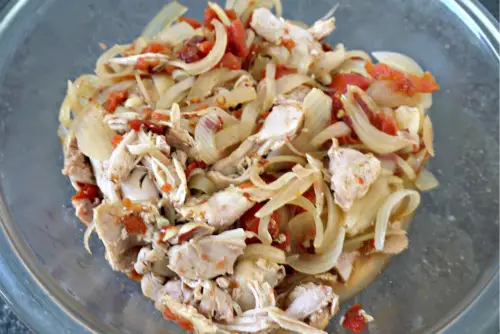 Earlier this week, I prepared the chicken dish that Food Network Chef Aarón Sanchez shared at the Sierra Mist Natural event.  I used the the chipotle chicken recipe but just switched up a few things.  The changes…
-I used a white onion instead of a yellow one and fire roasted diced tomatoes instead of regular diced tomatoes. (That is what Chef Sanchez used in his demo.)
-I used 3 garlic cloves instead of two. (My family loves garlic!)
-I added salt and pepper.
-Since I was pressed for time, I cooked the dish in the slow cooker on low for 6 hours (instead of 7-8 hours). That was what Chef Sanchez recommended in his demo anyway!
The dish was very easy to prepare. As an FYI: the chipotle peppers were really spicy. Initially, I considered adding three peppers instead of two, because I like spicy food. I'm glad that I tasted one of the peppers first though…two was plenty! Actually, two was too much for Sean. I don't know where he got his taste buds. He just does not like spicy foods. (The chicken filling at Chipotle restaurants is even too spicy for him?!) Reggie and Michael were a bit better. At first, they commented on the spice level. When I mentioned that I guessed that I shouldn't make it again, they quickly changed their stories though. "No! We like it. Make it again." I will definitely make it again because I have half of the peppers (the recipe only calls for two, but 4 usually come in a can) and half of the fire roasted diced tomatoes left over. Besides, I really enjoyed the taste. For me, the sweetness of the Sierra Mist mellowed out the spiciness of the peppers. My family simply needs to get with the spice program 🙂 .
I made the dish on Tuesday for our family's Mexican themed dinner night, so we used the chipotle chicken as the meat filling. I didn't have any queso fresco on hand so we just used the shredded Mexican cheese mixture that we already had in the refrigerator. The chicken really makes a great taco filling, but Reggie also enjoyed it with some yellow rice. In any event, this is  one easy slow cooker chicken recipe that I will be preparing again soon.
Have you been able to help your family like spicy foods? If so, I would love some tips…