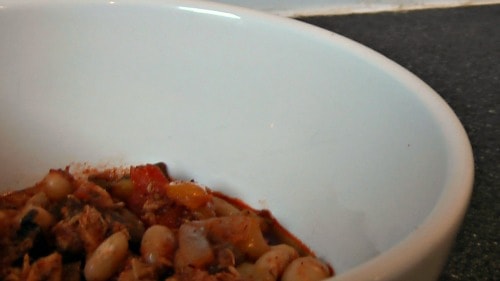 Chicken, turkey and fish are basically going to be my "go to" meats for the next few months. (I'm participating in a low-key "fit by forty" challenge with a few of my girlfriends.) Since I prefer tomato-based chilies, I love this tomato based chicken chili recipe that I'm sharing with you today – especially with a dash of hot sauce! It's really simple. Even if you don't have a slow cooker, you can just cook it on a stovetop using the directions from the
My easy chili
recipe.

Two-step chicken chili (Crock pot version)

Yield: 6 servings
Ingredients:

• 2 cups cooked chicken, chopped or shredded (I use the leftover breasts from the Crazy easy crock pot chicken recipe.)
• 1 cup chopped onion
• 1 cup chopped green pepper
• 1 cup chopped red pepper
• 1 cup chopped yellow pepper
• 2 tbsp chili powder
• Seasonings to taste (I use garlic, seasoned salt, black pepper, basil and oregano.)
• 2 cups of white beans, drained (I prefer Great Northern or cannellini beans.)
• 2 cups diced tomatoes
• 1 cup tomato sauce
Directions:

1. Place all of the ingredients into the slow cooker and cover everything with the lid.
2. Set the temperature to low and the timer to four hours before pressing "Start".
That's it! After the four hours are up, you can sample your chili to make sure that the seasonings are to your taste. If not, you can add more seasoning and stir everything together again.