Have you heard about CUNY's Macaulay Honors College? It is one of America's top public honors college programs. If your teen is interested in this program, I encourage you to have them start the application as soon as possible.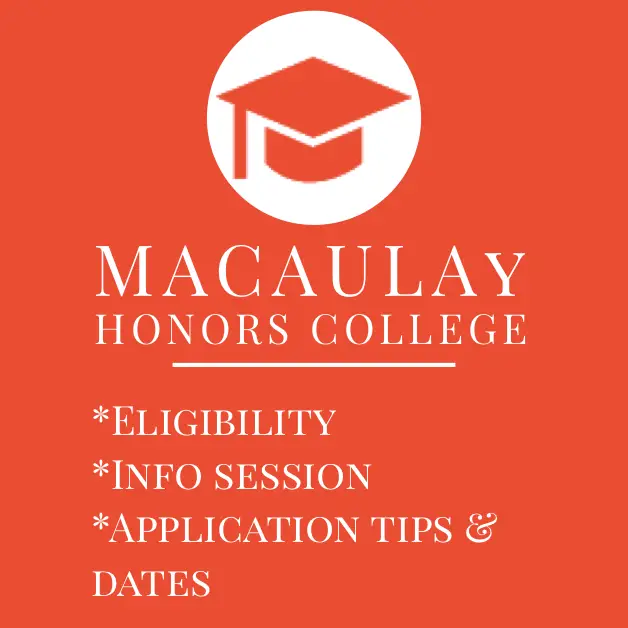 What Is Macaulay Honors College? 
Macaulay Honors College at CUNY is an honors college that is spread across eight CUNY colleges. Macaulay students participate in a program designed jointly by the respective college and Macaulay. Students graduate with a dual degree from Macaulay and their chosen CUNY home college.
Every Macaulay student receives a full-tuition scholarship. Students are still responsible for paying school fees (including room and board if they live on campus) if they are not covered by grants, scholarships, and other forms of financial aid. 
Other perks for Macaulay students include free Apple laptops and access to a $1,500 per student Opportunities Fund to help pay for various professional or academic programs.
Macaulay Honors Eligibility Requirements
Macaulay Honors College evaluates prospective students based on a combination of academic and personal factors. On the academic side, there isn't a minimum GPA stated. Also, CUNY is not considering SAT and ACT scores for admission to Macaulay's class of 2026. 
To receive the full tuition Macaulay scholarships, students must be New York state residents/meet CUNY'S New York State residency requirements. Also, it must be the first college experience for prospective Macaulay students. The program only accepts incoming Freshmen – not transfer students. 
For more in-depth information, visit Macaulay's Admissions Requirements page.
Macaulay Information Session
Macaulay has an upcoming virtual information session for interested students. It will be held on November 4the from 4 pm to 5 pm. Staff will answer some of the most frequently asked questions about the program. Planned topics include deadline reminders, essay tips and handling the CUNY application for Macaulay. It is a great way to learn more about Macaulay Honors College.
Macaulay Application Tips
Start as Early as Possible
The sooner that a student submits their application, it gives their recommenders more time to write recommendations. Once the application is submitted, their recommenders are notified and asked to upload their recommendation.
The great thing is that students can revise their submitted applications any time up until the deadline. They can add recommenders, upload essays and other supporting materials as well as pay the application fee. The application fee is currently $65. (Students with special financial or other circumstances may be able to have CUNY waive its application fee.)
It is important to note that applicants can only use the CUNY Application. Macaulay Honors College is not in the CommonApp. The Macaulay application website closes on November 16, 2021, at 6 pm.
Application Essay Prompts
As part of the Macaulay application, students are required to submit two pieces of writing: an essay and a second writing sample. Each should be around 500 words long.
ESSAY PROMPT:  Describe an experience that either demonstrates your character or helped to shape it.

WRITING SAMPLE PROMPT: Write on a topic of your choice. It may be something you have already written, something that addressed a different prompt (such as another college essay or academic assignment), or may be an essay of your own design.

macaulay honors college
You can learn more about essay considerations on the Macaulay Honors College Essay Questions page.
Important Macaulay Admissions Dates
9/1/21: The Macaulay application opens.
11/16/21: The Macaulay application closes at 6 pm.
12/10/21: Application recommendations are due.
3/16/22: Prospective students receive notifications.
5/1/22: COMMITMENT DAY
The Macaulay Honors College is a wonderful program so consider encouraging your high (academic) achieving seniors to apply.
If you found this post helpful, please share it. 
You Might Also Like