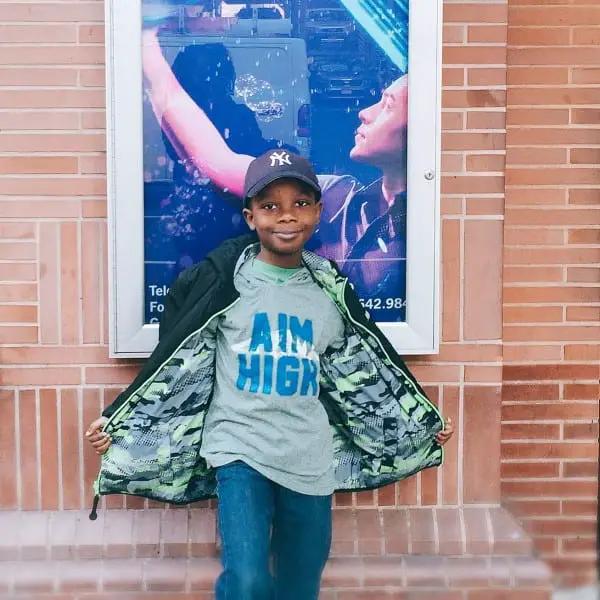 The Gazillion Bubble Show started its 10th year in NYC last month. I was recently gifted three media passes, so I attended the show with my youngest son Sean and his 8-year-old cousin. Since the show is best for kids ages 2 to 10 years old, we left Michael at home. I'm so glad that we went, because it felt like we left reality and were in our own little happy "bubble" for the duration of the show. We didn't want it to end!
As we waited for the show to begin, there was a large screen displaying fish and underwater imagery. There was also some great kid-friendly music playing. Once the show started, it was interactive – the audience was asked to clap to the beat, scream and such. That's perfect for kids (and adults) with short attention spans. Then, there was a short clip about Deni Yang, the bubble artist who performed during the show. Deni, who has been working with bubbles with his family since he was four years old, is in the Guinness World Records book. His self-proclaimed goal in working with bubbles is "to make people happy". (What a great goal!)
Highlights of the Gazillion Bubble Show
-Bubbles with colored lights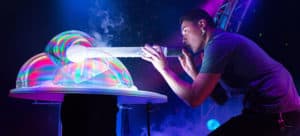 -Bubble Laser F-X (The laser show with bubbles is a new addition to the show.)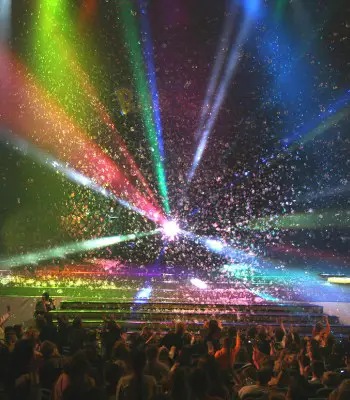 -Children from the audience being called up to be in a bubble (Kids are so unpredictable though…2 of the 4 kids kept popping the bubble that they were placed in. They were cute though!)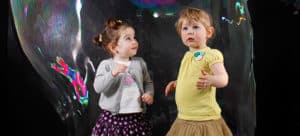 -Bubbles blown into the audience (This was done a few times. It was especially exciting during the laser show with bubbles portion of the show.)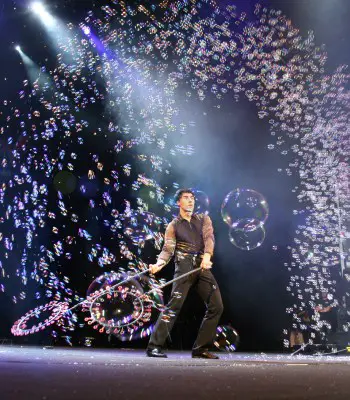 -There was also a long line to take "Me in a Bubble" photos ($20). I appreciated that the show helped Sean to think scientifically. "If I attach a hula hoop to a stick and make a big thing of bubble solution, then I can put people in bubbles too," he guessed. I don't think that it's that simple, but it's a good first thought.
I would say that this show is fun for the young (ages 10 and under) and the young at heart (no matter the age). Sean (9), his cousin (8) and I (a grown woman 🙂 ) all had an amazing time. I definitely felt like a kid again. Deni Yang accomplished his goal…we were all very happy! On the way home, I asked Sean what has he been doing since he was four years old like Deni with his bubbles. Without missing a beat, he responded with a smirk, "Making you question your life decisions. You could be getting free magazines for life." (Working at Time Inc. was my last corporate job before becoming a work from home mom.) In other words, Sean has been making me laugh with his quick wit! Who knows…in the midst of being a dancer/ writer/ photographer/ humanitarian, perhaps Sean will be a comedian too. 🙂
GAZILLION BUBBLE SHOW
New World Stages Theatre
340 West 50th Street
New York, NY 10019
[Tickets are $55-$75 and $99.50 (VIP package)]