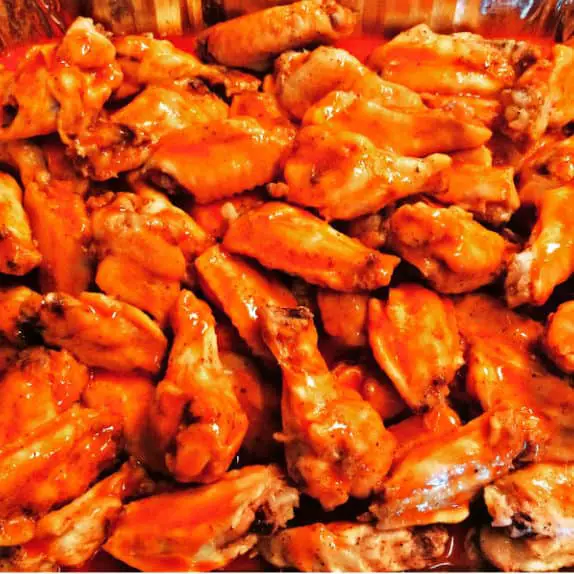 My family attended two barbecues in the last week. I always ask, "What dish do you want me to bring?" when we are invited to large gatherings. For the Saturday one, the hostess asked me to bring baked macaroni and cheese. (Since my husband Reggie doesn't like a lot of dairy, gatherings with family and friends are the perfect opportunity to make it.) On Monday, the host requested the baked buffalo wings recipe that I had made for a football party a couple of years ago.
I use my blog as my online recipe box, so I was surprised to note that I had not written down the recipe for baked buffalo wings. Oh well, let me fix that now. These buffalo wings are a slightly healthier alternative to traditional buffalo wings because the wings are baked instead of being fried. They are still covered in butter though. What I learned two years ago – when I first made the wings – is that Frank's is THE hot sauce for wings. I asked my Facebook friends what their favorite buffalo wings hot sauce was. Frank's won by a landslide. Frank's "AMAZING" buffalo sauce "(which is) really is just as good as making it from scratch!!" and Blaire's "nothing else can call itself HOT sauce" Death Sauce was also highly recommended. My friend Adam* even provided a  bit of history about Frank's. "It was the sauce for the original anchor bar wings in buffalo."
Now, that we have established the hot sauce to use, here is my easy recipe:
Easy Baked Buffalo Wings Recipe
Easy Baked Buffalo Wings Recipe
Ingredients
4 lbs. chicken wing pieces (discard wing tips)
2/3 cup FRANK'S RedHot Original Cayenne Pepper Sauce
1/2 cup butter,melted
Instructions
Bake wings in the foil-lined pan at 350 °F for 40 minutes, turning once at the 20 minutes mark.
Combine hot sauce and butter in a bowl.
Cover the wings in the sauce once the wings are cooked.