Some of the best desserts are the easiest to make. That is why I'm resharing a simple, delicious compost-like cookie recipe for Day 17 of the"A Dessert a Day 'Til Christmas 2021″ series.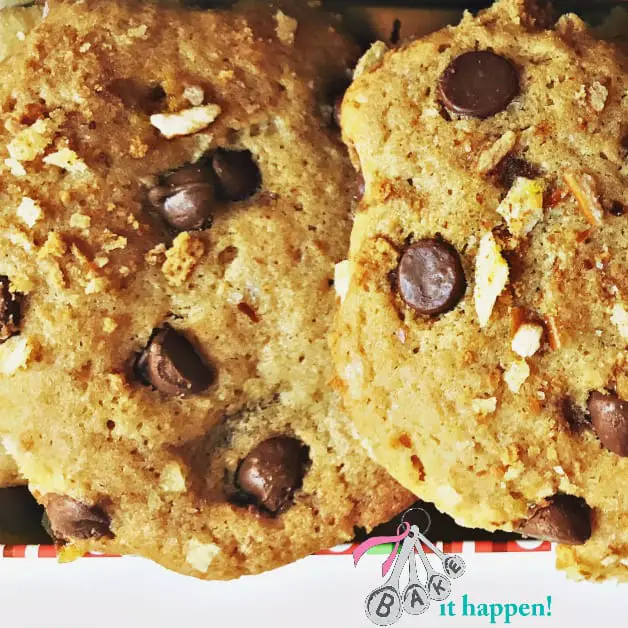 I have highlighted the Bake it Happen campaign since 2015.  The initiative raises awareness and money for Metastatic Breast Cancer research. My friend Shari co-founded Bake It Happen in honor of her mom who passed away from this disease. I baked an easy compost-like cookie for the occasion this year.

The campaign keeps growing each year and I'm happy to share that 100% of the money that is raised this year will be DOUBLED as a donation to The Cancer Couch, which raises funds for Metastatic Breast Cancer.
Tastebuds Kitchen
is also a Bake it Happen campaign partner this year. The NYC kitchen offers great cooking and baking classes for both kids and adults. (I attended a Tastebuds Kitchen class with Michael several years ago and we had a great time. It was the first time that he enjoyed broccoli!)  They are offering a
Cookie Pie Workshop (Ages 5-8 w/ Caregiver)
where they will be making one of the recipes from this year's campaign and have committed to donate a portion of the proceeds from their classes to The Cancer Couch Foundation. 
Michael at Tastebuds Kitchen in April of 2011
Bake it Happen 2017 Details
Go to the Bake It Happen website and see how simple it is to join the campaign. Basically..
1.  YOU BAKE. (There are 4 recipe options this year.)
Judy's Black Bottom Cupcakes

Pumpkin Oatmeal Chip Cookies
Banana Chocolate Chip Loaf

Compost-Like Cookies
**Since the month is almost over, you are also more than welcome to donate directly instead of (or in addition to!) the $5 donation that your picture provides. You can do that directly at www.bakeithappen.net/donate.**
Coleman's Easy Compost-Like Cookie Recipe
My family chose to do a version of the Compost-Like Cookies using our favorite cookie base and adding a hodge-podge of ingredients.  Sean wasn't thrilled that compost was another word for garbage. However, when I let them all know that they could choose which ingredients to add to the base, everyone was fine.
Coleman's Easy Compost-Like Cookies  

Ingredients
2 sticks of unsalted butter (softened to room temperature)
¾ cup fine granulated sugar
¾ cup brown sugar
2 eggs
2 tsp vanilla extract
2 cups unbleached all-purpose flour
¾ tsp baking soda
1/8 tsp salt
Optional "compost" ingredients: potato chips, pretzels, graham crackers, chocolate chips and butterscotch chips
Instructions
Heat oven to 375ºF.
Mix sugars, butter, vanilla and egg in a large bowl.
In a medium bowl, whisk the flour, baking soda and salt together.
Add the dry ingredients from the medium bowl into the large bowl and mix all of the ingredients together well.
Gently fold desired optional ingredients into the dough.
Place rounded tablespoonfuls of the dough (approximately 2 inches apart) on an ungreased cookie sheet. (You can use parchment paper if you like.)
Bake the cookies for 8 to 10 minutes. The cookies will be light brown with soft centers.
These cookies were *almost* as good as the compost cookie (a registered trademark!) that I enjoyed from Momofuko Milk Bar at a 2012 event with Momofuku Milk Bar Pastry Chef Christina Tosi and her mom Greta Miller.
Sean and Michael at the 2012 cookie party.
If you can, please bake and or donate to Bake it Happen. It's definitely a worthy cause!
If you found this recipe helpful, please share it. Thanks!
{This post has been updated and republished. This recipe was originally posted on October 19, 2017.}