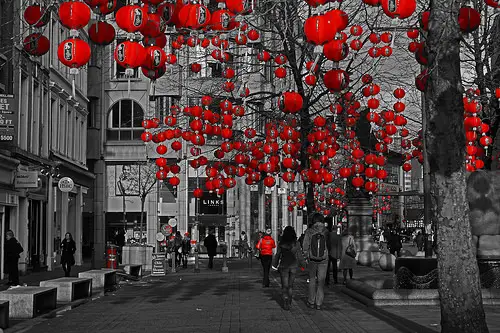 Chinese New Year 2017, the first day of the Chinese lunar calendar, is this upcoming weekend on Saturday (January 28th).  It is the Year of the Rooster. I wanted to know how actual Chinese families celebrate so I asked a couple of my friends (Claudia and Yungling) who are from China. Their answers were very similar, so I will share them with you.
1. Traditionally, everyone has to wear new clothes in the New Year…especially red ones. (Chinatown has very cute Chinese outfits for kids that cost approximately $20.)
2. On New Year's Eve, parents will give their kids red envelopes with money inside. The kids keep the envelopes (like these "Happiness" Classic Chinese Style Written in Chinese Character
ones) under their pillow on that night.
3. During the New Year period (the 15-day celebration), families go to
visit their relatives
. Grandparents, aunts and uncles often give kids red envelopes with money also.
4. Kids are also given lots of candies during family visits. This Chinese Good Luck Candy
that comes with red wrappers is a great example.
5. On the fifteenth day of the New Year, families attend a
lanterns festival
. The kids will either make lanterns or parents will buy them for their kids. Since this year is the "Year of the Rooster", look for lanterns with rooster drawings on them.
Below is a slideshow (pictures and videos) of a past Lanterns Festival. Take a look at it with your kids!
A special thanks to my friends (Claudia from Kaohsiung, Taiwan and Yungling from Shanghai, China) for sharing their culture with me!
Bonus: Chinese New Year 2017 NYC
The events hosted by the Better Chinatown Society (especially the New Year's Day Firecracker Ceremony & Cultural Festival) are my personal favorite Chinese New Year events to attend with my family. However, there are many other options including the following:
-The second  Madison Street to Madison Ave will be taking place on January 29th from 11am to 3pm on the Upper East Side and East Midtown. Cultural performances and themed activities should make this a fun event for families and children to attend.
-The
New York Chinese Cultural Center
is offering
several Lunar New Year Celebrations
 through February 11th.
– Flushing Town Hall is offering several Lunar New Year workshops and performances through February 24th.
– Asia Society's Moon Over Manhattan Family Day will be from 1pm to 4pm on Saturday, January 28th. Ticket prices range from $5 to $12.
-You can find additional NYC Lunar New Year events on the NYC Parks "Lunar New Year" page.
You Might Also Like:
–The Meaning of the Chinese New Year
–Celebrate Chinese New Year: Fortune Cookie Recipe
–Quick & Easy Kid Friendly Recipes for Chinese New Year
{Top post image courtesy of Gidzy}