My family went to see an advanced screening of the
Goosebumps movie
back in July. It is such a good movie. We didn't know what to expect because we're not really fans of scary horror movies but it was so cleverly made.
Goosebumps
has the perfect combination of scary and funny elements and I definitely recommend this movie. It is one of the best family movies that I have seen in a while and it opens in theaters today (Friday, October 16th).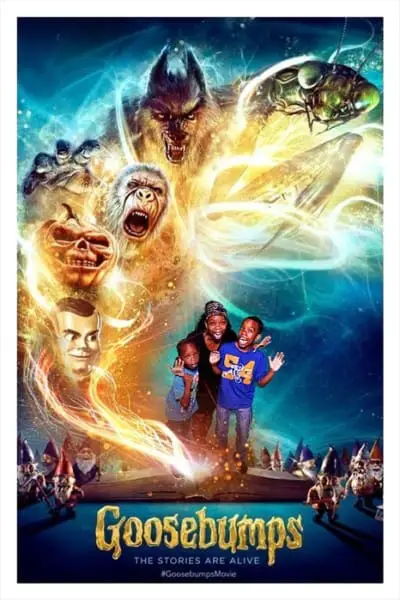 I asked each of my guys for their "Goosebumps Movie Review". Their thoughts on the movie…
Reggie (Adult)
The movie was really well made and good for both adults and kids (ages 7+). It was both funny and scary. I really liked the characters of Jack Black (as R.L. Stine) and Ryan Lee (as Champ/"Chump"). They both did a great job. My favorite part was the ending – especially when R.L. Stine makes a brief appearance in the film.
Michael (11)
I really liked the movie. It was very interesting. It was funny and not too scary. My favorite part was the end because it hints that there will probably be a sequel.
Sean (8)
I think that the movie was a good blend of jump scares and comedy. Slappy, the ventriloquist dummy, was one of the scariest characters because he is the reason that most of the book characters were released. The ending was really good because it hinted at a sequel. My favorite part was when Slappy would get mad when people called him a dummy.
(Note from Kimberly: I didn't even know that jump scares was a real word?!)
The Goosebumps movie definitely lives up to the scary roller-coaster ride of the Goosebumps books. My sons were actually inspired to read some of the Goosebumps books after seeing the movie. I think that it helped that they actually met R.L. Stine at the screening. Mr. Stine was very kind and asked them what they thought about the movie. (They are honest to a fault so I'm glad that they actually really enjoyed it or that would have been an awkward moment!) In any event, I think that your family will enjoy the Goosebumps movie too.