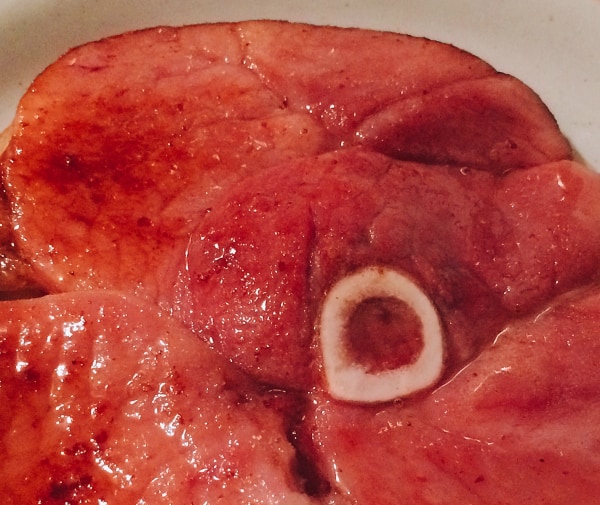 Normally, I really don't have a preference regarding what we eat for dinner…I just try to cook the healthiest version of whatever my guys like to eat. Sometimes I get bored though, which means that it's time to switch things up a bit. That is how I came up with this ham steak with brown sugar glaze recipe.

When I went grocery shopping earlier today, I noticed that some reduced-sodium traditional bone-in hickory smoked ham steaks were on sale so I picked one up for dinner. We rarely eat ham for dinner unless it's a holiday, so I was looking forward to it.
It was so quick and easy to prepare this grilled ham steak. Usually, my weeknight meal meats take 30 minutes or less to prepare. This one only took 15 minutes…and that included the time that it took to prepare the glaze! (For the simple glaze, I used the ingredients from my friends at PartyBluPrints.com "Honey and Brown Sugar Ham Glaze" recipe. If you enjoy eating ham a lot, definitely take a look at their post…there are seven other ham glaze combinations included.) Enjoy!
Simple Grilled Ham Steak With Brown Sugar Glaze
Simple Grilled Ham Steak with Brown Sugar Glaze
Yield: 4 servings
Ingredients:
2/3 cup brown sugar
3 tbsp honey
1 tbsp prepared mustard
1 to 1.5 lb ham steak
Directions:
Preheat your grill on a medium-high setting for 5 minutes.
In a medium bowl, mix the sugar, honey and mustard together well. (It will be a little thick, but don't worry. It thins out as it interacts with the heat from the grill.)
Place the unwrapped ham steak on the preheated grill and brush half of the glaze on top. Let it heat for 3 minutes.
Turn the ham steak over and brush the other half of the glaze on the part that is facing the top. Let it heat for 3 more minutes.
That's it…remove the ham steak from the grill and serve!
That was easy, right? Best of all, everyone in our home enjoyed the dish. I will say that the only downside is cleaning the grill afterward. Oh well…it's a good thing that I don't have to clean on the nights that I cook! 

If you found this recipe helpful, please share it. In addition, consider signing up for my weekly email newsletter so that you don't miss future updates. Thanks!
You Might Also Like