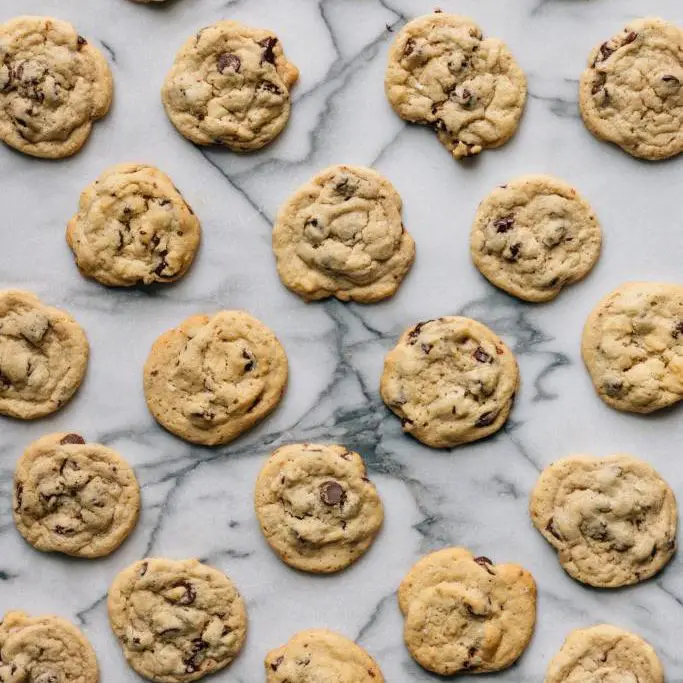 I attended a luncheon where Sarabeth of Sarabeth's Kitchen demonstrated making her famous chocolate chip cookies a while ago. A great cookie recipe sticks with me, so the recipe that she shared is my "go to" chocolate chip recipe even now…years later. I keep the exact same ingredients that Sarabeth used to show us how to make chocolate chip cookies. (Why mess with perfection?) However, I prepare the cookies a bit differently.
In Sarabeth's directions, she cuts the butter into pieces and uses an electric mixer with a paddle attachment. I don't do that.  I like to use an electric mixer for cakes and cupcakes, but I prefer to mix cookie ingredients together by hand for a few reasons.  First of all, it just feels more simple and nostalgic…like the baking that I did with my "Big Mama" when I was a kid. Secondly, baking cookies is something that I like to do with my boys. I get a little weird about them being close to blenders and other quickly whirling appliances when a good old spoon will do.  Last of all…no mixer equals not having to clean the mixer. Enough said!
I was going to make a homemade caramel drizzle on top of the cookies, but these cookies stand alone! Honestly, one cookie (with all of its chocolaty goodness) is more than enough to satisfy a sweet tooth. The only thing that I would add to these cookies is a glass of milk! You'll see…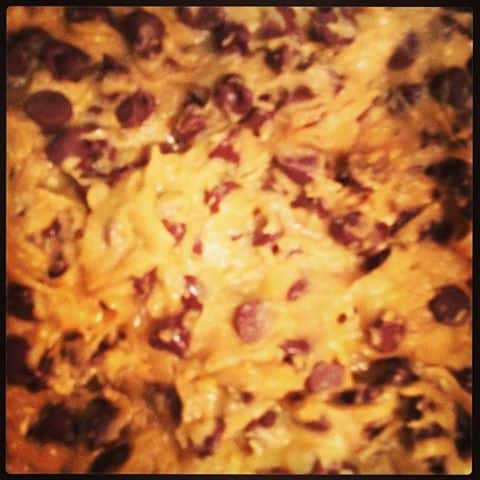 How to Make Chocolate Chip Cookies
Sarabeth's Chocolaty Chocolate Chip Cookies Recipe
Yield: 30 cookies
(Recipe originally from Sarabeth of Sarabeth's)
Ingredients
2 sticks of unsalted butter (softened to room temperature)
¾ cup fine granulated sugar
¾ cup brown sugar
2 eggs
2 tsp vanilla extract
2 cups unbleached all-purpose flour
¾ tsp baking soda
1/8 tsp salt
3 cups of semi-sweet chocolate chips
Instructions
Heat oven to 375ºF.
Mix sugars, butter, vanilla and egg in large bowl.
In a medium bowl, whisk the flour, baking soda and salt together.
Add the dry ingredients from the medium bowl into the large bowl and mix all of the ingredients together well.
Gently fold the chocolate chips into the dough.
Place rounded tablespoonfuls of the dough (approximately 2 inches apart) on an ungreased cookie sheet. (You can use parchment paper if you like.)
Bake the cookies for 8 to 10 minutes. The cookies will be a light brown with soft centers.
*Recipe Notes:
– In a pinch, you can use bleached all-purpose flour (without making any adjustments) if you don't have any unbleached all-purpose flour available. They are interchangeable.
{Top post image credit: @erol.}