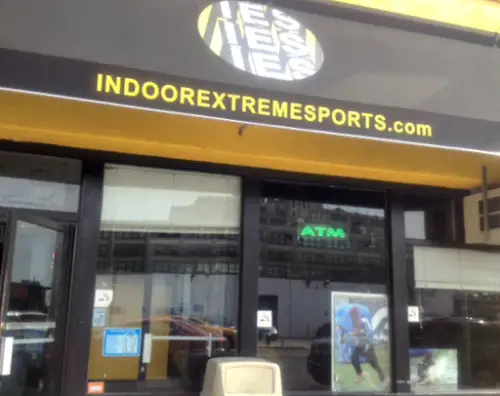 I really try not to be a hypocrite in any area of my life. However, after hosting Michael's birthday party at Indoor Extreme Sports, I noticed that I'm in the midst of a parenting hypocrisy dilemma! When Michael asked to have his 10th birthday party at Indoor Extreme Sports, a really great laser tag place in Long Island City, I didn't think twice about it. It's affordable, easy for people to get to by public transportation and they take care of everything except the birthday cake. What's not to love? I purchased their Arena CQB Laser Tag party package and it was great. We had an hour and a half filled with 15 games of laser tag. It included all of the equipment plus pizza, chips and drinks. The only thing that I needed to bring was the cake/cupcakes.
Everyone had a great time. The only thing that bothered me was when one of the kids said, "Oh my gosh…it's like playing Halo in real life!" I respect that parents have different video game rules for their kids. Reggie and I just don't let our kids play video games with a lot of violence in them – games like Halo, Call of Duty and such. Our sons are only10 and 7, so we don't let them play rated "M" games period. Anyway, the child's comment made me wonder why I am fine with the boys playing laser tag (and even paintball) but I really have a problem with them playing violent video games.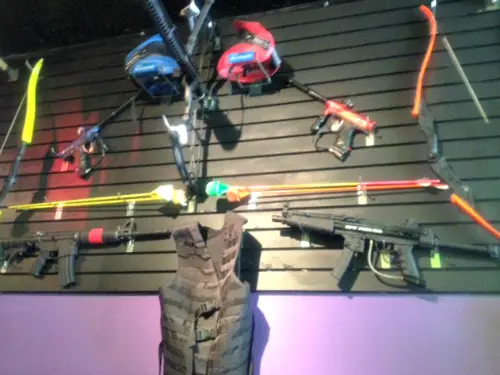 Later, I was speaking to my sons about my dilemma and they were quick to point out that the difference was probably because you don't see blood and gore in laser tag and paintball. Maybe there is a difference…I'm not sure. I just know that I have to give myself room to change my opinions over time. For instance, I remember saying that my sons would not play with guns at all when Michael was around 3 or 4. I remember another mom saying, "Good luck with that!" She was right! Interviewing Dr. Thompson (a psychologist, school consultant and author/co-author of eight books including the classic bestseller, Raising Cain: Protecting the Emotional Life of Boys) helped me to get over that and to understand why boys' fantasy stories and imaginary games are often so violent.
Who knows? Perhaps in a few years I'll be fine with my sons playing violent video games. I just don't like the idea of kids being constantly exposed to violence. (Please…I'm even a bit wary of the Hunger Games version of Minecraft!) I just don't want them to become desensitized to violence. When my sons are older, they can make the decision whether or not they will play such games but for now, it's still a "no". Oh, well…