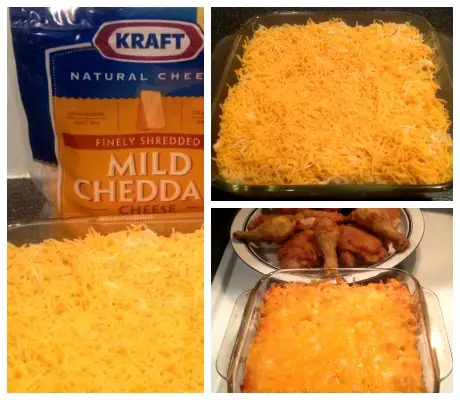 One reason that I give Target gift cards to my sons' teachers for holiday gifts is that there is something for everyone at that store. "My teacher just had a baby. Get her some diapers," one of my sons "helpfully" suggested. "She can get them with her gift card," I thought. (I'm not getting anyone diapers unless it's for a baby shower! Another category of items that Target sells is food…including Kraft products. That is why I'm happy to participate in an "A Little Help for the Holidays from Kraft" program using a Kraft product that is available at Target.
When I was asked to participate in the program using a Kraft product that is available at Target, I knew exactly what I would make…a new version of mac and cheese. (Sometimes, I use freshly grated cheese in dishes, but sometimes I use Kraft Shredded Cheese. "My guys" gobble it down either way, so both options are good!) I normally make my mac and cheese with two different types of cheddar cheese and Monterey Jack cheese. However, I read that a local restaurant used American and cheddar cheese, so I replaced the Monterey Jack cheese with American cheese. It was a subtle difference, but I think that I like the American cheese version just a tad bit more. I served the dish last week over the Thanksgiving holiday (twice!) and it was a crowd favorite both times…
Three Cheese Macaroni and Cheese
Ingredients
• 2 tbsps butter (1 tbsp to butter casserole dish, 1 tbsp to dot mac & cheese)
• 1 tbsp vegetable oil
• 1 1b elbow macaroni
• 1 stick butter (room temperature)
• 2 cups shredded mild Cheddar cheese
• 2 cups shredded sharp Cheddar cheese
• 1 cup shredded American cheese
• 1 pint half-and-half
• 2 large eggs, lightly beaten • Seasoned salt and black pepper to taste
Directions
1. Preheat oven to 350 degrees Fahrenheit. Lightly butter a 2½-quart baking dish with 1 tablespoon of butter.
2. Bring a large pot of water to a boil over a high flame. When the water is boiled, add the vegetable oil and elbow macaroni. Follow the directions on the macaroni box in order to cook the macaroni until it just becomes tender (approximately 8 minutes). Drain the macaroni in a strainer, but don't rinse the noodles with water.
3. While the macaroni is cooking, mix all three shredded cheeses together in a medium bowl.
4. Return the cooked macaroni to the empty large pot. Stir in the stick of butter, the half-and-half, eggs, salt, pepper and 4 cups of the cheese mixture.
5. Pour the mixture into the baking dish. Sprinkle the last cup of cheese and "dot" the last tablespoon of butter on top.
6. Bake the macaroni and cheese until it bubbles around the edges (approximately 35 minutes).

That's it…simple and delicious! In any event, you can find Kraft® Shredded Cheese at your local Target store to make your own dishes. (You can also get up to $20 in savings on various Kraft products – including their shredded cheeses – at http://coupons.target.com/kraft-coupons.)
From shopping for gifts to planning family dinners, it's hard to keep up with all your holiday to-do's. This year, Kraft is helping out with great weeknight meals and entertaining ideas to make the season a little bit easier. Plus, Kraft is offering up to $20 in coupons, redeemable exclusively at Target, to make food shopping easier and to help you have a happy holiday season.
This is a sponsored conversation written by me on behalf of Kraft. The opinions and text are all mine.