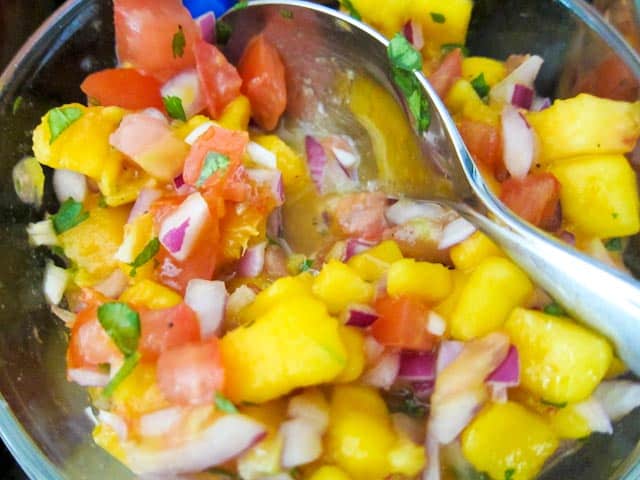 When I was asked to make a salsa or dip, I immediately thought of a salsa that I had tasted at a recent theater opening.  I remember remarking to the hostess that the salsa was delicious.  "Oh, I bought it at Costco," she admitted.  I was so surprised because it tasted homemade!  Anyway, I decided to try to recreate the Costco salsa at home.
Of course, the first thing that I did was do a search on google for "Costco Mango salsa".  Santa Barbara Mango Peach Salsa popped up.  The Costco ingredients were Mango, (Filtered Water, Dried Mango), Tomatoes, Assorted Chiles and Peppers, Onions, Peaches, Evaporated Cane Juice, Tomato Paste, Cilantro, Apple Cider Vinegar, Lemon Juice, Spices, Salt and Garlic Powder.
Below is my version of the mango peach salsa that I made with my little helper Sean.  (I used all fresh ingredients.  If you can also, I definitely recommend it.) As I was nearing the end of preparing it, I wasn't sure if I wanted to put the lemon juice and vinegar into the recipe since I already liked the taste of the salsa without them.  Since I was being indecisive, I ended up making two salsas – one with the lemon and vinegar and one without them.  I recommend leaving out the lemon and vinegar if little kids will be eating the salsa.  (Michael, my little test taster preferred that one.)  However, all of the adults liked the one with the lemon and vinegar the most.  In separate conversations, I received the same comment: "I like that one better.  It has a little kick to it." Hence, the name…Mango Peach Salsa "With A Kick" 🙂
Mango Peach Salsa "With A Kick"
Yield: 8 servings

Ingredients
1 cup peeled, chopped mango
1 cup peeled, chopped peach
1 cup diced red onion
1 1/2 cup diced tomato
2 tbsps chopped cilantro
1 ½ tsps lemon juice
3 cloves minced garlic
1/4 cup apple cider vinegar
Salt and pepper to taste
Cooking Directions
1. Simply mix all of the ingredients together in a medium bowl.
2. Refrigerate to chill…and enjoy!
In addition to this being a great salsa with tortilla and corn chips, it would also make a really great marinade for a fish dish.  Now if I can only get someone else in my family to like fish…
Thanks to Suzanne for taking a picture of my salsa!