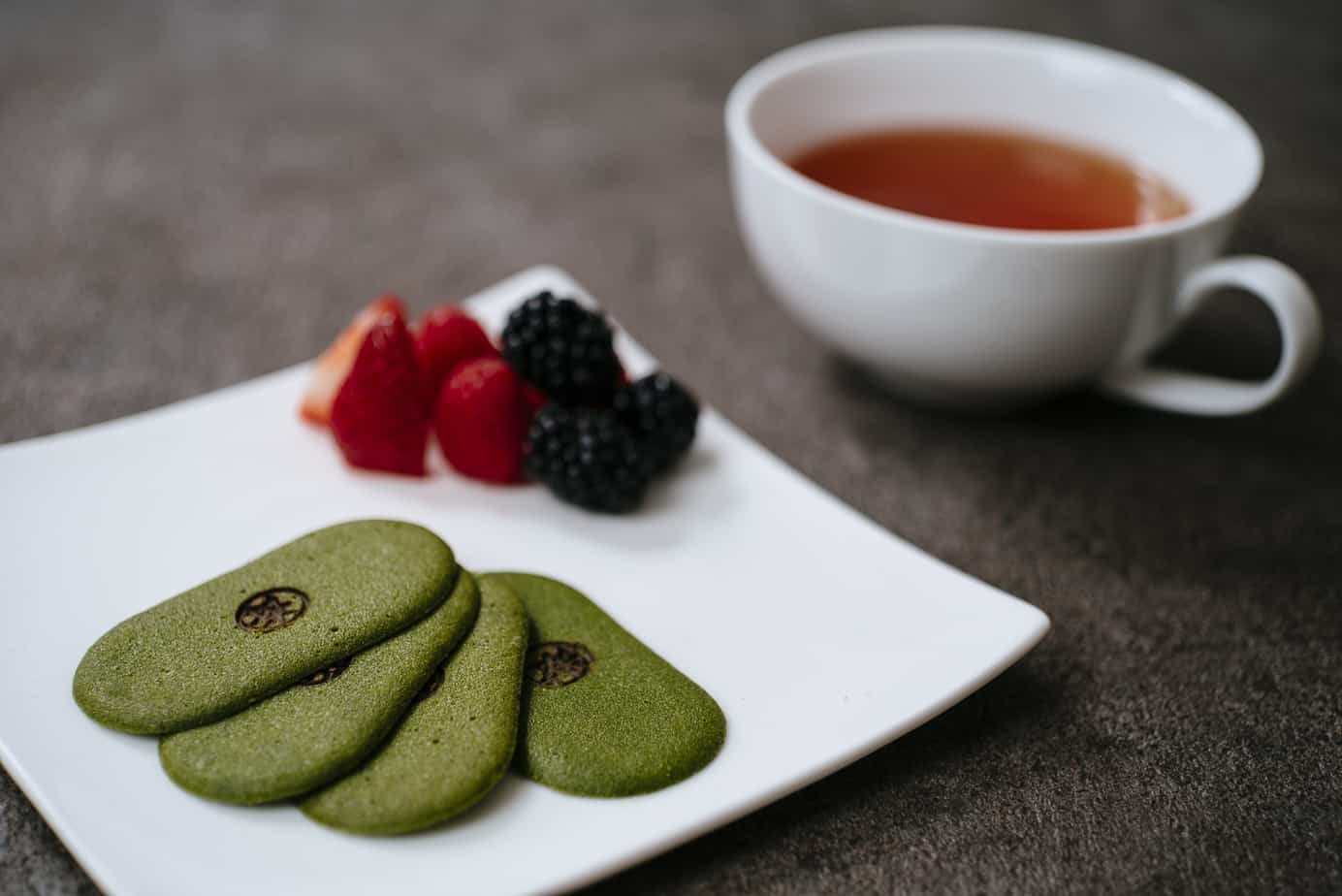 Earlier this week, I was transported to Kyoto, Japan for a couple of hours. Although Japan is on my husband Reggie's "travel bucket list", I didn't actually visit. Rather, a bit of Japan came to me as I attended an event at the Whitney Museum of American Art's Studio Café. The gathering was hosted by Malebranche, a Japanese confectionery company, to celebrate the U.S. launch of their new Maru CHA CHA matcha green tea biscuits.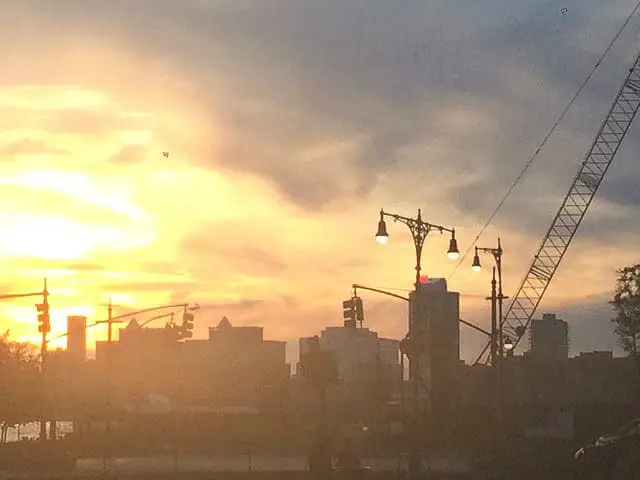 I attended the event with my friend Yemisi, because (as a Nigerian cook) she appreciates how cultures affect various foods. This truth was evident throughout the night that was filled with Japanese cultural experiences. Satoshi Isohata, a spokesperson for Malebranche, shared about the importance of matcha in his Japanese culture. Then, James Beard Award-Winning Chef Michael Anthony shared a couple of stories about his experiences with matcha ceremonies in Japan during the time that he worked there.  I really enjoyed the Maru CHA CHA Trifle that Mr. Anthony created. It was a smart way to incorporate the biscuits into a dish. Although I'm not really a green tea drinker, I loved the texture and sweetness of the green tea biscuits. You can find the recipe for the Maru CHA CHA Trifle below:
Maru CHA CHA Trifle

Created by Chef Michael Anthony James Beard Award-Winning Chef
Strawberry Jam
Yield: 1 quart
Ingredients:
Strawberries, halved- 7 cups
Granulated Sugar- 2 ¾ cups
Vanilla Extract- 1/3 cup
Kosher Salt- 1/3 cup
Lemon Juice- 1/3 cup
Directions: Mix the strawberries, sugar, vanilla extract and salt together in a pot. Cook over medium heat until the strawberries break down and the juices thicken. The cooking process will take 15-30 minutes depending on the ripeness of the strawberries. Once the strawberries are broken down and the juices have thickened, remove off the heat and cool. Once cool, add the lemon juice and blend the jam in the blender until smooth.
Yuzu Diplomat
Ingredients:
Yuzu Curd- 1 cup
Heavy Cream- ½ cup
Directions: Whip the heavy cream to medium peaks. Add the Yuzu Curd and fold into the whipped cream with a whisk. Mix until everything is smooth with no lumps.
Yuzu Curd
Yield: 1 quart
Ingredients:
Yuzu Juice- 2 2/3 cups
Granulated Sugar- 2 1/8 cups
Whole Eggs- 1 2/3 cups
Butter, cold and cubed- 4 cups
Gelatin Sheets- 1 ¾ teaspoon
Directions: Bloom the gelatin in ice water. Combine the yuzu juice and sugar in a pot and bring to a simmer. Pour the hot juice into the eggs while whisking. Pour everything back into the pot and bring to a boil while whisk continuously to prevent from burning. Remove from the heat; add cold butter and bloomed gelatin and whisk to fully incorporate.
Assembling the Trifle
1. Choose a desired cup or bowl for building the trifle.
2. Toss fresh, halved, strawberries with the Strawberry Jam so that the strawberries are
3. Put a layer of strawberries to cover the bottom of the cup or bowl.
4. Spread a layer of Yuzu Diplomat to cover the strawberries.
5. Lay Maru CHA CHA cookies on top of the Yuzu Diplomat.
6. Cover the cookies with a Yuzu Diplomat
7. Top the trifle with a few more Maru CHA CHA cookies, fresh fruit and nuts.
8. Enjoy!

After eating the dessert, we watched an Ikebana, a Japanese flower arrangement performance, and enjoyed listening to a live jazz music performance.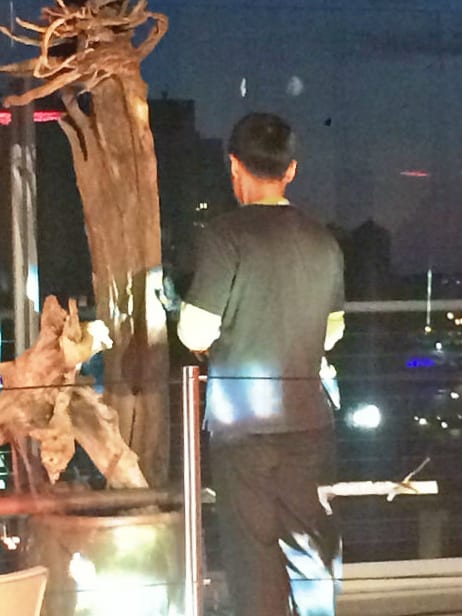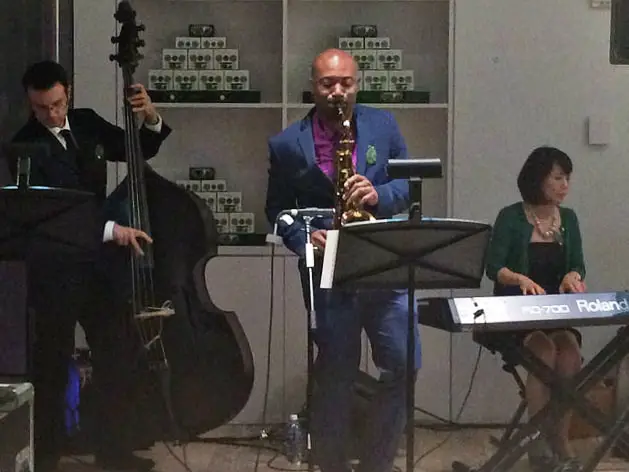 We definitely walked away with a greater appreciation of Japanese culture and I think that the Maru CHA CHA biscuits, which combine native Kyoto heritage with French confectionery techniques, will definitely find a place in the U.S. market. Personally, I think that the texture and sweetness of the thin cookies make them great to eat alone or to go along with coffee or tea. They are also a relatively healthy, gluten-free snack. The main ingredients are antioxidant and amino acid L-theanine rich matcha (a thick variation of powdered green tea), rice flour, sesame oil and cocoa butter. In the United States, Maru CHA CHA cookies will be available for purchase in specialty stores, including Dean & DeLuca stores in November.