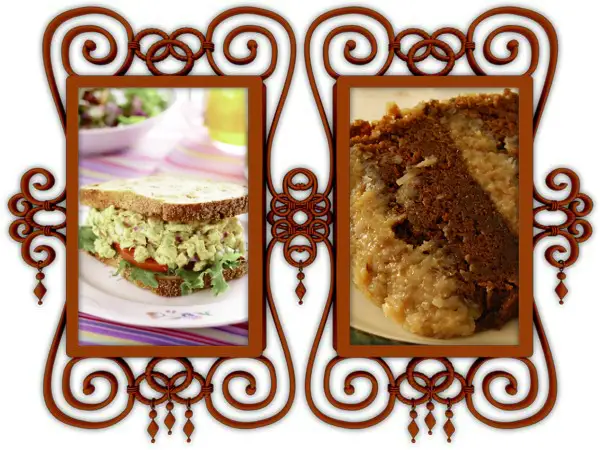 Tea parties are a great option for Mother's Day. In the past, I have written about my love for Alice's Tea Cup, one of my very favorite afternoon tea places in New York City. I don't think that there is a better place to get tea party recipes from than there. As such, I'm sharing two recipes, Vegan German Chocolate Cake and Curried Chicken Salad Sandwich, from their cookbook, Alice's Tea Cup: Delectable Recipes for Scones, Cakes, Sandwiches, and More from New York's Most Whimsical Tea Spot (used with permission from the publishers).
Curried Chicken Sandwich
Yields 1 sandwich
½ cup Curried Chicken Salad (recipe follows)
2 slices whole- wheat bread
4 tomato slices
1 handful mixed field greens
This creamy, chunky, tangy, zesty sandwich was a late addition but quickly topped our lists. Place the chicken salad on 1 piece of bread, layer the tomatoes on top, and pile the mixed greens on top of that. Top it off with the other piece of bread. Cut the sandwich on the diagonal and serve! (For tea sandwiches, slice the sandwich into 3 strips, removing the crusts if desired.)
Curried chicken salad
Yields 4 to 6 sandwich servings
4 medium boneless, skinless chicken breasts
2 tablespoons curry powder
¼ cup apricot jam
¼ cup sour cream
¼ cup mayonnaise (we prefer Hellmann's)
¼ cup finely chopped celery
¼ cup finely chopped red onion (about ½ medium onion)
Kosher salt and freshly ground black pepper
Our secret ingredient? Apricot jam for a touch of sweetness. For a great low- carb option, serve a scoop of the chicken salad over a bed of greens.
1. Preheat the oven to 350°f.
2. Rub the chicken breasts with 1 tablespoon of the curry powder, place them on a baking sheet, and roast until a meat thermometer registers 160°f in the thickest part, about 20 minutes. Let the chicken cool.
3. Meanwhile, in a large mixing bowl, combine the remaining 1 tablespoon curry powder with the apricot jam, sour cream, and mayonnaise.
4. When the chicken is cool, cut it into ½- inch cubes. Add the chicken, celery, and onion to the bowl and stir well. Season to taste with salt and pepper. (Any unused curried chicken can be covered and refrigerated for up to 5 days.)
I am so happy that Alice's was willing to share their recipe. This is really one of my favorite sandwiches of all time. You will love it! If you try the recipe, please let me know if you agree with my opinion.
Vegan German Chocolate Cake

Yields one 8-inch 2-layer cake
Cake
3½ cups all- purpose flour
4 teaspoons baking powder
2 teaspoons baking soda
1 teaspoon kosher salt
2 cups soy milk
1½ cups unsweetened cocoa powder(we recommend Hershey's)
1 cup canola oil
3 cups real maple syrup
1 teaspoon distilled white vinegar
1 teaspoon pure vanilla extract
Coconut- Pecan Frosting
½ cup soy milk
¼ cup cornstarch
1 pinch kosher salt
2 cups firmly packed dark brown sugar
1½ cups coconut milk
2 teaspoons pure vanilla extract
3 cups sweetened shredded coconut
1 cup pecans, coarsely chopped
Vegan Chocolate Ganache
½ cup soy milk
8 ounces unsweetened chocolate
¼ cup real maple syrup
Even the most passionate German chocolate cake lover will love this rich, dark vegan treat. It's sweetened mostly with maple syrup and loaded with dark chocolate. You won't miss the dairy at all, we promise. . . .
1. To make the cake, preheat the oven to 350°f. Have ready two 8- inch round nonstick cake pans.
2. In a large bowl, sift together the flour, baking powder, baking soda, and salt.
3. Heat the soy milk in a small saucepan to slightly bubbling, and then add the cocoa powder. Remove from the heat and whisk well.
4. In a medium bowl, combine the oil, maple syrup, vinegar, and vanilla. Whisk well. Pour in the soy milk–cocoa mixture, and whisk until smooth.
5. Using a mixer or by hand, add the wet ingredients to the dry ingredients and mix until the batter is smooth.
6. Pour the batter evenly into the two cake pans, and bake for 25 to 30 minutes, or until a toothpick stuck into the center comes out clean. Set the cake aside to cool thoroughly.
7. To make the coconut- pecan frosting, whisk the soy milk, cornstarch, and salt together in a small bowl.
8. In a medium saucepan over medium heat, dissolve the brown sugar in the coconut milk. Cook, whisking, until the mixture comes to a boil. Then reduce the heat to low and cook for 5 minutes, or until slightly thickened.
9. With the mixture on the stove still over low heat, pour in the soy milk mixture and stir continuously until the mixture is very thick and smooth. Remove from the heat and beat in the vanilla, coconut, and pecans. Cool before using.
10. To make the chocolate ganache, combine all the ingredients in a saucepan over low heat, and stir continuously until the glaze is smooth. Remove from the heat, stir for another 2 minutes, and then cool to room temperature.
11. To build the cake, place 1 cake layer on a cake plate or stand, and spread a layer of the coconut- pecan frosting over the top (but not the sides). Place the second layer on top of the first, and spread a very hearty layer of the frosting over the top. Using an offset spatula, ice the sides of the cake with a thick layer of ganache. Then warm about ¼ cup of the ganache in a small saucepan, or in a micro wave oven, and drizzle it across the top of the cake (or use a pastry bag to pipe it).

(Sandwich image courtesy of Alice's Tea Cup; cake image courtesy of stu_spivack)