For this final piece about Mount Airy Casino Resort, I want to cover some of the pampering and healthy living aspects of the resort. See if you can guess which was my favorite part of the couples weekend getaway experience…
When I received my itinerary for our media getaway, I was beyond thrilled to see that "a spa treatment for you" was included. I LOVE massages and after a very full couple of months, my neck and shoulders definitely desired a little tlc!  My Saturday morning massage was just what I needed. I received the Mount Airy Signature Massage. Every massage experience is unique. With this one, I was asked the areas of my body that I didn't want massaged. I didn't think to mention my head or face because those areas aren't normally included in a regular massage. I'm glad that I didn't though. The citrus scent of the orange essential oil that I chose actually enhanced the experience as my masseuse massaged my face and scalp. The rest of the Swedish body massage was with a natural body butter that smelled great. (I should check and see if they sell it because Reggie loved the way that I smelled after my massage!)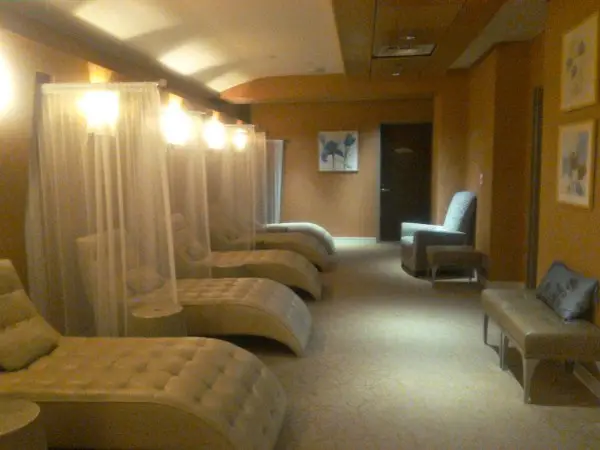 After the massage, I was free to use the steam room and sauna.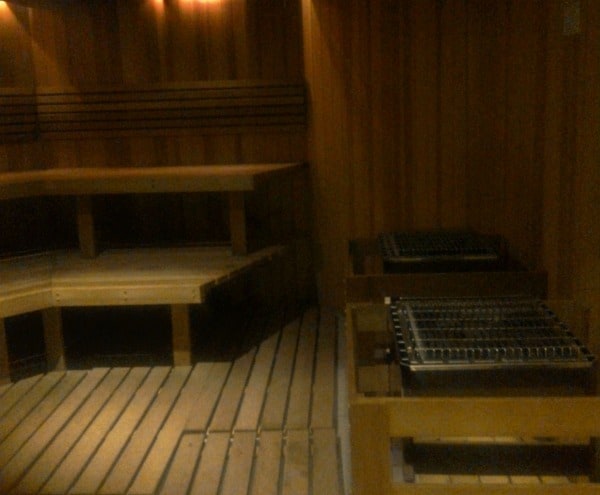 Reggie and I stopped by the on-site salon later in the day while doing a media tour. You can get a manicure, pedicure or hair styling services there if you like. The great thing about the spa and the salon is that anyone (not just resort guests) can make appointments there. Our guide mentioned that several people hold their bachelorette parties there.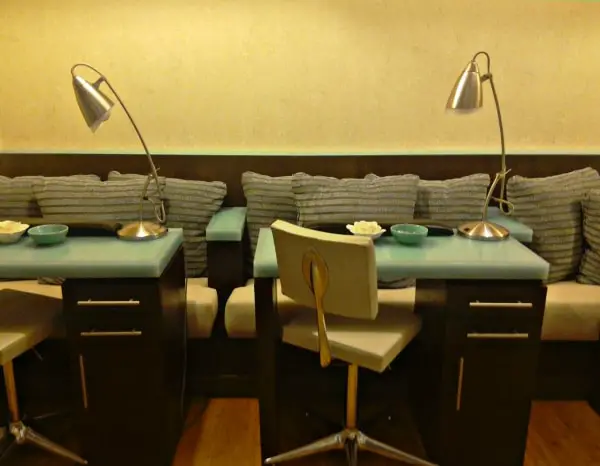 During our Saturday tour, we learned that the pool was opened in May 2014. It is 4 feet throughout and is both an indoor and outdoor heated pool. The outside portion is open from Memorial Day to Labor Day while the indoor pool is open year-round.  As I mentioned in my first post, there are several late night nightclub parties held at the pool during the warm season. Although Mount Airy Casino Resort primarily caters to couples and adult friends getting away, the pool was opened (in part) to have something for those who wanted to bring their kids to have something to do. (I learned that many families go to nearby family-friendly resorts and the parents take a break from the kids and come to Mount Airy to play at the casino.) Just note that since the water is 4 feet, there is no lifeguard on duty at the pool. Also, if you are not staying at the hotel, you can purchase a day pass to the pool as long as you are 21 years or older.
Reggie and I went to the pool later in the day and had a great time in the water.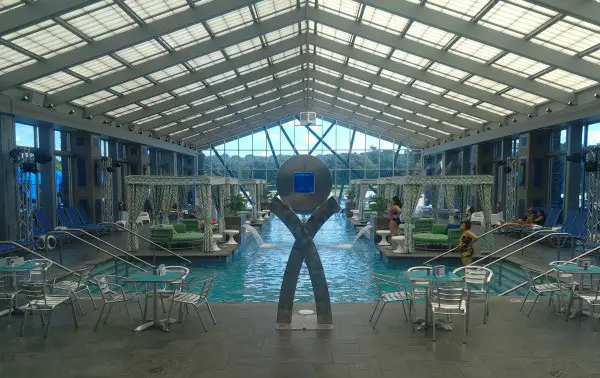 Unlike the other areas that I mentioned, the 24/7 fitness center is only for hotel guests. That makes sense because it's not huge. It has plenty of equipment (weights, exercise balls, cardio machines and such) for a thorough workout though. My husband Reggie had a great workout there on Sunday morning before we ended our stay. Meanwhile, I had a great time watching him workout. 🙂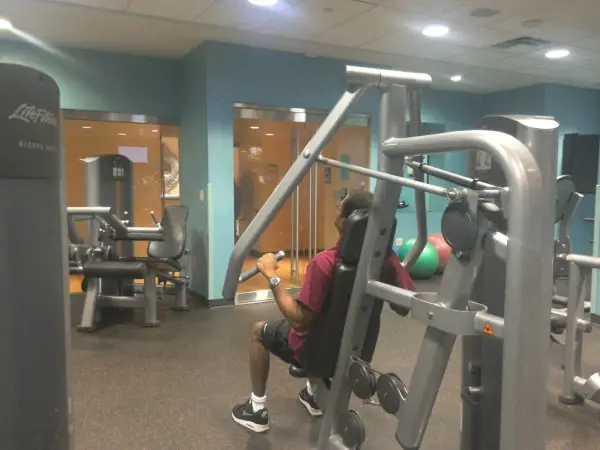 Although we did not visit the golf course, Mount Airy Casino Resort has a course that is open until Labor Day. During our tour, we learned that the 18 holes were inspired by by Sports Illustrated's "Best 18 Holes in America". If you're a golfer, this course would be a great place to test your skills.
Overall, Reggie and I had one of the best couples weekend getaways at Mount Airy. It was perfect for us because we don't need a gazillion different things to do. Rather, we enjoy going out a bit and then coming back to our room to talk, watch movies and to have time to do other "romantic" things that married folks enjoy doing together. If you have the opportunity, definitely getaway for the weekend with your friends or significant other at Mount Airy Casino Resort. You won't regret it!
Disclosure: Thanks to Mount Airy Casino Resort for hosting our weekend getaway. We had the BEST time!