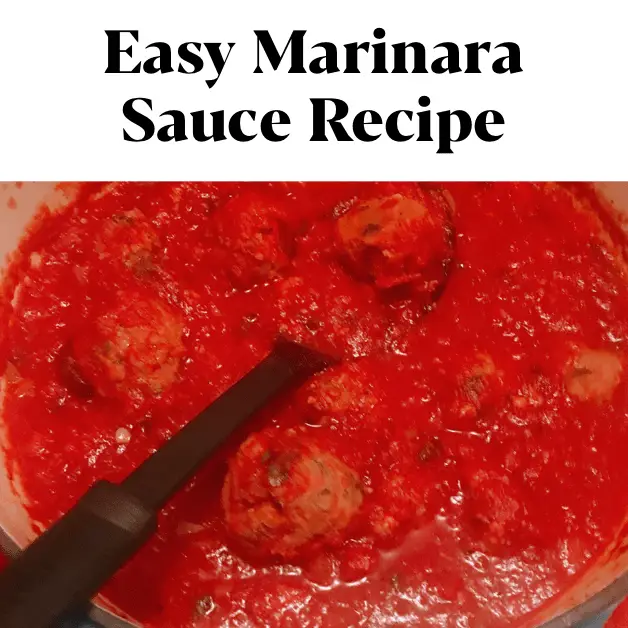 Earlier this week, I attempted to make homemade marinara sauce.  I have attended a couple of Italian cooking classes over the last several months – one at SLICE and one at Taste Buds. Both classes used a basic marinara/tomato sauce recipe.  I basically merged what I liked of the two recipes to make one that works for me and my family…so you know that it's simple!  Anyway, I complicated things in my first attempt by trying to use fresh tomatoes instead of canned ones.  It turned out an orangish mess.  (You  can see the result of that attempt on the "This marinara sauce is a reflection of my day" post.)  In this instance, the second time was the charm.  The marinara sauce really is simple to make…and tasty.  I served it tonight over some whole grain spaghetti and freshly grated Parmesan cheese and it received raves.
I must say that this homemade sauce will be my "go to" recipe for when I have an extra thirty minutes and when I'm cooking special Italian meals.  It's really easy, the taste is fresher and it makes your home smell delicious!  The cost to make it from scratch is even comparable to store bought brands.  For the record, I don't have a thing against store bought sauces at all.  I have bought them in the past and given a time crunch, I'll buy them again in the future. They are totally fine. Anyway, I already have garlic, olive oil, salt and pepper in my home consistently. So, the only things that I needed to purchase were basil, a white onion and the can of tomatoes.  I used Pastene tomatoes that were $2.19, so my price only came up to $3.  The jar of marinara sauce in my cabinet is $3.59, so it was actually less expensive price-wise.   (If you prefer organic tomatoes, then the price will jump up to $5 though, because the Muir Glen Organic tomatoes were $4.19.)  Here's the recipe…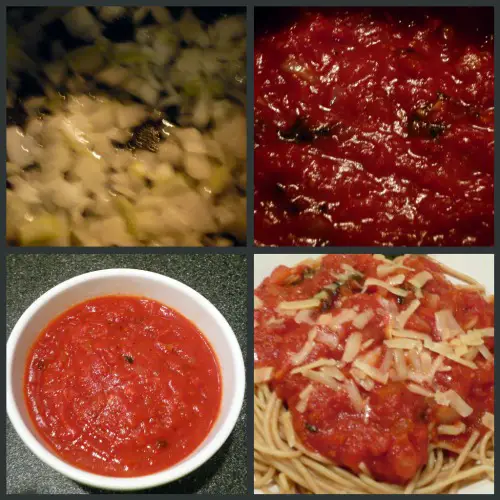 Perfectly Easy Marinara Sauce
Yield: 6 servings
Ingredients:
2 tbsp olive oil
½ large white onion, diced
3 cloves garlic, minced
28 oz can ground, peeled tomatoes*
8 basil leaves, rough chopped
Salt and pepper, to taste
Cooking Instructions:
Heat the olive oil in a medium sized pot over a medium flame.
Add the onions to the pot and sauté them until they are slightly browned.
Add the garlic to the pot and sauté it along with the onions for another 2 -3 minutes.
Add the tomatoes and basil to the pot.  Add salt and pepper, to taste.  Continue to cook everything together over the medium flame, stirring occasionally until the ingredients begin to simmer.
Once the ingredients begin to simmer, let everything simmer in the pot for 30 minutes over a low flame. That's it!
Recipe Notes
-*You can also substitute a 32-ounce can of crushed tomatoes if you can't find a can of ground, peeled tomatoes.
–This recipe makes the perfect basic marinara or tomato sauce.  In one of the classes that I took, a carrot, parsley, thyme and sugar (to taste) were added to this basic recipe.  Try that if you like.  Also, you can look at the ingredients of store bought pasta sauces for inspiration regarding what natural ingredients to add to your sauce.  There are so many possibilities with this basic sauce!