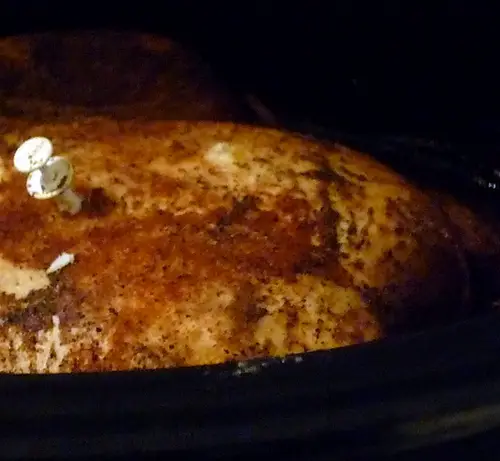 One of the fun things about focusing more on food is that it has become a family affair. The other day Michael walked into the kitchen and asked if I ever put basil leaves in my drinks. When I responded that I didn't and he promptly countered with, "Giada (De Laurentis) does." While I was making dinner in the kitchen, he and Sean had turned to her show on the living room television. They enjoy watching cooking shows and sharing new tips with me J
The boys' interest is cute, but Reggie's interest is actually helpful. Reggie has never been one of those bumbling in the kitchen husbands anyway, but now he is broadening his cooking repertoire. While we were on winter break, he made the most delicious crock pot chicken. Do you ever use a crock pot/slow cooker?  If not, I highly recommend it. I love my crock pot. It is my second favorite kitchen appliance at the moment (right after my counter grill). When I'm busy, I just put my meat in the crock pot (right out of the freezer / there is no need to defrost it); season it and set it on "low" for 6 hours. It's one of the greatest inventions ever…especially for the winter months, when you can make beans, soups, stews, chili and more.  Anyway, Reggie said that I could share his "recipe" with you, so here it is.
Reggie's "Next Day" Crock pot Chicken Recipe
Yield: 6 servings
Ingredients:
1 whole chicken (2 – 4 pounds)
seasonings to taste (Reggie used 2 bay leaves, a pinch of chili powder, seasoned salt, pepper, onion powder and garlic powder)
Directions:
After rinsing the chicken with water, place it in the crock pot/slow cooker. (Be certain to remove any giblets from the chicken before cooking.) Generously sprinkle the seasonings all over and inside the chicken. (Place the bay leaves inside of the chicken.)
Set the crock pot timer on high for five hours and push "Start".
When the chicken is finished cooking (you can start checking at the 5 hour mark), let it cool to room temperature and place it along with all of its drippings (which make an excellent chicken stock) in a large container.  Sprinkle a bit more seasoned salt on top of the chicken, cover the container and place the covered container in the refrigerator overnight.
This chicken was so good the next day. Did I mention that this chicken is gluten-free? For those who are gluten-free, crock pot cooking is great – you get the entire flavor with none of the gluten! (I started a discussion over on Udi's gluten-free community about crock pot cooking that you can take a peek at below.)
.