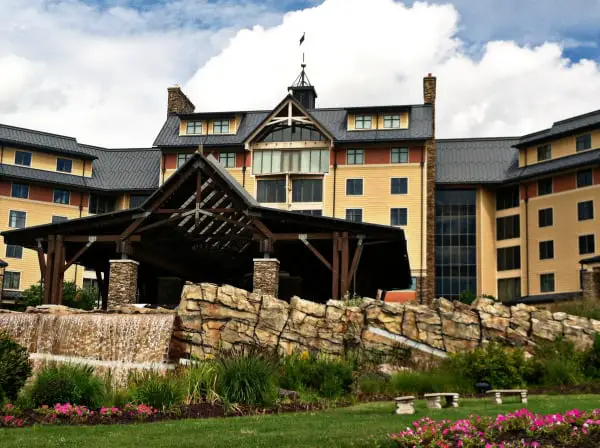 I wrote an overview of Mount Airy Casino Resort in yesterday's post Mount Airy Casino Resort in the Poconos Is The Best Romantic Couples Weekend Getaway. Today, I want to share about the food and restaurants at Mount Airy Casino Resort.
On Friday night, we enjoyed a casual dinner at Guy Fieri's, the only 24-hour restaurant at Mount Airy. The food was both plentiful and tasty. Reggie and I could barely finish our meals. We shared an order of the juicy Buffalo Blue-Sabi Wings to start. I ordered "The Mothley Que" Pulled Pork sandwich. The meat was very tender but I recommend that you request barbecue sauce on the side to relish it the most. Reggie ordered the award-winning Bacon Mac "n" Cheese Burger. It was insanely good. While I don't recommend eating like that on a regular basis (with mac and cheese, a burger and bacon in one dish!), that burger was an amazing getaway meal.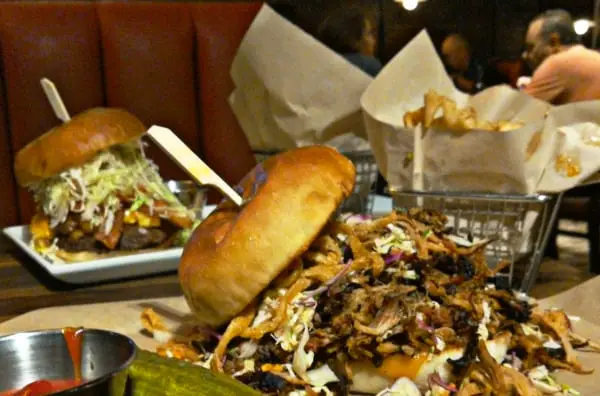 We returned to Guy Fieri's on Sunday for our parting breakfast. The Mt. Pocono Big Breakfast with the buttermilk pancakes add-on and an additional side of sausage was more than enough for the two of us.

On Saturday, we had room service in our hotel room for breakfast before starting the day….
We ate lunch at Lucky 8. The restaurant was a part of the larger "The Buffet" but it was separated in the past. I'm glad that it was, because we appreciated the amazing food at the more intimate setting. We skipped the sushi and chose the tender Pepper Steak (Reggie) and the Crispy Shrimp (me). It was definitely Pan-Asian food at its finest!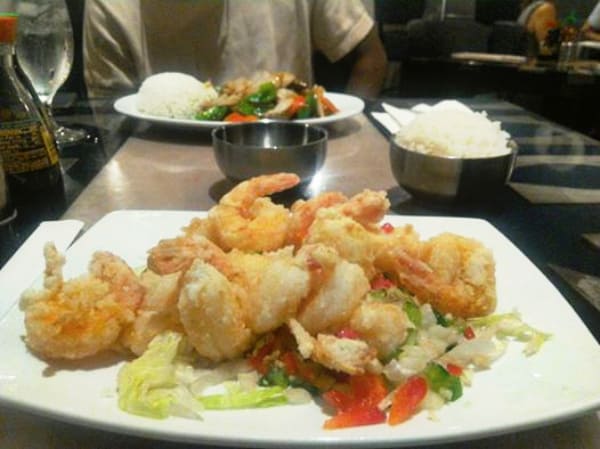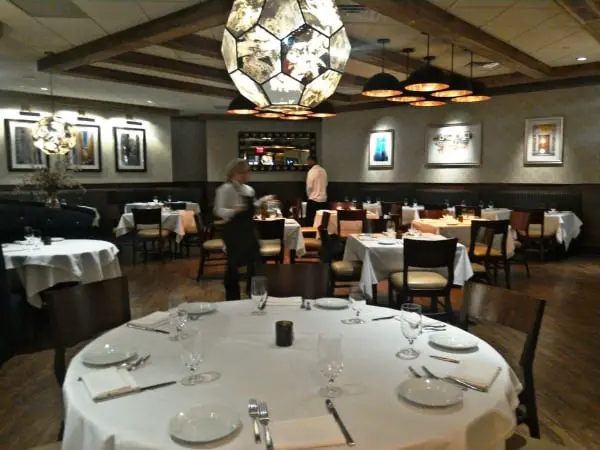 Reggie and I dressed up and had an idyllic dinner at Bistecca on Saturday night since it's the only formal restaurant with a dress requirement at Mount Airy Casino Resort. Before visiting, I had researched the restaurant online. Since it's known for its handmade pasta and local seafood, I ordered a seafood and pasta dish. The Jumbo Lump Crabcake appetizer was prepared just right without a lot of filler (like we make them down south). For the pasta, I chose the Ziti Quattro Formaggie. Although it's an Italian sauce, the besciamella  reminded me of the béchamel sauce in the lasagna that I had while visiting Paris with my mom several years ago. Now, I have special béchamel memories with two of my favorite people in the world. Anyway, Reggie was torn between two veal dishes but ended up ordering the Cotoletta Di Pollo (Chicken Parmigiano). It was an excellent choice because it was the best Chicken Parmesan-type dish that we have ever tasted….by far. The service at Bistecca was amazingly attentive and the meal was definitely memorable. I wasn't able to take a quality picture of our food because the lighting was dim and romantic. I do want to note that (unlike in some upscale restaurants) the portions at Bistecca were large though. Reggie and I could barely finish all of our food.
Miscellaneous Food
There are other food places sprinkled throughout the resort. There are two sweet shops that sell throwback candy. There's also a Red Mango and a Starbucks. Since caramel frappuccinos are the only coffee drinks that I like, my sweet husband had one waiting for me after my Saturday morning massage. He knows that it's the little things that set my heart aflutter. 🙂
I'll write more about the spa tomorrow…
Disclosure: Thanks to Mount Airy Casino Resort for providing breakfast, lunch and dinner during our stay. We were definitely well fed!