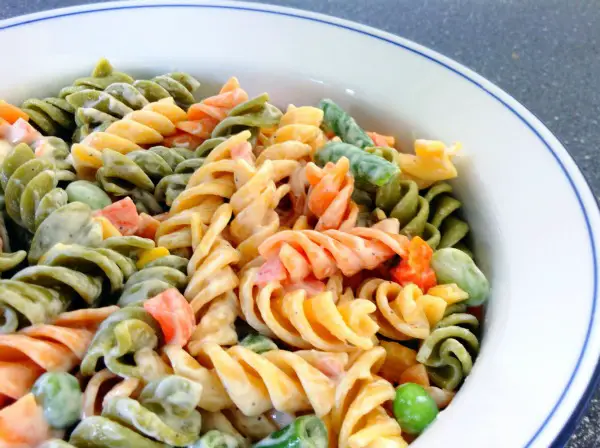 I am so excited that Hidden Valley Ranch asked me to work with them again. Last year, I was a member of the Hidden Valley "Love Your Veggies" Parent Panel. (My Hidden Valley Ranch Turkey Burgers Recipe is still one of the most popular recipes on this site. Obviously, we are not the only ones who enjoy the seasoning!) This year, I will be participating in their "Ranch Remix" Blog Panel. This time, I'll be "mixing up" some family favorites by adding Hidden Valley Ranch dressings or seasonings.
As the weather warms up, I enjoy preparing light pasta recipes. One of my staples is an easy pasta primavera that only has three main ingredients. When I substitute Hidden Valley Ranch as the dressing, it's even better. As Sean, my "particular" eater said at dinner last night, "Everything tastes better with ranch dressing!" I'm not sure about desserts, but I understand his point. 🙂
In any event, this recipe is an easy way for kids to enjoy their vegetables. Enjoy!
Easy Hidden Valley Ranch Pasta Primavera

Yield: 6 – 8 servings
Ingredients:
1 12 oz box of tricolor rotini
2 cups frozen mixed vegetables
1/2 cup of Hidden Valley Original Ranch dressing
Kosher salt and freshly ground pepper, to taste
Optional toppings: Crumbled bacon or Parmesan cheese
Directions:

1. Prepare the rotini according to the directions on its package.
2. Meanwhile, place the mixed vegetables in the bottom of a colander. When it is time to drain the rotini, pour the pasta and boiling water over the mixed vegetables in the colander. (The heat will bring the vegetables to room temperature.)
3. Using a large spoon, mix the vegetables and rotini together in the colander.  Run hot water over the mixture for approximately 2 minutes before draining it.
4. Place the rotini and vegetable mixture into a shallow dish. Add the Hidden Valley Ranch dressing and mix everything together well before serving.
Recipe Notes
-I like to serve the pasta primavera along with grilled chicken that has been marinated in Hidden Valley Ranch dressing.
-You can always add more dressing if your family prefers a more intense flavor. (Since my family's tastes vary, I just put the dressing on the table at mealtime, so that those who want more flavor can put additional dressing on their individual serving.)