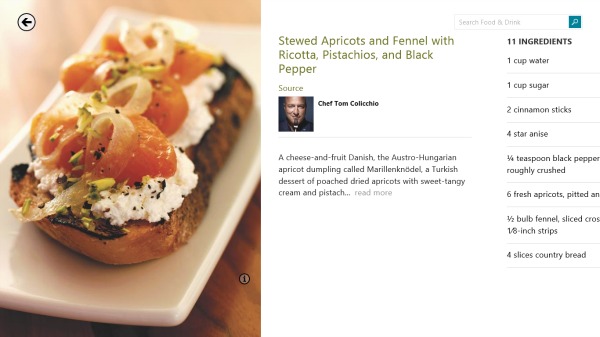 Credit: Bing
In my prior post, I shared Thanksgiving Tips and Tricks from Chef Tom Colicchio. Now, I'm sharing Tom's recipe for Stewed apricots and fennel with ricotta, pistachios and black pepper (originally from the Bing Food & Drink App, which is no longer in existence). Enjoy!
Stewed Apricots and Fennel with Ricotta, Pistachios and Black Pepper
Ingredients
1 cup water
1 cup sugar
2 cinnamon sticks
4 star anise
¼ teaspoon black peppercorns, roughly crushed
6 fresh apricots, pitted and quartered
½ bulb fennel, sliced crosswise into 1/8-inch strips
4 slices country bread
½ pound ricotta cheese
2 tablespoons chopped toasted pistachios
Sea salt and freshly ground black pepper
Instructions
In a saucepan, combine the water, sugar, cinnamon, star anise, and crushed peppercorns and bring to a boil.
Reduce the heat and simmer for 2 minutes.
Add the apricots and fennel, and stir.
Bring the mixture back to a simmer and cook for about 10 minutes, until the apricots are soft and the fennel has just a slight crunch.
Grill the bread on both sides.
Spread the ricotta on each slice of bread and top with the apricots and the fennel.
Finish with the pistachios and season with salt and pepper.
Cut into halves, and serve.
{Updated; Originally posted on November 13, 2013}