I have spent the last couple of years having Thanksgiving with Bobby Flay. Actually, that is only kind of true. He hasn't actually invited me over to his home for dinner BUT he does provide me with some great tips for the holidays at various blogging events sponsored by Hellmann's Mayonnaise. I learned more of the practicals last year, so I will share those thoughts.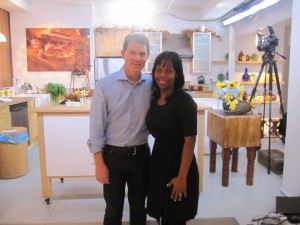 However, I wanted to share a Turkey Paella recipe from this year's event that all of us bloggers were raving over. I had to restrain myself from going back for seconds (and thirds!), because it was so yummy. Leftover turkey never tasted so good before…
Below are some helpful tips from last year:
1. Kid tips: In general, don't give them separate meals/a choice of a meal different from what you are eating. Rather, expose them to a variety of foods. Have them try different things and keep re-introducing the same foods. Remember that tastes change over time. As an example, Bobby shared how his 13 year old daughter initially hated strawberries, but now she loves them.
2. Prioritize your cooking. It's important to think about how much time various dishes/sauces/etc. will take to prepare. Plan accordingly.
3. Consider having a themed Thanksgiving. Bobby shared that he serves 40 -50 people each year at his home for Thanksgiving. He always serves family style but each year, he does variations. He has done Texas and New Orleans themed days in the past. This year, his theme will be New England. As such, he will include blueberries, clams and oysters (traditional New England foods) on his menu in addition to turkey and other tradition Thanksgiving foods. He shared that he loves Thanksgiving. (I would love if too if I were his wife – he does the cooking!)
4. Part of hosting is organizing. When people ask if they can bring something, be specific in your directions so that you won't have a whole lot of one thing. Bobby said that he cooks the meal, but he lets guests bring pastries or wine. "I'm not/don't have the patience to be a pastry chef," he shared. Personally, I think that it's great in cooking (as in life!) to play to your strengths. (My current strength is to bring one side dish.) It seems like cooking runs in Bobby's family though. His sister-in-law was cooking/working with him while he was doing the presentation. (How can I get adopted into THAT family – at least for Thanksgiving?)
5. Turkey (Bobby style):I'm going to give you Bobby Flay's turkey cooking instructions. Take note, because he makes two 30 pound turkeys each Thanksgiving. First of all, he does not brine his turkey. Rather, he: takes it; rinses and cleans it; pats it dry; seasons it with salt and pepper; puts it in the roasting pan with carrots, onions, celery, chicken stock and butter; roasts it at 350 degrees; bastes it every 20 minutes with the chicken stock from in the pan; glazes it towards the last half hour; and lets it rest for one hour (to give the juices time to cool down) before serving it.
Lastly, I'm going to give you Bobby Flays #1 "secret" for serving a successful Thanksgiving dinner…chicken stock. That's right. He says to have a lot of hot chicken stock to help heat up food as you serve it. He claims that it will "save the day".
Now, this is my favorite recipe from this year's event with Bobby Flay and Lori Loughlin…
TURKEY PAELLA WITH LEMON-SMOKED PAPRIKA AIOLI
(A Bobby Flay Recipe)
6 servings
Prep Time: 25 minutes
Cook Time: 35 minutes
* 1/4 cup Hellmann's® or Best Foods® Real Mayonnaise
* 2-1/2 Tbsp. lemon juice
* 1 tsp. grated lemon peel
* 1/2 tsp. paprika
* 2 Tbsp. canola oil
* 1/2 lb. spicy turkey sausage or pork sausage, cut into 1/2-inch thick slices
* 1 small Spanish onion, chopped
* 2 roasted red bell peppers, cut into thin strips
* 3 cloves garlic
* 1-1/2 cups uncooked regular or converted rice
* 3 cups chicken broth
* 1 cup green peas
* 1 lb. leftover turkey, finely chopped
* 1/4 cup finely chopped fresh parsley
Directions
* Combine Hellmann's® or Best Foods® Real Mayonnaise, lemon juice, lemon peel and paprika with wire whisk in small bowl. Season, if desired, with salt and pepper; set aside.
* Heat oil in 4-quart Dutch oven over high heat and cook sausage, stirring occasionally, 5 minutes or until golden brown and just cooked through. Remove to paper-towel-lined plate.
* Cook onion in same Dutch oven over medium heat, stirring occasionally, 4 minutes or until onion is tender. Stir in red peppers and garlic and cook 30 seconds. Stir in rice and cook, stirring occasionally, 3 minutes. Stir in broth. Bring to a boil over high heat. Reduce heat to medium and simmer covered 15 minutes or until rice is tender and liquid is absorbed. Stir in peas and turkey and let stand covered 5 minutes. Gently fold in lemon-paprika aioli and parsley. Season, if desired, with salt and pepper.
This recipe really is simple. (Since turkey isn't my favorite meat, I might try it with chicken instead.)
Do you usually have leftover turkey? If so, what is your favorite turkey leftover dish?