Since Thanksgiving is next week, I asked Debra Kavalos-Delaney, an entertaining expert, to write a guest post regarding entertaining on Thanksgiving when you have kids around. Debra, who has a varied career background, is the founder of MemorableEntertaining.com, an interactive website. MemorableEntertaining.com was created for occasions like Thanksgiving, so I was happy to read her tips.

I always look forward to the impending holidays with equal parts of joy and dread. Excitement about spending time with friends and family, and the unique energy and bustle in the air that only comes with the holiday season…
Then I look at my already 'filled to over flowing' schedule and wonder – "How will I find time to prepare for the holidays?"
So how do you prepare for Thanksgiving in such a way that you're not exhausted, have time to enjoy your guests', be sure the kids have fun and the grown-ups get to spend some quality time together?
In the early days I thought nothing of spending 18 or 20 hours in the kitchen preparing the perfect holiday meal. Perhaps it's the passing years or wisdom has prevailed, but I now approach Thanksgiving or any holiday dinner for that matter with military precision! How many, how much time, what are my resources and what is my diversionary tactic strategy if kids are on the invite list.
Tips for Thanksgiving Dinner
The Menu
o Balance your menu with items that can be made and frozen, store-bought items and recipes that can be made one or two days in advance (such as side dishes and desserts).
o If guests offer to bring something, take them up on the offer. Hear there suggestion to see if it fits with your menu or better yet, they may ask you what you would like them to bring – one less thing for you to do!
o Reserve Thanksgiving Day for preparing the turkey, making the gravy, last-minute prep and enjoying your company!
The Table
o Set your table up to a week in advance and add flowers the day before. Or there are many creative centerpiece options that use no flowers or very few flowers if you are all thumbs when it comes to flower arranging.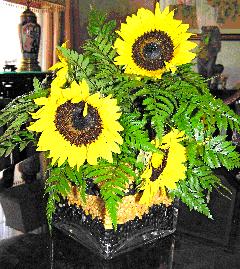 o Place cards: use fruits or vegetables to create interesting place cards.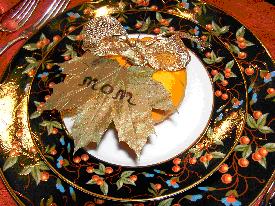 o Set up a separate kid's table. Cover it with craft or butcher's paper and set out baskets or cups filled with crayons. When all the kids arrive have them 'decorate the tablecloth'. Stage plates, utensils, etc. on the side. Let the older kids set the table.
Entertainment
o Choose some kid-friendly videos for the young guests to enjoy before or after dinner. Set out baskets of popcorn.
o Place a puzzle on a table for guests to work on.
o Set-up a craft table where kids can make paper bag turkeys, play Thanksgiving tic-tac-toe or coloring pages printed out of turkeys, pilgrims, etc. for them to color.
o Set up a treasure hunt
o If it's a nice day, there's always football!
Hopefully, the above tips will help to alleviate some holiday stress. Happy entertaining!

{Updated: Originally posted on November 20, 2009}