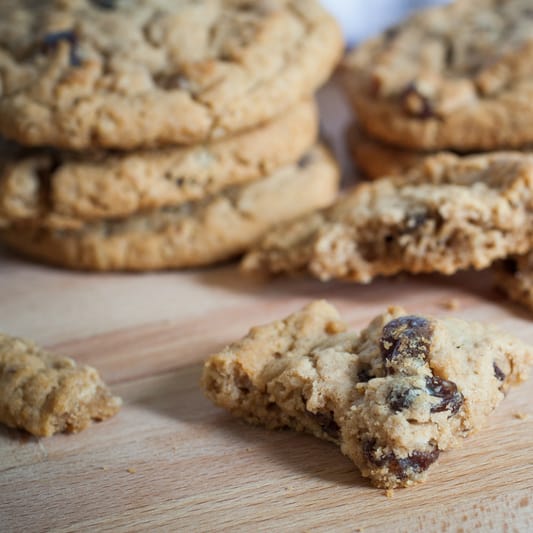 I'm not even joking. These oatmeal raisin cookies are the best oatmeal raisin cookies that I have ever tasted in my life. I sent some to my father-in-law as a treat/to get them out of my home so that I wouldn't eat them all up, but now I want to make another batch. They are so good that it's bad. I was at the point of rationalizing that these could make healthy(ish) breakfast cookies. You know…it's like oatmeal on the go. (I don't even like oatmeal, but don't people add butter, cinnamon, and sugar in it for breakfast?) Okay, I know that I'm stretching… but if I were to substitute whole-wheat flour for the all-purpose flour in the ingredients, I could probably make a case. I'm not going to do that though…these cookies are amazing "as is". They are just perfect. I bet that you can't eat just one…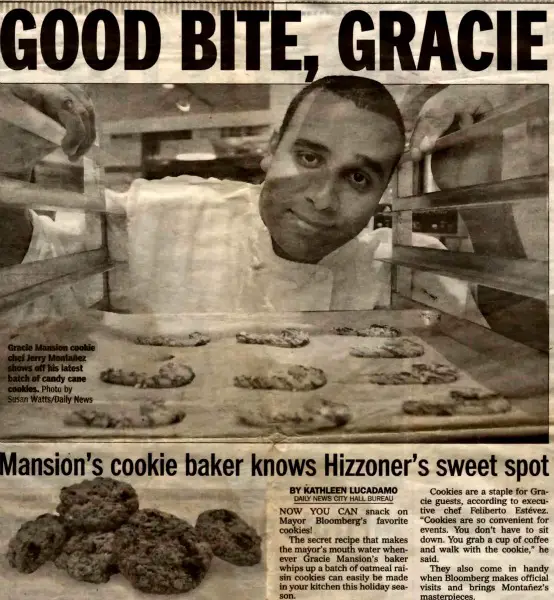 Anyway, I had clipped this recipe from the New York Daily News newspaper all the way back in December of 2007. I shouldn't be surprised that the cookies were so good…the recipe is from Chef Jerry Montañez, who was a chef/baker at Gracie Mansion. I agree with Mayor Bloomberg's assessment. These cookies really are "addictive"! You can find an oatmeal raisin cookie and gingerbread cookie dipped in white chocolate (which I have not tried) recipes written in Chef Montañez's style on the Daily News site.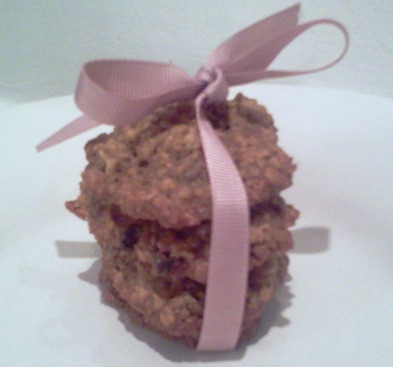 Best Oatmeal Raisin Cookies
Chef Jerry Montañez's Oatmeal Raisin Cookies
Yield: 3 dozen
Ingredients
1 stick unsalted butter, softened to room temperature
1 cup dark brown sugar, tightly packed
¼ tsp salt
1 large egg
1 tsp pure vanilla extract
¼ cup water
¾ cup all-purpose flour
2 cups quick oatmeal
¼ tsp baking powder
¼ tsp baking soda
1 tsp ground cinnamon
¼ tsp ground nutmeg
½ cup raisins
Instructions
Preheat the over to 350 degrees. Line a baking sheet with parchment paper and put it aside.
In a large bowl, cream together the butter, sugar, and salt with a spatula (by hand). When the ingredients are well mixed, add the egg, vanilla, and water to the bowl. Mix everything together.
In a separate bowl, whisk together the dry ingredients (flour, oatmeal, baking powder, baking soda, cinnamon, and nutmeg) until they are well combined.
Add the combination of the dry ingredients to the large bowl containing the creamed butter mixture. Mix everything together well before adding the raisins to the batter. Try to evenly distribute the raisins. (You can always add a bit more raisins if you like.)
Use a teaspoon to scoop the cookie dough onto the lined baking sheet. Bake the cookies for 20 minutes.
That's it…simple and (perfectly) addictive. That's it. I'm going to make another batch! 🙂