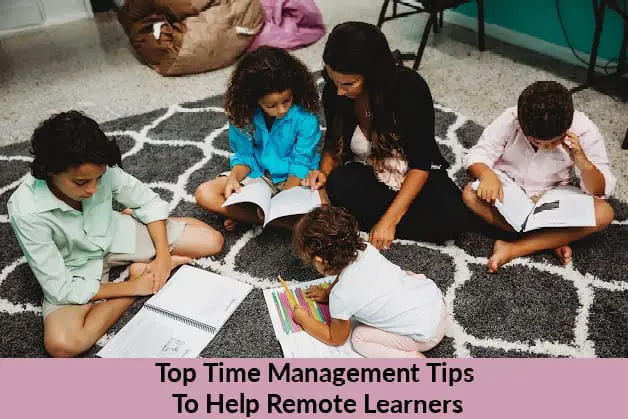 Time (really self!) management is important all of the time. It's even more important now that many of our kids are remote learning this year. Time management helps make remote learning easier for students and their families.

To help, I asked educator, author and mother of four (ages 3 to 14) Lisa Collum for tips. I think that her responses will help us parents navigate our kids' remote schedules more smoothly this year.
Time Management Tips
1. How does time management help parents and students overall?
Time management helps parents and students gain control over their time and achieve their daily objectives. For parents, it allows them to organize their day and follow through with the most important tasks they want and need to accomplish. For students, a set schedule is like a roadmap; they are able to see exactly what subjects/classes to work on at various times throughout the day.
With set times in place to complete different activities, more is accomplished. Everyone can stay on track, knows what needs to be done when, and can make sure there is enough time in the day to complete everything. 
Create a schedule. This is the most effective way to teach time management. 
2. How can parents work with students on time management/self-regulation?
For younger kids, make a board or a chart with pictures that shows different activities and their set times to be completed. Including a way to indicate completion with a check mark, or a moveable marker, can add a sense of accomplishment as they transition to the next task.  
For older kids, design the schedule together with their input and include afterschool activities such as homework/study time and recreation. They, too, can benefit from a checklist to keep them on track. For all ages, post the schedule somewhere prominent where it can be easily referred to throughout the day.
Set specific times for each class and activity and build in breaks, lunch and snack time. Also, don't forget to schedule out "after" school time. After school activities can include arts and crafts, screen time, games, outside play, etc. Most kids end their "official" school day by 2 or 3:00 in the afternoon, while parents work until 5 or 6:00, leaving a large gap of time when kids need to be kept occupied. Making sure those extra hours are covered in the daily schedule is a key component to time management. Kids need downtime, but make sure their free time is guided so they have a routine to follow and can stay busy throughout the day. 
For younger kids who cannot tell time, set timers that help them know when to start and stop their activities. Cell phones or voice activated home devices such as Alexa and Google Assistant can set reminders and act as a school bell. (This may also be helpful for older kids to remind them to move to the next class).
Review these schedules, keep them posted, and train students to follow the time frame for each activity and stay on track. Take time to assess any parts of the day that aren't working smoothly and adjust. Know what works best for your child. You may decide to add in more physical activity, or quiet time, depending on their individual needs.
3. How can parents help their children with time awareness?
Depending on their ages and technical abilities, a digital calendar or a printed schedule can be utilized. Different methods work for different students depending on their learning styles. While some older children might do fine with a digital calendar, most will still benefit from having a prominent visual reminder such as a printed schedule, planner, or chart posted on a wall. 
Setting an alarm that lets students know when to start and stop each class/activity, like a school bell, is a helpful reminder that it is time to go to the next subject or activity. 
4. How can parents help their children to set a schedule for themselves?
Most kids are going to need the guidance of their parents to set a schedule. For elementary and middle school, I would create a schedule together. Go through their classes and set times for each subject and activity. Often, their school or teacher will decide their daily virtual class schedule, but together, you can schedule in what needs to be prioritized during any open slots and periods of time when they have completed what they have been asked to do in class, but it's not time to move on yet. Then schedule out what needs to be done after school, such as complete any assignments that were not finished in class. 
For high school, I would assist them in coming up with a schedule and time management plan. You want to make sure they designate enough time for each class, build in breaks and lunch time, and include homework and study time. When trying to assess how much time to allot for something on their schedule, allow them to estimate, and then review how things went at the end of the day and adjust accordingly. Make sure their schedules are written out on paper, in a planner, or printed out and posted somewhere. Students should be referring to their schedule throughout the day. 
5. How can parents ensure that their kids make a plan for the week and stick to it?
Parents can start by modeling. Every member of the family should have a schedule and spend some time over the weekend planning for the week ahead. Make the children's schedule as static as possible; they often do better with a consistent routine in place. Especially in the beginning, parents will need to monitor and make sure the kids are following their daily schedule. 
Another way to help is to create a daily checklist that students can use to "check things off" as they complete it. This can be something that is turned in at the end of each day. Parents can list each subject/activity that the student is supposed to complete that day, and then have the students check each one off as they complete it. For those children who need extra monitoring, parents can take it a step further and have students bring the list to them as they finish each task and have the parent initial to show they checked it, and it was completed. 
To help older children deal with procrastination, teach them to tackle harder tasks first. For example, if doing math problems is their least favorite afterschool activity, encourage them to get it out of the way first and then reward themselves with something they enjoy. This is a valuable life skill that will help make their days more positive.
For bigger projects that might seem overwhelming, such as a paper, teach them to break the task into chunks and to write the various steps into their schedule. For example, if they have a week to complete a project, they might do research on Monday, write an outline on Tuesday, a first draft on Wednesday, etc. Teach them to not wait until closer to the due date to start taking action.
6. How often should parents sit down with their children to review their assignments?
This depends on the age. For elementary, I would review assignments daily. They have a lot to complete, and parents should make sure they are understanding the assignments, completing them, submitting them correctly, and not missing anything.

For middle and high school, I would at least check weekly. For self-sufficient students, just reviewing their online grades from the school and emails from teachers is adequate. Again, a lot of schooling online is about making sure students see all of their assignments and submit them correctly. So you just want to work together and make sure they are staying on track. 
7. How can parents guide students to limit or avoid disruptions, distractions and multi-tasking at home?
Have a designated "school" space for each child. For parents with multiple children, I would suggest spacing them out or even having them work in different rooms. Sometimes it is hard for students to concentrate when other students are listening to a live lesson. You could even have one "school" room where all of the desks and supplies are located, but have students station themselves in various areas of the house to work. This way they are not all together, all day, in the same spot. Using the schedule, you can assign various spaces in the house for each subject. You could assign the living room for reading, the dining room for math, an outside porch for science, etc. 
8. Are there any other practical time management tips that you would like to share?
Keep kids moving. Don't have them stay in one spot all day. Allow them to work in different areas of the house, and even outside when possible, to complete their schoolwork. Make sure that all supplies needed for each activity are already out and organized before the day starts. 

With a schedule, alarms, checklists, and supplies, it should be a smooth school day for everyone. 
About Lisa Collum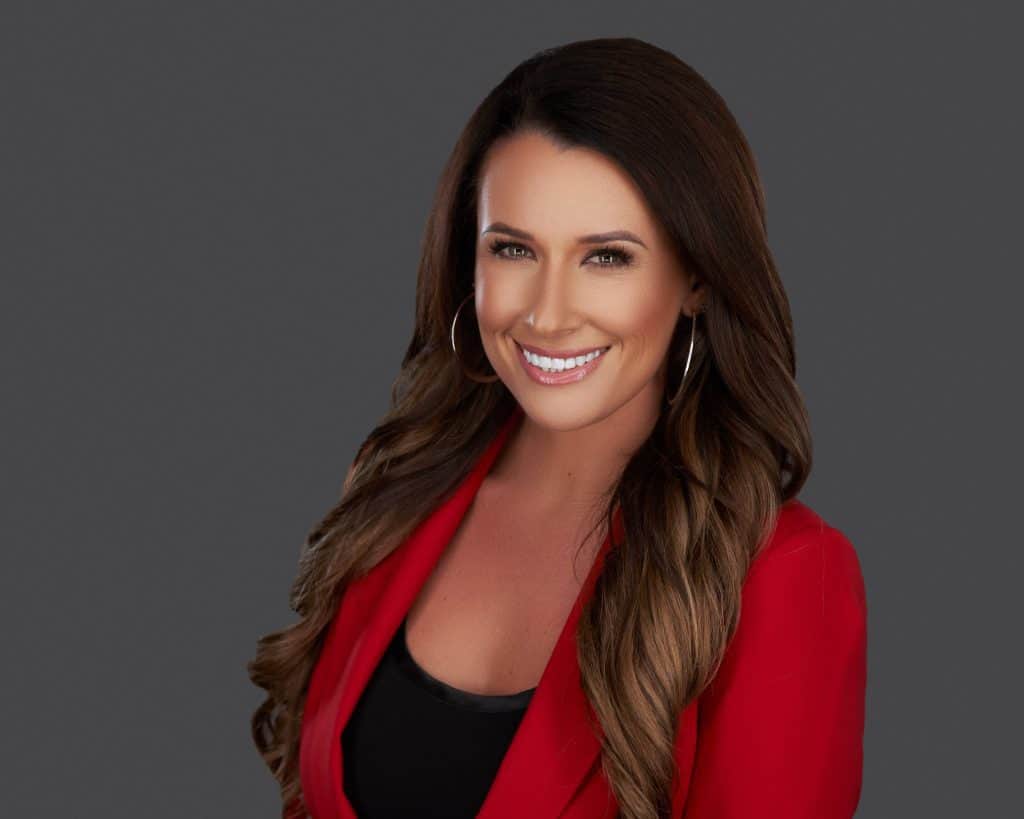 Lisa Collum, author, educator, school owner and mother of four, is a motivational leader on a mission to make virtual learning as effective as possible.  

For over a decade she's been helping kids get a grip on writing through public and virtual teaching, the launch of her own private school, and her creation of Top Score Writing, Inc. — a nationally utilized writing curriculum for 2nd-12th grades. 
You Might Also Like