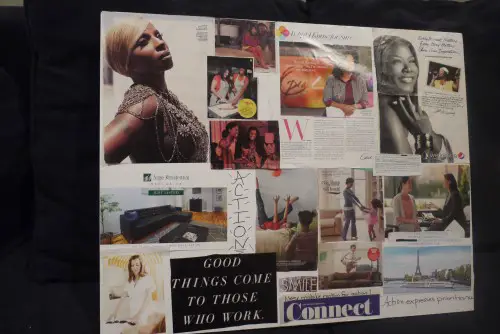 I have mentioned that I recently took an online Path Finder course that was led by Karen Walrond (Chookooloonks).  I took the course that is described as "a 5-week guided self study on creating your beautifully different life" because I was at a career crossroads.  Sean will be in full day school next September so the clock is ticking in regards to figuring out if I can sustain a consistently profitable work from home career or if I should go back to a more corporate work structure.
The interesting thing is that through the course – coupled with several offline conversations – I have decided that I probably won't be able to definitely figure out the answer to the work question until Sean is actually in school for the full day.  As I pulled images together for my vision board reflecting what I wanted for the upcoming year, I was surprised that only one of the images had anything to do with work.  Rather, they were more focused on family and friends.  The four things that stood out was that I wanted…
1. (Even) stronger connections with my husband, kids and girlfriends
2. More pampering personal time
3. To live an "inspired" life – primarily doing what I love to do.  I'm at that point in life where I would rather do nothing/be still (even though it kills me) rather than to move forward simply for the sake of motion!
4. To start building the foundation for purchasing a new home.  Reggie wins.  He has wanted to buy a home for a while, but I prefer apartment living.  My views have changed due to a certain neighbor.  I won't go into detail, because there are always two sides to every story.  I'll just say that in a phone conversation, I allowed her to anger me to the point that I uttered, "You're lucky that I'm a Christian. I'm going to hang up the phone now so that I won't say something that I will regret…"  (Now, I have been a Christian for over 17 years and no one has ever riled me up to the point where I felt the need to say those words!  I'm not saying that I haven't thought them, but still…) For that momentary lapse, I now have to hear Michael tell Sean "You're lucky that I am a Christian…" whenever he's playfully upset with him.  Of course, he'd pick that up! 🙂  In any event, it's crystal clear that we need to at least explore the idea of moving within the next couple of years.  I won't be rash though.  Ideally, I want to save up 8 months of living expenses and enough for a 20% down payment before making any moves.  Also, people and situations can change for the better in a moment.  Just in case they don't though, I'll be saving!
This particular vision board (which I call my "happy board"), is filled with images of what I'm aiming for over the next couple of years.  While the words are literal, the images are representative of the happy feelings that the pictures evoke.   I can't wait to see which visions turn into reality.
Do you make vision boards?  If so, do you find them to be helpful?