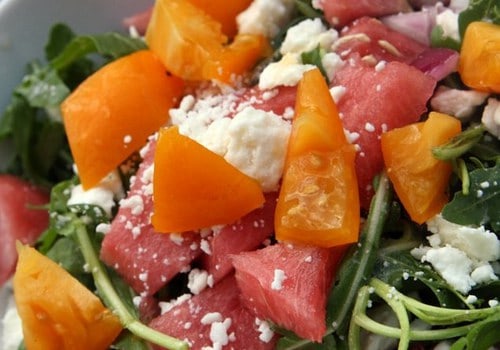 Sometimes the best foods are the ones that are the simplest to prepare. For the summer, I tend to stick with lighter fare like smoothies, salads and chilled soups since they (generally) require less preparation. Although they are easy to assemble it does not mean that these foods are lacking flavor and depth. In fact, I often think that a few ingredients can go a long way – much like in the case of this refreshing watermelon feta salad. It includes fresh heirloom tomatoes, watermelon, and arugula from a local farm in upstate New York paired with the savory additions of a red onion, basil and feta. The latter additions really complete the salad and compliment the sweetness of the watermelon. I hope that you enjoy this simple, fun and addictive summer salad!
Watermelon Feta Salad
Yield: 4 servings
Ingredients
4 cups watermelon, cubed
1/2 red onion, chopped
¼ cup feta cheese, crumbled
2-3 cups of arugula
1 yellow heirloom tomato (or tomato of your choice), cut up
Dressing:
2-3 sprigs fresh basil
1 cup balsamic vinegar
1/2 cup olive oil
1/2 lemon, cut up
pinch of salt
Cooking Directions
Cut up the watermelon, onion, and tomato and place the ingredients in a medium bowl. Add the feta and arugula and mix the ingredients together. Set the bowl aside.
Place the basil, olive oil, vinegar, lemon, and salt into a small bowl and whisk the ingredients together.
Place the ingredients from the small bowl into a blender and blend until the basil is completely mixed in with the rest of the ingredients.
Drizzle the dressing over the salad and enjoy!
Related Posts:
Triple berry, blueberry and watermelon summer smoothie recipes
Watermelon Memories (And Recipes)
Sauteed Wild Pacific Shrimp with Fat-Free Feta