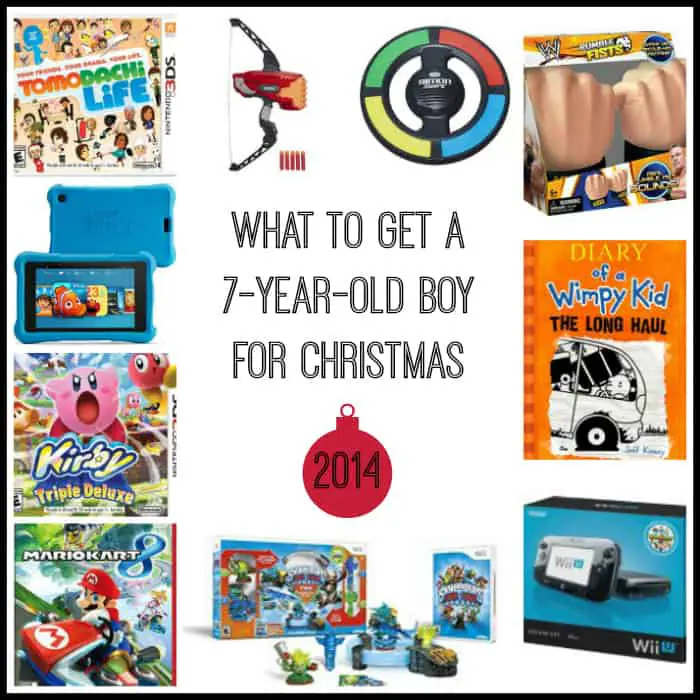 I am definitely in the "give them what they want within reason" gift camp for birthdays and Christmas. After reading various hot toy lists and having the kids and their friends review many items, below are Sean and my top picks for 2014. (I left off his "eyeglass case" and "clothes" picks…because that is kid-specific. That little boy takes after his grandfather/my dad…he loves clothes! ☺)
What To Get A 7-Year-Old Boy For Christmas 2014
1. Books – The Long Haul/Diary of a Wimpy Kid Book 9 is a top pick.
3. Kirby Triple Deluxe – Nintendo 3DS
4. Mario Kart 8
5. Nerf Mega ThunderBow Blaster
– We were sent one of these to review. I was a little concerned that there would be no space for the kids to play it in our NYC apartment. They set up targets down our long hallway and have a blast playing with it…as does their Dad. I also took it to a class of grade-school kids that I teach on Sundays and they had a blast. (I must admit that 2 of the girls in the class had better aim than all of the boys though! Future Katnisses?)
6. Simon Swipe Game
– Every year, I like to get a game that the entire family will enjoy. This twist on a fun classic definitely fits the bill. (The kids are much better at it than I am!)
7. Skylanders Trap Team Starter Pack
8. Tomodachi Life
9. Nintendo Wii U Console
– A friend who has a son in Sean's age range, asked on Facebook if she should get a Wii U or Xbox One for her family. The general consensus is that the Wii U is the better gaming system for the under 10-year-old set.
10. WWE Rumble Fists
– When I posted an image to Facebook of the fists that we received for review, a friend commented that they looked cool, but he wondered how they would hold up against Hulk fists. There was no need to wonder, my sons have the Hulk Smash Hands and they had already battled each other. The fists make some wrestling sound effects – but they are soft and harmless. I just might have taken a turn in the ring (aka the large circular blue rug in the kids room)…
12/10 Update
I was going to do a separate post regarding What To Get A 10-Year-Old Boy For Christmas 2014, but I realized that most of the picks were Minecraft related. As such, I'm going to do a "Minecraft Gifts for Boys" post later this week. Meanwhile, I wanted to add two more gift ideas – that are equally great for 7 AND 10-year-old boys.
11. Disney INFINITY: Toy Box Starter Pack (2.0 Edition) is Michael's top holiday pick for the season and Sean loves to play it too. (Is it kind of cruel that kids of bloggers get to play with holiday review items and then see them disappear for a few months? Oh, well…the good outweighs the bad!)

(The boys unboxing some of the Disney Infinity characters that were sent for review….)
12. Last, but not least, my final pick is the Karaoke Night KN200 CD+G Karaoke System With LED Light Show
. If your kids like to sing and perform, then this system is a great pick. This karaoke system is very versatile – it plays regular CDs as well as lyric discs (CD+G discs) and the LED light show adds a fun, disco feel to the party. After a fun-filled family night of karaoke, I took the portable system to a class of grade school kids that my husband and I teach for our end of the semester party.  The kids had a blast singing along to a Kidz Bop 26
CD that I had received in a gift bag at some blogging event earlier this year. They were singing their little hearts out…loudly. "Let It Go"…
Related Posts:
–6 More Holiday Toy Picks for Grade School Boys (Minecraft, EZ Pro DJ & More)

–7 Gift Ideas for 7-Year Old Boys
–15 Hot Holiday Toys for Elementary School Aged Boys
–Minecraft Gifts for Boys (Figures, Hangers, Etc.)