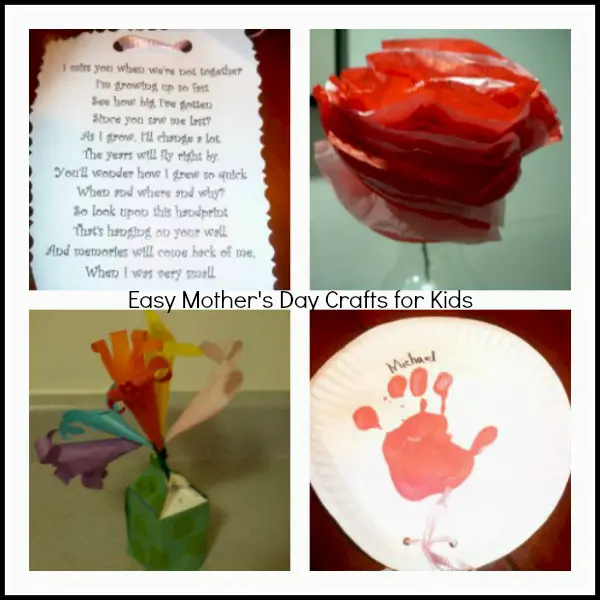 Some of my favorite Mother's Day gifts over the years have been sentimental ones. The simple crafts in the top image have all been created by my kids and I treasure them. That is why I want to share these Mother's Day craft ideas for kids from Debbie Scaccio, an Arts & Crafts Specialist at the Block Institute.

Although Block is an NYC educational facility that provides services to children and adults with special needs, I think that these suggestions would be fun for any young child. You probably don't want to make your own gifts with the kids, but you can send the link to this post to your significant other.

As another option, you can make one of the crafts with your kids to help them celebrate other mom-like figures (grandmas, aunts, etc.) in their lives and show how much they appreciate them.
Mother's Day Craft Ideas
1. Tissue paper flowers. With the help of an adult, cut 2 or 3-inch circles out of tissue paper. Attach with a chenille stem (pipe cleaner) by slightly poking a hole through 6 tissue paper circles. Have the child crumple each circle individually in the shape of a flower. You can make 3 or more flowers to make a lovely bouquet.
2. Decoupage vase. Using tissue paper or magazine pictures, cut out or tear assorted shapes. Glue them with white glue to an empty water bottle or another long-necked plastic bottle. Place the paper over the entire bottle. Finish with a coat of a clear glaze, like Modge Podge. You may want to place fresh flowers or tissue paper flowers in the vase.
3. Construction paper cards. Using colored construction paper, cut the shape of a butterfly, flower or a heart. Fold in half so the card is symmetrical. Have the child decorate the card with stickers or peel and stick foam stickers. Add a Mother's Day poem to the center of the card
4. Wood Jewelry Box. Decorate a store-bought wood box with paint using a sea sponge. Have the child dip the sponge into a paper plate with assorted paint colors and gently dab the sponge on the box, creating different colors and textures. Let dry. Seal the box with a glaze. Decorate with assorted plastic gemstones and pearls.
5. Potpourri sachets. Buy store-bought dried flowers or potpourri. Cut a 6-inch piece of nylon tulle or other lightweight cotton fabric. Place the potpourri in the middle of the fabric and help the child place a rubber band around the edges. Secure the sachet with a satin or other ribbon.
{Updated}