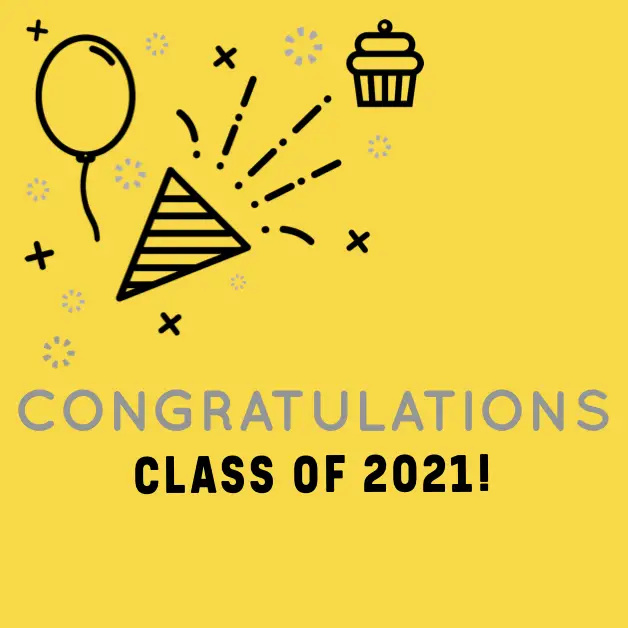 This school year has had its share of challenges. If my household is any indication, NYC public school teachers and students are hanging on by a thread. Fortunately, June 25th is the last day of NYC public school. My youngest son Sean will be going to high school next year so I'm looking forward to his middle school graduation that will actually be held on June 17th.

It's wild because both of my sons have been attending fully remote school since last March. The tweens/teens have missed out on a lot so I definitely want to make middle school graduation (even more) special this year. I asked Facebook friends and teens for some middle school graduation gift ideas for boys. I think that all of the items listed below are great ideas to let your sons know how proud you are of their strength and resilience!
Middle School Graduation Gifts
1. Cash in a greeting card is the most popular gift request.
2. Gift cards are also top requested gifts. Stores that sell items that appeal to the recipient's preferences are ideal.
3. Experience gifts are other great options. Favorite restaurants, sporting events, classes, or "pick your own adventure" gifts are some experience gift ideas. Whether the experience is your son, the family, and/or a couple of his friends, it will be memorable.( Since Sean likes to cook, I'm considering purchasing a spot in the Institute of Culinary Education's Virtual Cooking Camp for ages 10 and up.)

One friend mentioned that she took her son to a Yankee game with his two best friends. The teens went to the game in their caps and gowns wearing shorts underneath and her son got a bat while at the game.  If the Knicks (my husband and son's favorite team) were playing at the end of the school year, Sean would have been thrilled to attend the game. Oh well…at least the Knicks have a playoff spot for the first time since the 2012-13 season.
4. Cell Phones and Accessories are great gifts if your son wants or needs a phone or an upgrade.
5. Clothing, Shoes, or Jewelry for the summer or the upcoming high school year are good for trendy young men.
6. Computers (laptops or PCs) will come in handy for high school too.
7. Video Game Consoles and Games will provide some welcome fun over the summer months. If you need help snagging the latest consoles (like the PS5), read my How to Get a PS5 Quickly: Where to Get Restock Updates and Buy a Playstation 5 post.
8. Sports-Related Gear is another welcome option. For instance, my son needs a new basketball. I also know several teens who would welcome custom skateboards or other sporty items.
9. Desserts like graduation cookies or graduation cakes are wonderful sweet treats. They make a great gift in addition to one of the above suggestions. You can get Graduation Artisan Iced Cookies at 1800baskets.com.
Credit: 1800baskets.com
Etsy also has some great cake toppers for Graduation Cakes.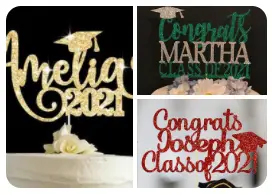 Credit: Etsy
I hope that these middle school graduation gift ideas spark your creativity. In any event, I am sure that your sons will appreciate whatever you do to cheer them on as they celebrate their 8th-grade graduations.

If you found this post helpful, please share it. In addition, consider signing up for my weekly email newsletter so that you don't miss future updates. Thanks!