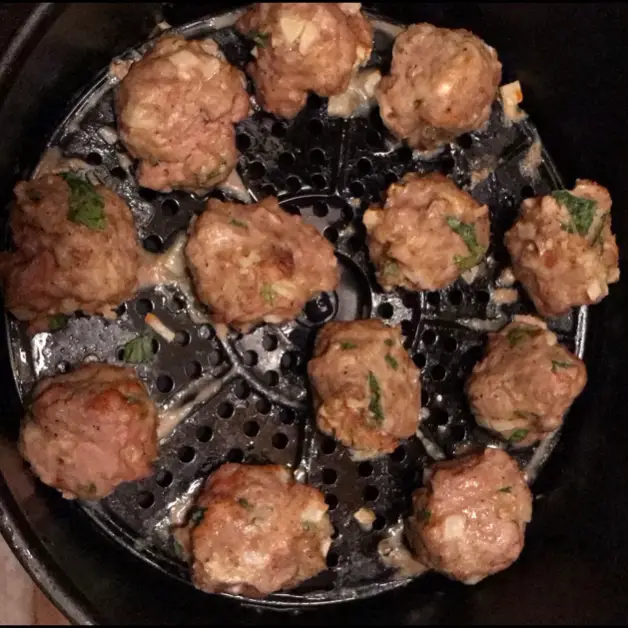 My air fryer was getting USED this summer!
There are a couple of things that I definitely prefer cooking in it. Homemade air fryer turkey meatballs are now one of those dishes.
Even though the weather has cooled, I still make air fryer turkey meatballs. Although I usually serve them with spaghetti, I made some turkey meatballs last week for a meatball sub dinner.
The air fryer meatballs are just smaller versions of my "Best Ever" (according to my oldest son Michael) Baked Turkey Meatballs. I simply cook them in a preheated, sprayed 400 degrees Fahrenheit air fryer for 13 minutes – 8 minutes on one side and 5 minutes on the other.
Air Fryer Turkey Meatballs
Best Air Fryer Turkey Meatballs
Yield: 4-6 servings
Ingredients:
1 lb of lean ground turkey
1 slice of the end of a bread loaf, crumbled up (or you can use ¼ cup of dried bread crumbs)
1/2 cup of Pecorino Romano Cheese
1 egg
1/4 cup finely chopped onions
1/4 cup chopped parsley
1 ½ tsp of fresh oregano (or ½ tsp of dried oregano)
3 cloves of chopped garlic
1 1/2 tsp seasoned salt
1/2 tsp ground black pepper
(Plus cooking spray or oil for the air fryer)
Directions:
1. Thoroughly mix all of the ingredients together in a large bowl.
2. Lightly spray the air fryer with your favorite oil and preheat the fryer at 400 degrees Fahrenheit for 5 minutes.
3. Use the mixture in the bowl to roll 12 small (approximately 1-inch) meatballs and place them into the baking dish. They should not overlap.
4. Cook the meatballs in the fryer for 13 minutes. Cook for 8 minutes, turn the meatballs over and cook for an additional 5 minutes.
Once the meatballs are cooked, take them from the dish and let them simmer in marinara sauce over low heat for 15 to 20 minutes before serving.
That was simple, right? If you found this air fryer meatball recipe helpful, please share it.
You Might Also Like