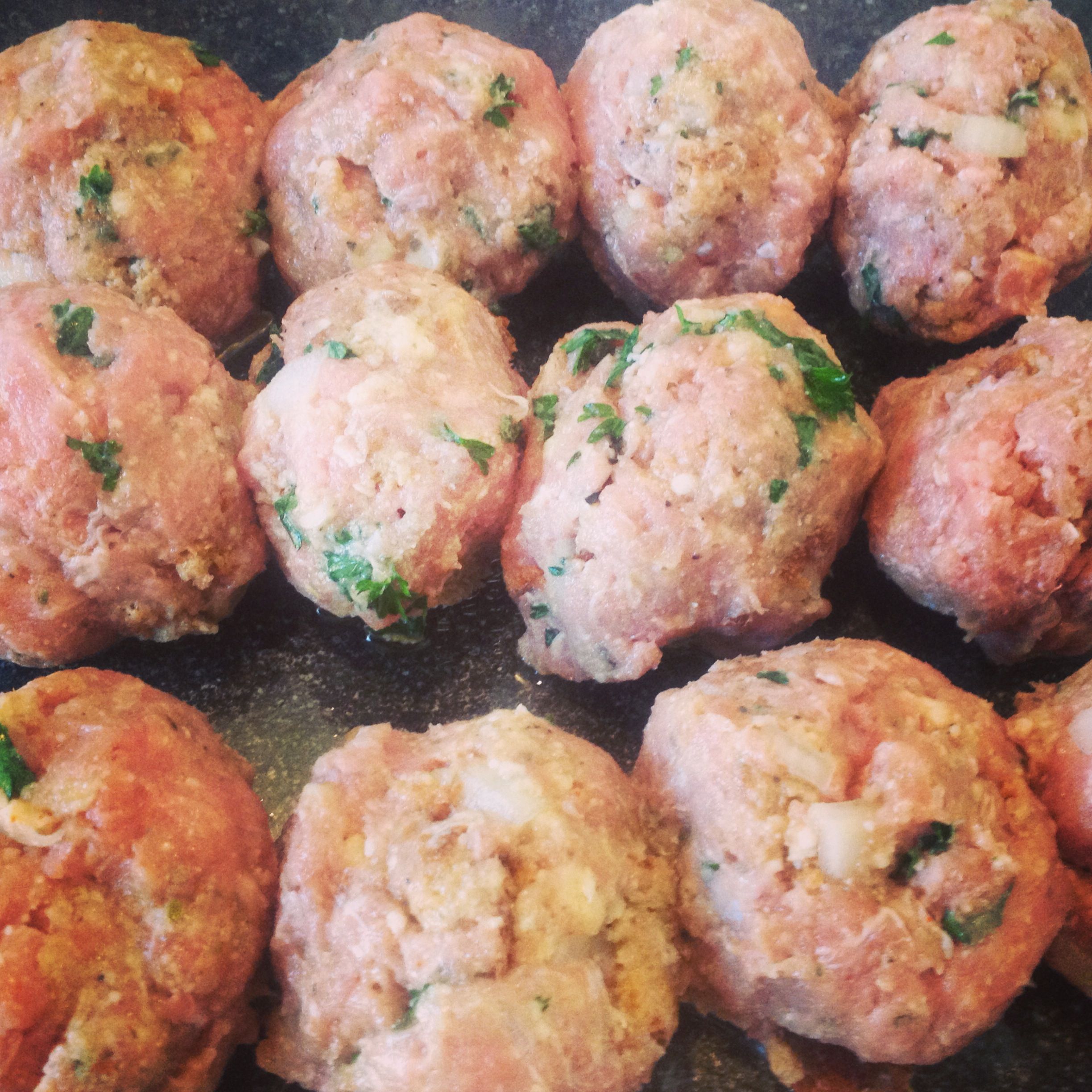 There's a little meatball mania going on around my home. My kids love to eat them. I love the fact that the leftovers from the baked turkey meatballs make a great lunch for the kids' next day school lunches. This meatball recipe without breadcrumbs recipe that I'm sharing below is my current favorite simply because I had not used Pecorino Romano cheese in meatballs before. 
I have also served these particular meatballs to several friends and they all enjoy them too. Michael (my 9-year-old) said, "You make the best meatballs that I have ever tasted."  Sean (my quick-tongued 6-year-old) chimed in, "Well, you really haven't eaten any other meatballs except hers." Good point…but they are really good! Try them out for yourself…
Meatball Recipe Without Breadcrumbs
"Best" Oven Baked Turkey Meatballs

Yield: 4-6 servings
Ingredients:
1 tbsp olive oil
1 lb of lean ground turkey
1 slice of the end of a bread loaf, crumbled up (or you can use ¼ cup of dried bread crumbs)
1/2 cup of Pecorino Romano Cheese
1 egg
1/4 cup finely chopped onions
1/4 cup chopped parsley
1 ½ tsp of fresh oregano (or ½ tsp of dried oregano)
3 cloves of chopped garlic
1 1/2 tsp seasoned salt
1/2 tsp ground black pepper
Directions:
1. Preheat the oven to 450 degrees Fahrenheit.
2. Spread the olive oil on the bottom and sides of an 8-inch square Pyrex baking dish.
3. Thoroughly mix all of the rest of the ingredients together in a large bowl.
4. Use the mixture to roll golf ball sized meatballs and place them into the baking dish closely together.
5. Cook the meatballs in the oven for 20 minutes.

Once the meatballs are cooked, take them from the dish and let them simmer in marinara sauce over low heat for 15 to 20 minutes before serving. (I primarily serve them with whole wheat pasta.)
If you found this meatball recipe without breadcrumbs helpful, please share it. In addition, consider signing up for my weekly email newsletter so that you don't miss future updates. Thanks!
You Might Also Like