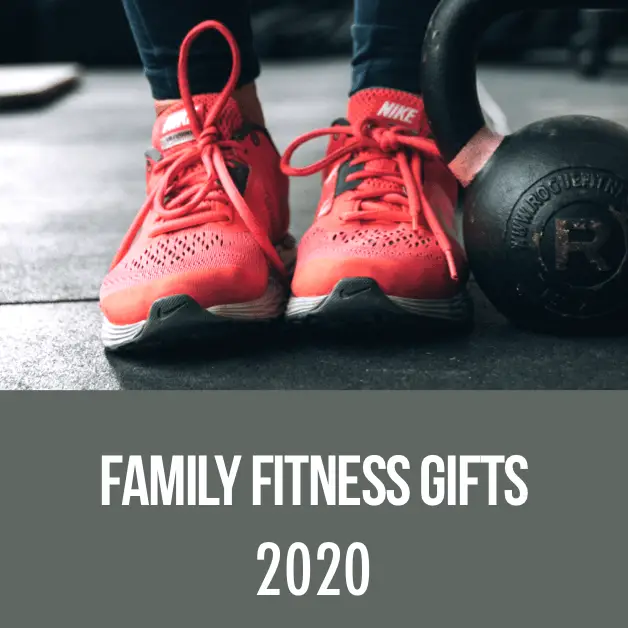 For 2020, staying active has become a family affair. Although my husband and sons are naturally thin, it's important that they are moving around so that they can also remain healthy. They can't just sit around our home all day. That's why I am focusing on the best family fitness gifts 2020 for this guide.

Due to the pandemic, my sons no longer have gym class at school. My oldest son no longer runs track either and I canceled his indoor gym membership. That's why it's especially important that they are being active at home. Fortunately, they can still do workouts in our small NYC home.

It was easier to exercise in the summer when it was warm. I especially enjoyed family outings to a local park where the guys would play basketball while I jumped rope. We were even able to go on a family bike ride.
We need to be more deliberate about being active now that it's cold outside. I'm doing a health challenge with a girlfriend so I have been working out 5-6 times a week for the last 6 weeks. The guys are going to do their own challenge for December. Thankfully, we have the basic equipment needed to do a workout in a small space.

I have updated my 9 Favorite Fitness Holiday Gift Ideas (2019) post. In addition to more workout clothes, I added jump ropes to my family's at-home workout items. My husband Reggie also added a pull-up bar. Any of these items would make great fitness gifts 2020 for families.
Family Fitness Gifts 2020
Fitness Apparel
Workout Shorts and Tanks: I bought the C9 Champion Women's Knit Sport Short and C9 Champion Women's 3.5″ Woven Shorts because a friend works for Champion and I wanted to support his company. The shorts are super comfortable so I will be buying even more of them in the future. On a side note, my husband REALLY likes the way that they fit me.

I still wear the 3 or 4 Pack: Active Basic Cami Tanks (from last year's guide) under my sports bra and waist trainer because I like the way that they feel against my skin.
YIANNA Waist Trainer: I wear this to remind me to keep my posture straight while I'm exercising – not to shrink my stomach.
Exercise Equipment
Foam Roller: I use this to stretch out my muscles. It really helps to relieve muscle soreness.
Exercise Ball/Stability Ball: After stretching (when necessary), I do the hardest part of my workout – core exercises – on the ball. I do regular crunches, side crunches, and reverse crunches. I remember the first time that my trainer tried to teach me how to do reverse crunches. They seemed so hard but now they are not.
Weights: My sons and husband use larger weights, but I stick to 3 to 5-pound ones. I use them while I'm doing squats and lunges.
Mini Band Resistance Exercise Bands: If you want to tone down your thighs, these bands are helpful. I thought that my legs were strong, strong when I popped the black (extra-heavy) band. I realized that I had just worn it down by constant use when I bought a replacement one though. Oh, well…this is one of those items that you should buy at least once a year.
Jump Ropes: They are inexpensive and provide a great workout!
Chin-Up/Pull-Up Bar: I'm not a pull-up person but it has been fun to see my husband and sons do pull-up competitions.

"Want" List
Yoga Mat: I could use some extra cushioning now that I am doing more floor work. There are so many great yoga mat options but I've narrowed my search down to three brands: Lululemon, Gaiam and Bagged Em. The latter is a Black women-owned company with images of women of color on their mats. The company also has a really inspiring Affirmation Mat.
TRX Home Suspension Training Kit: When given the choice between this and a pull-up bar, the guys chose the bar. This is the only item from my "in-gym" workout plan that I don't currently have at home. I haven't decided if I will actually use it consistently if I buy it though…
Most Popular
Bikes and Treadmills: Outdoor fitness bike sales have soared during the pandemic. Due to space issues, I'm fine with renting outdoor bikes for now.

Stationary bikes and treadmills are great cold-weather options. (The Peloton bike is one of those "Do I really want it OR do I just want it because I keep hearing everyone talk about it?" items. I haven't quite decided yet.)
Fitness Wearables: I don't like to wear anything around my wrists, except for my "word of the year" bracelet. Many other moms and family members love their fitness trackers though. The Apple Watch and the Fitbit are especially popular. (I have friends who especially love to connect and challenge one another on Fitbit.)
That's it for my "Family fitness Gifts 2020". I hope that you found some ideas that might help you (the best example) and your family get moving!
You Might Also Like